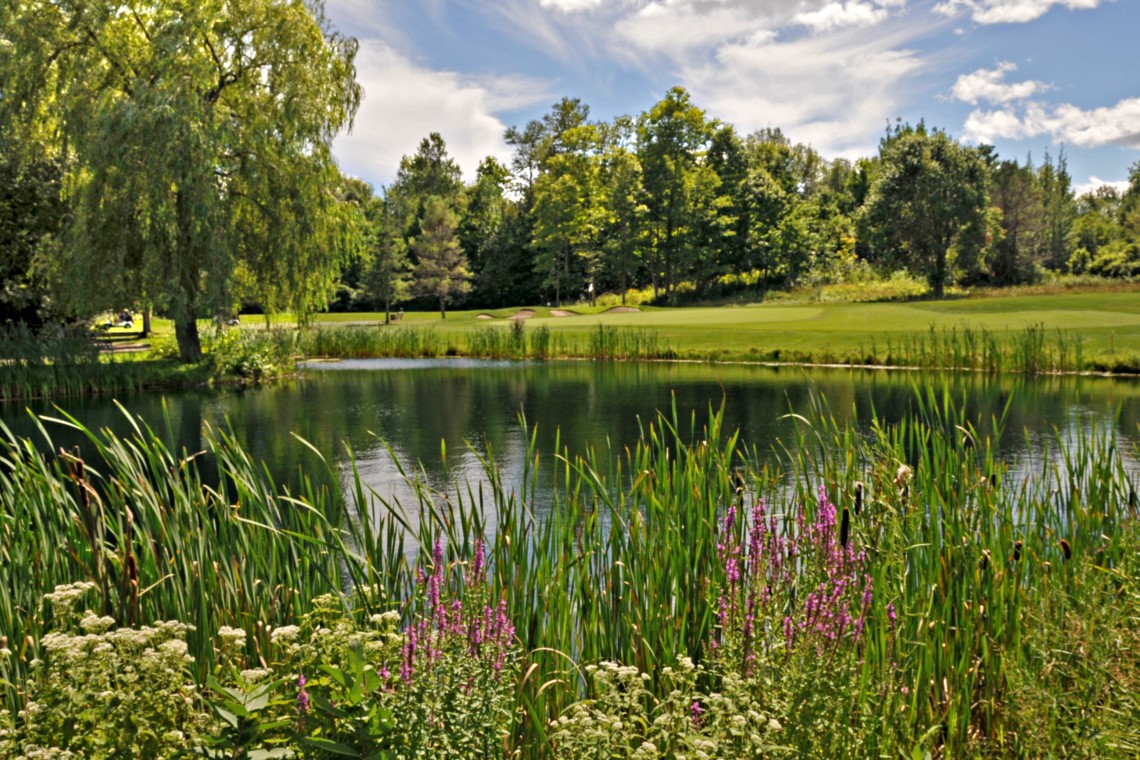 Director of Golf
RIDEAU VIEW GOLF CLUB, Manotick, Ontario
Rideau View, one of Ontario's top private golf clubs, was established in 1957 with an emphasis on family, inclusion, and community. Its 18 holes were designed by Canadian architects Howard Watson (current back nine, 1958) and C.E. "Robbie" Robinson (the front nine, 1961). With six sets of tees ranging from 4,970 yards to more than 7,000 yards, the course is playable for golfers of all skill levels. A large part of Rideau View's charm is its pastoral setting. The result is a relaxing environment located in the picturesque Village of Manotick, just 25 minutes from Ottawa's city centre.
Over the past 30 years, Rideau View has become one of the top competitive golf clubs in Eastern Ontario. In addition to a fair yet challenging golf course, golf instruction, coaching and practice are important to our membership, regardless of skill level.
In support of our members' passion for learning and improving, we have recently completed the construction of a new $1.2 million multi-purpose practice facility designed by architect, Ian Andrew. Rideau View's golf professionals and members also have the benefit of the latest in game improvement technology, housed in Rideau View's Teaching Centre, a fully enclosed structure with two hitting bays equipped with garage doors which open onto the practice range.
Location

Rideau View Golf Club, Manotick, Ontario

Posted

2021-08-31

Deadline

2021-10-01

Job Summary

We are seeking a Director of Golf, who will embrace the Rideau View culture – a customer service-driven individual, out-going in nature and a strong leader. As an integral member of the RVGC Senior Management Team, the Director of Golf will oversee all golf operations and services offered. The position will promote an exceptional "golf experience" and provide excellent services and teaching programs for our members. Click here to view job posting.

Responsibilities

Reports to: General Manager

The Position Supervises the following positions: Professional Golf Staff, Player Services, and Pro Shop Staff.

The Position has responsibility for the following areas: Overall Member Experience, Golf Instruction and Club Fitting, Daily Golf Operations, Member Bag and Cart Storage, Club Repair, Practice Facilities Management, Golf Cart Storage/Maintenance Operations, Pro Shop Operations, and participation on the Playing Committee, Course Operations Committee and Executive Committee.

Specific Responsibilities - include but are not limited to:

Oversee and manage:

all aspects of play, including tee sheet management, club and outside tournaments, and support for the club captains,
all rules and regulations governing golf course usage and pace of play,
all golf operations and services, including daily set-up, golf cart assignment, bag storage and club washing; greeting and checking in members and guests prior to their tee times,
development of a comprehensive set of teaching/coaching programs for all skill levels and ages (Junior programs have long been an important part of Rideau View),
club fitting program,
golf operations policies and procedures that reflect current regulatory standards (eg WHMIS) and established club policies,
fiscal performance for the golf operations including planning, budgeting, forecasting, monitoring, and correction,
golf operations payroll submitted on a bi-weekly basis. Maintain a close working relationship with the Course Superintendent and all other department heads.

Qualifications

Maintain a PGA of Canada Class A membership in good standing,
Has a proven track record as a Director of Golf/Head Golf Professional or Associate Golf Professional at a club,
Sound knowledge of the game of golf, rules of golf, golf facility operations and tournament operations,
Has a customer-focused attitude and strong work ethic thereby acting as a role model for all employees,
Strong organizational, planning and prioritization skills,
Excellent communicator
Experienced computer user including Microsoft Word and Excel and proficient in other related applications, in particular a working knowledge of GolfGenius,
Self-motivated with desire to promote and market all aspects of the golf club,
Current and connected within the golf industry.

Compensation

The total annual compensation package will match your experience and proven results.

Benefits/Perks

Cash compensation is made up of a competitive base salary, lesson revenue, and an annual bonus reflecting overall financial results, our member/guests' feedback on their experiences at RVGC, and personal performance achieving the goals set for the Director of Golf.
An annual budget to cover PGA of Canada fees, professional development, and transportation, meals, and accommodations to attend industry events/conferences.

PGA of Canada Specialization

Golf Operations

PGA of Canada Specialization

Management & Leadership

Start Date

2022-01-01

Course Website

Social Media Page(s)

Employment Duration

To be discussed

Contact Information

Qualified applicants are required to submit their resume and cover letter to: gm@rideauview.com Attention: Steve Ducat, General Manager

Accommodation

We are an equal opportunity employer and we are committed to creating an accessible and inclusive organization as well as providing barrier-free and accessible employment practices in compliance with the Accessibility for Ontarians with Disabilities Act (AODA). Should you require Code-protected accommodation through any stage of the recruitment process, please make them known when contacted and we will work with you to meet your needs. Disability-related accommodation during the application process is available upon request.