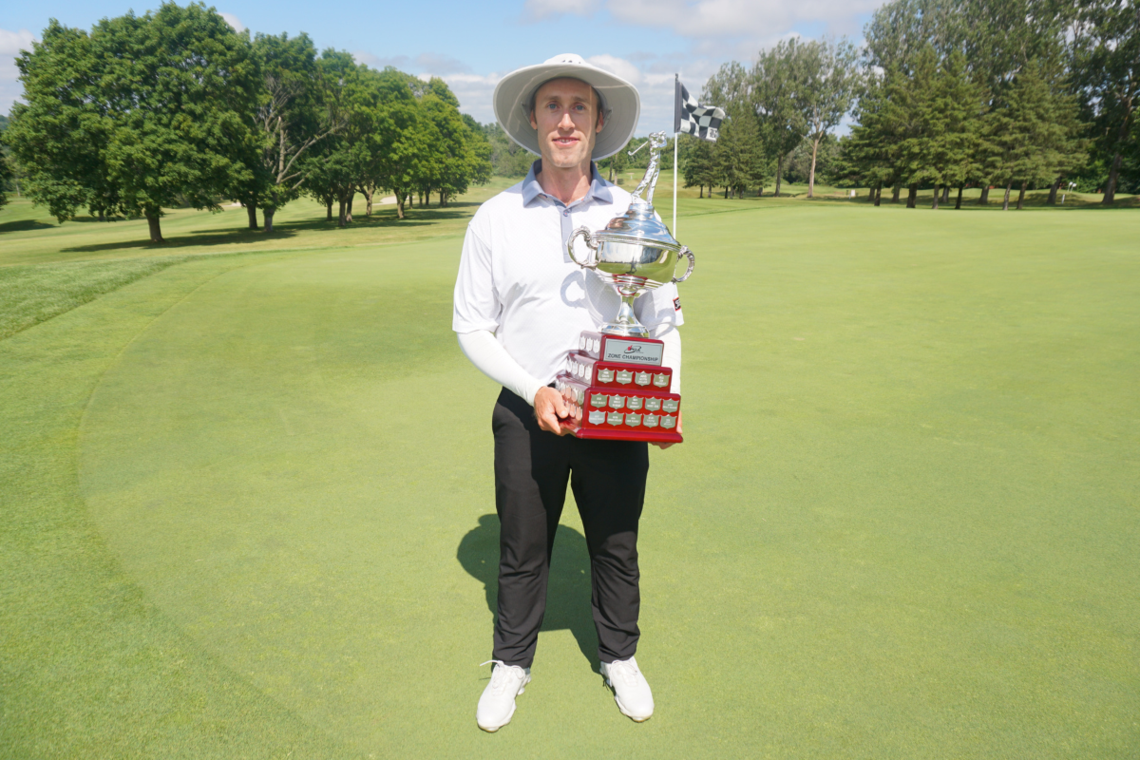 2022 Ontario Zone Championship
DAVID SHEMAN USES RED-HOT SHORT GAME TO WIN THE 2022 ONTARIO ZONE CHAMPIONSHIP!
Thank you for participating in our Ontario Zone Championship at Barrie Country Club on Monday, July 11 and Tuesday, July 12.
We had a total of 86 players compete for the trophy and in the end it was David Sheman of Emerald Hills Golf Club coming out on top with a thrilling one shot victory over Brad Kerfoot of Maple Downs Golf and Country Club.
Branson Ferrier (Vespra Hills Golf Club) fired a low round 66 on Day 2 to tie Gord Burns (Gord Burns Golf School) for third place at 4-under par for the event.
Defending Champion Alan McLean came in looking to repeat but finished tied for 12th place with back to back rounds of 72.
Despite some windy conditions for all the golfers, the day belonged to the 2021 PGA of Ontario Player of the Year, as Sheman carded 4 birdies and a bogey-free round of 68 to win the tournament.
Nothing bigger than a 25 foot birdie on the 17th hole.
"I really putted well and I was really patient", said Sheman. "It was nice to get some timely birdie putts down the stretch and that was really it! The secret was the putter."
A special moment with both of his parents in attendance.
"It's really nice, they live close by and it means a lot", said the gleaming Champion. "My parents and my wife Heather (who wasn't here today) are really supportive of me and I'm very grateful for them".
Sheman's next event is the Sotheby's International Realty Canada Ontario Open at Woodington Lake Golf Club later this month, which he been granted an exemption through the PGA Tour Canada.
"I'm looking forward to that event and will represent the PGA of Ontario and hopefully play well, it's going to be some stiff competition for sure!"
A special thanks to our presenting sponsors of our event, both Mid-Day Squares and GOLFTEC made their presence on both days.
Corrie Higgins, Director of Sales Canada at Mid-Day Squares was thrilled to have her team at the event, providing samples of their healthy chocolate squares fuelling golfers at the turn.
"For us it's really special being here because we feel like this is a perfect brand alignment with the PGA of Ontario", said Higgins. "Having these golfers come up on the 10th tee and already knowing of our brand and how it tastes is really nice to see".
GOLFTEC provided a fun activation with a Superskins event after Round 1 of the tournament.
Thank you to Steve Rodriguez, Head Teaching Professional at GOLFTEC Whitby for his initiative and passion for coming up with this event! Many golfers participated on the practice area pin-seeking for a chance to win $1,400 cash.
It turned out to be an exciting finish as Josh Chambers of Lowville Golf Club came up with the clutch shots to win.
Dean Larsen, COO and Vice President of GOLFTEC couldn't have been happier with the partnership.
"Being a part of this is just great for the game, we're excited to be here and part of this event", said Larsen who was also a starter for Round 2 of the tournament.
"It's important to support competitive golf. The PGA of Canada Professional plays such a critical role in supporting the game and perspective golf clubs along with people that are new to golf and GOLFTEC is another path offering teaching and creating a passion for the game" said Larsen.
He hopes tournaments like this continue to fuel growth and excitement within our industry in Ontario.
A special thanks to Tim McCutcheon for doing what he does best, producing a scorecard through calligraphy.
He was asked in 2001 to do some work for the Canadian Open and he has not looked back, taking part in multiple major tournaments and we all could see why with his precise detail and penmanship.
"This is a special tournament for me because I never won this tournament but I contended a few times", said McCutcheon, known to his peers as Mugsy. "I have so many of my friends playing here in Barrie it's really a highlight for me to be here as a PGA of Ontario member myself."
Our past Champions Clinic and Pro/Junior Event took place on a beautiful Sunday afternoon at the driving range. Thank you to Alan McLean (2021 Champion), Victor Ciesielski (2020 Champion), Nick Kenney (2019 Champion) and Danny King, multi-year champion for engaging with the juniors from Barrie. Participants had an opportunity to listen to our pros, get some tips and pointers and ask questions. Your efforts were sincerely appreciated paying it forward to the youth members!
Thank you to our host facility at Barrie Country Club for their hospitality during the three days at the course. A special thanks to Director of Golf, Ryan Ennis and his team for the top notch service and professionalism with our professionals and sponsors in attendance, without your support none of this would be possible.
Ennis could not have been more pleased.
"It's a treat for us to host this, to have my friends and my colleagues come here was awesome", said Ennis. "I love having this here and our members here at the club love it just as much. I'm looking forward to hosting again and I appreciate the opportunity," he added with a smile.
Click HERE for full tournament results of our Championship!