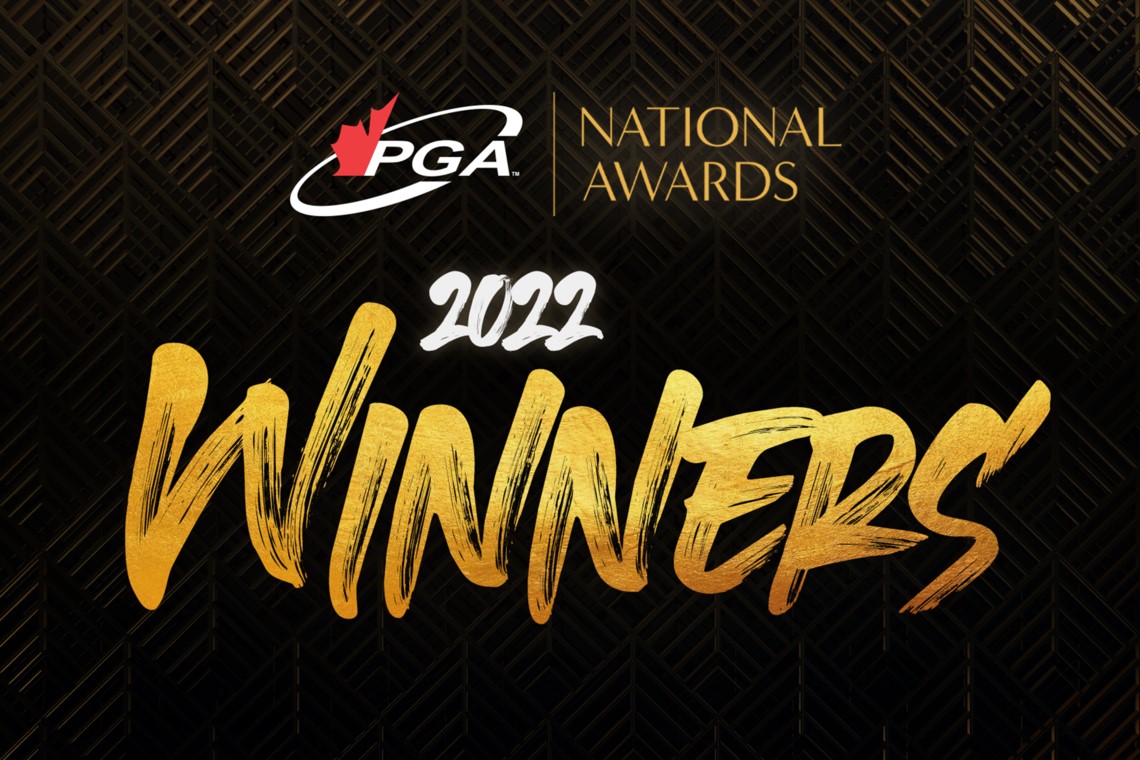 2022 PGA of Canada National Award Recipients
We're excited to present the winners of the 2022 PGA of Canada National Awards.
Winners will be celebrated during Canada Night at the PGA Show in Orlando in January
A link to a live stream of the event will be sent in the new year.
---
Moe Norman Apprentice Professional of the Year
Winner: Marie-Pierre Bernier, Club de Golf La Tempete, Quebec Zone
Marie-Pierre Bernier is a first class apprentice professional with her number one objective being satisfying her members and making a difference in their lives. She is actively involved in the day to day retail operation of the professional shop, including receiving, special orders and inventory management.
Marie-Pierre doubled her student base the past two years, which represents the high quality of her teaching ability. Her enthusiasm and passion is contagious. She is proud to be a PGA of Canada member who promotes the association, the zone and the game on a daily basis. Marie-Pierre has made a successful transition from running a large business to joining the golf industry full time. She has proved immensely efficient and proactive in her role at Golf La Tempête and she is definitely a great asset, not only for her club, but for the PGA of Canada. Her background is very diverse. She was a player in the NCAA, a university graduate at Rollins College in International Business, a company past president (Summum Granit), triathlete and the mother of two boys. Marie-Pierre is always doing that little extra thing that makes her special. Last winter, she organized a ski day with a group of ladies that play in the ladies day at the club. She also invited a group of members this summer on a two day trip in Lac-Mégantic at the club where she grew up. She is always looking at the well-being of others and it's very important for her that people love the game of golf.
---
Ben Kern Coach of the Year
Winner:Doug Lawrie, Focus Golf Group, Ontario Zone
Lawrie currently coaches 24 High Performance Competitive Girls and Boys, who compete across the province, country and internationally. Andrew Russ, Associate at the London Hunt Club said, "Doug spends a lot of time on the range, but his ability to travel across North America to support his players when they compete, helping them prepare, build a gameplan and execute, is really what being a coach is all about. Anyone would benefit from having a coach like Doug Lawrie. Their success is important and knowing their coach is there at the event to help if they need it, has a calming effect on them. Call it a safety net."
Lawrie focuses on understanding his player's goals and aspirations, designing his own template to capture each player's key ingredients to form each player's "Roadmap" for their development. In addition, he has grown a social media following and published a Youtube series during the pandemic featuring both high-level athletes and PGA Professionals.
Lawrie has coached players to championships at the provincial, national and Internation level, while growing the game through grass-roots programs close to him.


---

Tex Noble Award For Professional Development
Winner:Dylan Cattanach, Rosedale Golf Club, Ontario Zone
Dylan always looks at how he can help a member, a co-worker, or friend in any way he can. He goes above and beyond every day from his time at the Ladies' Golf Club of Toronto to his new role at Rosedale Golf Club. This is evident in the founding of the Assistants of Toronto Networking Group. What started as an idea to help assistants meet and connect with one another has now grown into an integral part of the PGA of Ontario education series.
Dylan has volunteered his time throughout the past four years to make sure that he can help the next generation of assistants in any way he can. From setting up opportunities and events to connect and network to introducing panel discussions to break out rooms with industry leaders, everything he has done has helped raise the profile of the newest assistants in our industry. Since Co-Founding AoT Networking, Dylan has spent countless hours organizing and facilitating networking and educational seminars for hundreds of his fellow golf professionals and staff, including professionals from British Columbia, Alberta, Manitoba, Ontario, Quebec, and Atlantic Canada. While doing so on his own time outside of work hours (all on a volunteer basis), he has also provided fellow golf professionals the opportunity to host and facilitate these sessions, allowing them to grow both personally and professionally.
---
Stan Leonard Class "A" Professional of the Year
Winner: Kim Valleau, The Winston GC, Alberta Zone
Kim is a top tier Class "A" Professional who has an excellent work ethic, is extremely efficient with her time management, and displays an innate ability to train, sell and direct a golf shop team.
Kim always conducts herself in a very professional manner, running many women's specific lesson programs following every aspect of the PGA of Canada lesson guides as well as numerous events at the Winston Golf Club that are very well attended. The reviews on the events are always 5 stars. In addition to lending time to several PGA of Alberta Committees, her rapport with golf club members is excellent and they go to her advice, to converse and to get aid all the time. Kim consistently goes above and beyond with her role and responsibilities and mentors and educates the Winston Golf Club's Apprentice Professionals daily. She always takes time to educate and aid new professional staff at the club.
---
George Knudson Teacher of the Year
Winner: Carson Hau, The Golf Lab, Ontario Zone
Lowering golfer's handicaps and helping them play better golf is Carson's main priority. With a majority of his teaching at the club level, he has worked with multiple Club Champions and Net Club Champions at various clubs, Jr event winners and GTA AM Tour and Mini Tour winners.
At the same time, Carson has worked with elite junior golfers that have obtained NCAA scholarships and have the affirmation from LPGA and PGA TOUR players. An aspect of Carson's teaching that stands out is his evaluation skills with the use of technology, which has become prominent amongst other elite coaches who bring their students to work with him to diagnose areas of risk, opportunity and improvement. Carson has attended many workshops and seminars within the past few years and has taken a scientific approach to teaching. "I don't believe in the cookie cutter golf swing but the most efficient swing for a player's physical capabilities. Working from the ball backwards, I look for the root causes which cause the inefficiencies in the ball," he says.
---
Mike Weir Male Player of the Year
Winner: Wes Heffernan, Dynamic Motion Golf Performance Centre, Alberta Zone
Another dominant year included wins at the BetRegal PGA Championship of Canada and the PGA of Alberta Assistants' Championship. Heffernan also added runner up finishes at the Zone Championship and the PGA Assistants' Championship of Canada presented by Callaway Golf.
His win at the BetRegal PGA Championship was certainly the highlight. Just a few weeks after playing in the RBC Canadian Open, Heffernan looked right at home at Beacon Hall Golf Club, dominating throughout the week to claim the P.D. Ross Trophy. This is Heffernan's second time winning the Mike Weird Player of the Year Award, first winning in 2019 after claiming the PGA Assistants' Championship of Canada presented by Callaway Golf at TPC Toronto.
---
Jack McLaughlin Junior Leader of the Year
Winner:Travis Glass, Eagle Valley Golf Club, Ontario Zone
Travis has a profound love and passion for growing the game of golf, teaching and coaching junior golfers, and instilling that same love and passion with the team he works with.
Travis' experience in university with junior programs in West Palm Beach under the guides of Donna White (LPGA Hall of fame member), helped provide the knowledge and skills to transform the Eagle Valley Golf Academy (EVGA) from a single junior summer camp to a five program all-season Academy accommodating all levels and schedules. His leadership skills as a junior golf coach are rooted in the relationships he builds with everyone he works with. Travis has built trusting relationships with both students newly introduced to golf, and with his most skilled and aspiring collegiate athletes. His leadership in growing the game in Niagara is evident in the various summer camps and multitude of junior tournaments that now exist because of Travis. In addition to his skills as a leader and coach, parents of youth golfers admire his convictions and principles towards how his academy is run. He lives his life in parallel to the importance integrity is placed in the game of golf. It is the first and most important rule in golf and what makes the game so special. Likewise, Travis inspires everyone around him to embrace the values of integrity, honesty and trust.
---
Warren Crosbie Community Leader of the Year
Jacklynn Miller, South Muskoka Curling and Golf Club, Ontario Zone
Jacklynn continues to demonstrate an unwavering commitment to bettering the communities she serves. She has a long track record of supporting those around her through various initiatives on a national and local level.
From 2015 to 2018, Jacklynn helped raise money in support of the Gravenhurst and Bracebridge Women's shelters. In 2020, she started an annual food drive during the onset of the pandemic that sparked over 300 donations from coast to coast. Her actions even inspired PGA Tour players Corey Conners and Mackenzie Hughes to join in. In 2021, she kept the tradition going, creating a "Food FORE Families" campaign every winter that encourages PGA professionals / golf courses to donate to their local food bank. On a local level, Jacklynn partnered with Big Brothers Big Sisters Muskoka and adidas Canada to provide "back-to-school" backpacks for 30 kids. The initiative saw Jacklynn raise money to purchase and fill adidas backpacks with school supplies before the start of the new school year. This past year, Jacklynn partnered with Community Living South Muskoka in two facets: She volunteered her time teaching differently abled adults for twelve weeks - introducing them to the game while providing a platform for social connection. She also hosted a food drive / fundraising drive at the Club in support of underprivileged families in Muskoka. Jacklynn goes above and beyond to touch the lives of those around her. Her selfless efforts have cemented her as a respected and admired leader in our industry.
---
Dick Munn Executive Professional of the Year
Winner:Patrice Forcier, Club de Golf Pinegrove, Quebec Zone
A seasoned leader in the golf industry, Patrice Forcier's reputation is notable. His expertise and in-depth knowledge allow him to make strategic decisions that lead to extraordinary results.
With his excellent customer service, his passion for golf, his availability and his involvement in the community, he has left his mark on the Quebec golf community. Over the past 12 years, Patrice has been responsible for two Champion Tour tournaments, a course renovation, the modernization of the Pavilion and recently the practice area and the Academy. Patrice's successes are tangible as Diane Legault, the Club's first female president (2015-2016), attests. "I have seen his superior skills and abilities as a professional manager. He contributed brilliantly to the realization of the pavilion renovation project. At each step of the project, his attentive monitoring and his ability to quickly anticipate any deviation from the cost or time schedule resulted in the delivery of a completely re-modeled pavilion. I have to say that his understanding of the difficulties and his distinctive ability to find innovative solutions helped mobilize the teams and achieve the ambitious objectives." Humble, Patrice answers that success is the result of teamwork. In this regard, golf professional Christian Manègre says, "Patrice has the talent to find and surround himself with competent, experienced and committed people in their fields of expertise. He makes sure that all the links in the chain of operations are in perfect harmony, communication is present on a daily basis and high quality standards are achieved."
---
Pat Fletcher Retailer of the Year
Winner: Ashley Zibrik, Shaughnessy Golf & Country Club, BC Zone
As the Director of Golf at Shaughnessy Golf & Country Club, Ashley Zibrik spends time merchandising every day at the club. Her team has a goal to present a visually pleasing space to member's and guests' eyes at all times, intentionally creating strategies to encourage customers to purchase items in the golf shop. In addition, they make sure to sell to a diverse group with many different prices, sizes and style preferences.
The retail and professional staff work closely with members to get to know their shopping preferences, styles, and sizes. It is common practice to work with members one-on-one, placing personal orders through catalogs before the product arrives in the golf shop. When a new product arrives, they offer private shopping experiences for single members or small groups to showcase new lines. This past season the club invested in photo frames, custom artwork, and home decor to add some warmth to the golf shop. With technology being at the forefront of the retail world, the club has dedicated time to creating visual content to drive sales. With that being said, 2022 was a a record year in the golf shop for Shaughnessy Golf & Country Club under Zibrik's leadership.
---
Brooke Henderson Female Player of the Year
Winner: Emma de Groot, Modern Golf (Oakville), Ontario Zone
A very consistent year for Emma included top-five finishes in both the PGA of Ontario Women's Championship and the ORORO PGA Women's Championship of Canada.
Emma also served as the playing captain for Team Canada at the PGA Women's Cup. Emma holds the University of Tennessee at Chattanooga women's golf school records for tournament wins (6) and lowest career scoring average (74.5). She has notched 20-career top-5 finishes at the NCAA level. Since turning professional, the Modern Golf Director of Women's Development has placed in the top-25 at the ORORO PGA Women's Championship six times, with 2022 being her most successful year in Zone and National PGA events.
---
Murray Tucker Golf Professional of the Year
Winner: Jamie Moran, Belvedere Golf Club, Atlantic Zone
Jamie has completely changed the service levels and member expectations at Belvedere Golf Club by bringing a level of professionalism and charisma for the game of golf.
Jamie has enhanced the member experience, and has led and organized the efficient execution of both member and corporate events that have participants raving and rushing to play again the next year. The culture of the club has changed immensely, and not only have membership numbers risen to capacity, but member retention is at an all time high. The staff under Jamie in the proshop and backshop operations have been well trained and have executed high service levels and professional standards extremely well. Jamie has taken the time to foster relationships with the members and his clients, and often plays golf with members to increase their excitement levels about the game. Jamie also sits on the PGA of Atlantic Board of Directors and is heavily involved in PGA of Canada events.