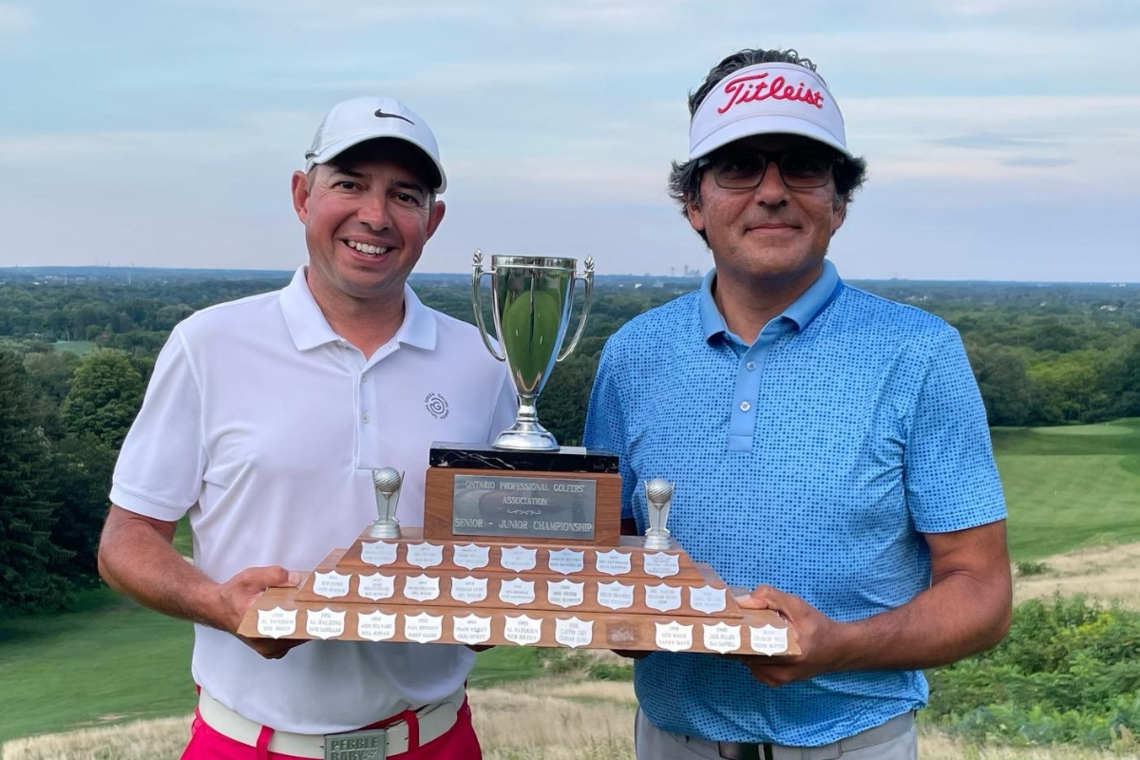 2022 Senior Pro Junior Pro Team Series Event
Thank you to those that participated in our Senior Pro/Junior Pro Team Series Event at Lookout Point Country Club on Monday August 29th.
We had a total of 60 players compete for the title, countless highlights throughout the day and an exciting finish with a three-way playoff to decide the winners. In the end, the team of Michael Moniz and Brad Kerfoot from Maple Downs Golf and Country Club captured the title with some stellar play.
David Smallwood (Galt Country Club) and Dylan Smallwood (Westmount Golf & Country Club) and Steve Rodriguez (GOLFTEC) and Kevan Goble (Whitevale Golf Club) finished tied for second place and coming up just short in the playoff holes.

The teams finished the day at 9-under par.

The team of Moniz and Kerfoot executed when needed most. After Rodriguez sunk a huge putt, Kerfoot managed to drop a 20 foot putt of his own to head back for a second playoff hole.

After a perfect drive from Moniz, Kerfoot calmly sunk another long birdie to win the event.

"It was a great day out here, obviously playing in the scramble format, it always comes down to the putting", said the gleaming Kerfoot. "We got our putter hot on the back nine and obviously in the playoffs and that was the key to victory".
Moniz agreed.

"Putting is really highlighted here with all the nuances and the escarpment. Coupled with the wind that we had at the event, we felt like 9-under was sufficient to win but we are thrilled to have prevailed in the playoff", said the PGA of Ontario President.
Lookout Point Country Club was celebrating their Centennial Anniversary and the conditions were fantastic despite strong winds ensuring that quality shots were required to hit the small and subtle greens.
Head Professional Dan Roud and his team were grateful to host the event at the historic club.

"For 60 of those 100 years, a father son duo of PGA of Ontario Hall of Famer Gord McInnis Sr. and Gord McInnis Jr. were our Head Professionals, and they mentored many accomplished Assistant Professionals, not to mention world class players, who have gone on to do incredible things in the world of golf. This is exactly the kind of event that they would have appreciated hosting".

Full tournament results can be found HERE.