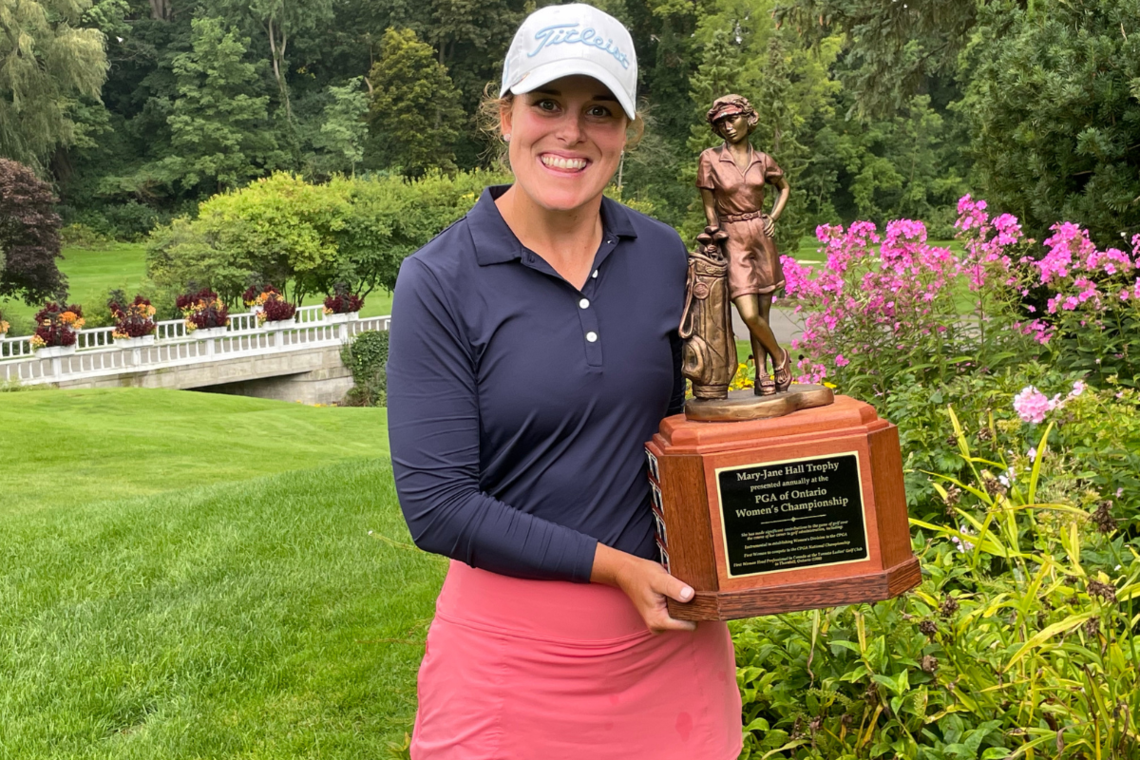 Gleadall sinks birdie putt on first playoff hole to win Women's Championship!
Thank you to those that participated in our Women's Championship at Ladies' Golf Club of Toronto on Monday, September 12.

History and Tradition are two words that come to mind when playing at the historic club.

"When you drive into the property and over the bridge, it's an inspiring feeling", said Natalie Gleadall.

Gleadall, (London Hunt and Country Club) used that inspiration to her advantage, winning the Women's Championship in a one-hole playoff over Sadie Dewinton-Davies (Kingsville Golf and Country Club).
With steady but light rain throughout play, Gleadall stayed in a zone hitting 16 of 18 greens in regulation to win the Championship. "I'm totally shocked to be up here", said Gleadall while receiving the Mary-Jane Hall trophy.
"I am so grateful to have won, it's been 10 plus years since I have won a golf tournament and it's such a nice feeling for the ball to go in the hole when it counts".

Nothing bigger than a clutch tee-shot on the 18th hole in the playoff, landing it about 6-feet. She calmly stepped up to the putt and drained it to win the title.

"We're so grateful to host the Championship at our club and host our peers and my colleagues here", said Jaime Steedman, Head Golf Professional at Ladies' Golf Club of Toronto.

"The club was established in 1924 by Ada McKenzie as a place for women to play golf and create growth in the game", Steedman said.
"It's a special piece of property, thinking back to all the stories of how this club, even in the face of adversity has flourished and the fact that it's continued almost 100 years later is amazing".

"We have had some incredible Champions that have walked these fairways, from Marlene Stewart Streit, Sandra Post, Lorie Kane and now we can add Natalie Gleadall to the list!" Steedman added.

This was the seventh time and second straight year the Championship was hosted at the prestigious club and it will continue until their Centennial season in 2024.

Defending Champion Emma de Groot (Modern Golf Oakville) finished tied for third place with Sarah Boyce (Summit Golf Club).
SPECIAL STARTER
The day was made extra special with a Canadian legend in attendance.
After turning professional at the age of 19, Sandra Post became the first Canadian Women's Golfer to play on the LPGA Tour, won the Lou Marsh trophy as Canada's Female Athlete of the Year in 1979 and a member of the Canadian Golf Hall of Fame.
Post used her vibrant personality as a starter for the event.
"These women (members of the PGA of Ontario) inspire me and I hope they inspire younger women to get into the business of golf", said the 2003 Order of Canada recipient.
"We had a nice cross section of women today and it was great to see!".