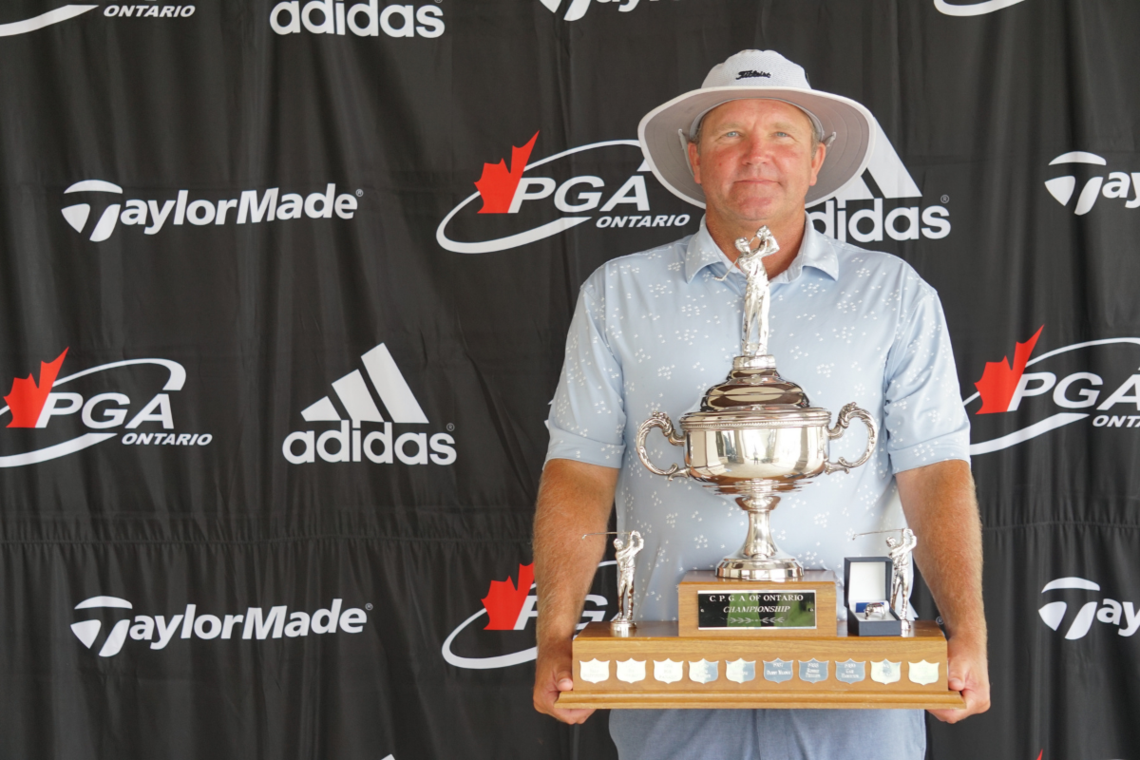 Alan McLean Brings South African Charm to Ontario Zone Championship
July 14th, 2021 - Barrie Country Club
Who could have predicted that in 2021, during a major global pandemic, a South African Golf Pro living and working in Ontario would be crowned Ontario's PGA Champion?
Alan McLean of Echo Valley Golf Club was crowned the 2021 Ontario Zone Champion yesterday (Tuesday, July 13th 2021) at Barrie Country Club. He defeated upwards of 90 players representing over 30 clubs from around Southern Ontario, the largest field since 2014.
Alan was presented the trophy by representatives from the title sponsors TaylorMade Canada (Mitch Pfenning) and adidas (Casey Lennon).
TWO DAY EVENT:
It was a busy day all around for tournament staff on Monday. In addition to setting up the course with all the typical sights and sounds accustom to a PGA of Ontario event, the tee-times were straight from 7:30 AM. With 30 threesomes, the first tee-times were finishing up 18 by the time the last group was off at 12:20 PM.
The weather was hot and sunny with little to no wind, a truly great day for golf.
"The weather is going to play a major role in how we are playing on day 1," said Victor Ciesielski (Galt Country Club Limited), our defending champion from 2020 in a pre-round interview.
"I think you'll find players taking riskier shots in day 1, trying to sneak under par before the rain hits on Tuesday".
Barrie Country Club had a packed lunch for the players after day 1, but most (including the PGA staff) called it early to get a well-deserved rest before battling the elements (and each other) during round 2 action on Tuesday.
Brad Kerfoot (Maple Downs), Bill Walsh (Modern Golf), and Alan McLean (Echo Valley Golf Club) were our leaders after 18 with 8 players within 2 strokes of the lead.
JUST SNEAKING UNDER:
We'd be lying if we said we weren't a little worried about the weather on Tuesday.
Despite starting cool, the sun began to show itself just as the groups had been sent off on 1 and 10 (split tee). With some players cut after day 1, things seemed to be moving a bit quicker on day 2.
We really thought we might be in the clear (pun intended).
It was just as the leaders completed hole 17 that phones started to echo with an emergency weather broadcast with golf-ball-sized hail and 100 KM winds reported close by.
Luck was on our side as the last group rode into the scoring table just as it started to rain. With a cold Greenside Social in hand, Michael Moniz, President of the PGA of Ontario, presented the trophy to Alan alongside our sponsors TaylorMade, adidas, and Greenside Social.
Alan shot a 66 in round 1 and a 70 in round 2 to secure the chip. Bill Walsh (-6) remained in second. A stand-up 68 round 2 performance from Branson Ferrier (Vespra Hills) pushed him into third place.
Our defender Victor didn't leave empty-handed - he claimed the Merit Travel Golf Vacations closest to the pin contest on hole #3.
"Billy and Brad are great guys to play with. Billy is very steady and plays very consistently, I knew I had to play well to stay on top despite my two-shot cushion" said Alan.
"I just focused on hitting my shots. The weather isn't anything you can control, and I think it is important to play like that, especially in two-day tournaments like this one" added Alan when asked about his play-style.
Congratulations to Alan on your victory. Thanks to our sponsors, Alan claimed a purse of $6,000 CAD for his win.
"The Ontario PGA did a great job this week from registration to scoring so a massive thanks to them".
When asked about how he liked Barrie Country Club, Alan said he would like to see the tournament return for years to come.
"Everyone from the volunteers to the ground crew did an amazing job and I feel lucky to be able to play a course of this caliber".
Thank you Ryan Ennis and the entire team at Barrie Country Club for hosting such an amazing event at your amazing course.
---
For full results from the Ontario Zone Championship, click HERE.
As a Player of the Year (POY) series event, players received points for competing in this tournament, standings can be seen HERE.
Our next major competition is the Pro/Pro Team Series at Nobleton Lakes Golf Club on July 26th.