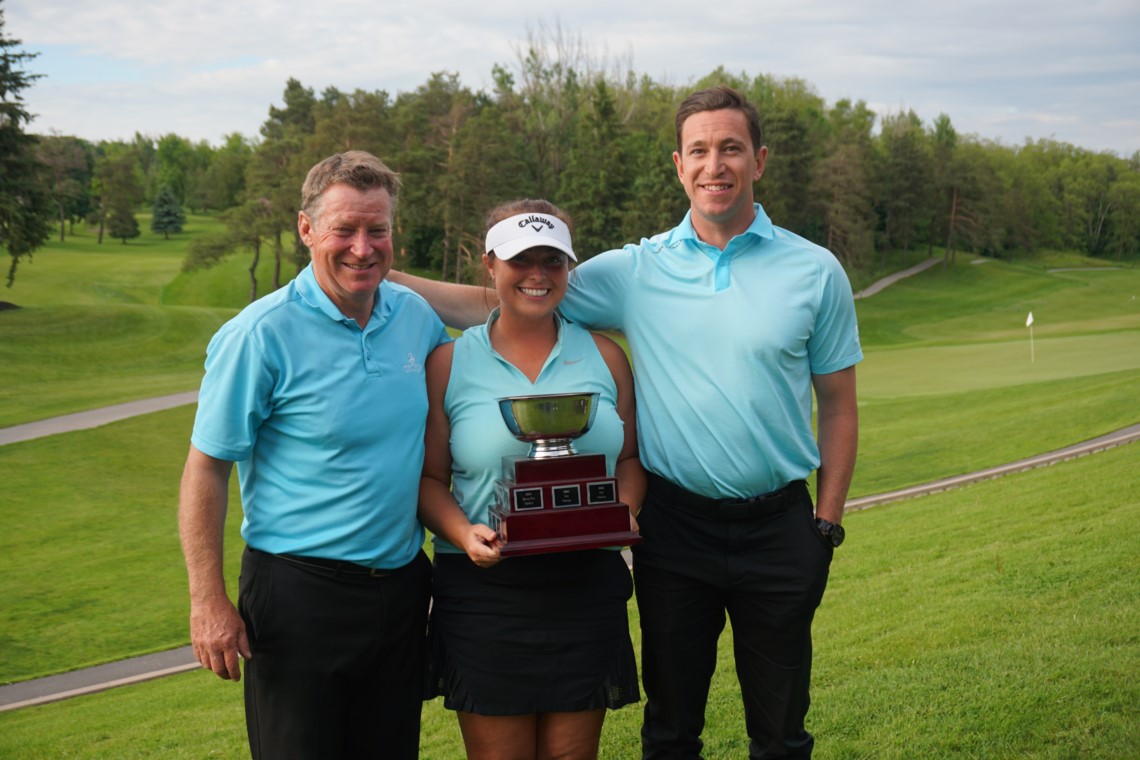 Beelik, Goodman & Mackenzie Win By Two
Seven teams convened at Maple Downs Golf & Country Club on Monday to vie for the 2019 Three Tour Scramble title. This year's winning team consisted of Bill Mackenzie, Brent Goodman and Sady Beelik, finishing 57 15-under. This score kept them just two strokes ahead of the second place team, who had 2018 champions Billy Walsh and John Cochrane gunning for the repeat victory.

This unique team event demanded something different of the threesomes competing this year: each team must have been comprised of one female professional, one male professional, and one senior professional.

Bill Mackenzie recalls his success Monday, stating "We had a great day playing at Maple Downs - a fun course to play and the greens were rolling perfectly. Thank you to Mike Moniz and the members of Maple Downs who have always been great supporters of the PGA of Ontario and its tournament program".

Maple Downs Golf & Country Club has been gracious in hosting several PGA events over the past few seasons, always welcoming the PGA and its members with fantastic staff and beautiful weather. Monday was no different - we could not have asked for more!

Players were treated to a beverage and meal after play, and most enjoyed it outside as they shared the experience of their day and caught each other up on the happenings at their respective clubs. For some, this may be the only opportunity this season that they will be able to sneak away to take advantage of a beautiful day on the greens, some friendly competition, and to socialize with fellow PGA professionals.

"It was great to represent St. Andrews East in a PGA of Ontario event.", Mackenzie continues. "St. Andrews East Head Professional Brent Goodman is a very talented player, but like so many of us, his responsibilities at the club prevent him from playing as much as he would like."
"Our win was truly a team effort. We always had a tee ball in great shape (often only one, thanks Sady!!), and only once did we not have a good putt at birdie. It was noted by our playing partners that Brent and I spent a lot of time leaning on our putters, watching Sady make putt after putt. The odd time Sady missed her shot, her great reads helped Brent and I make our putt. The team made 195 feet of putts making for a fun day!" Mackenzie recalls fondly.

Brent echoes Bill's recount of their performance, saying "I just want to add how much fun it was to get out and play with Bill and Sady. It's always difficult to get out and play as much as we would like, and this event is a perfect excuse to get together, share a few laughs and make a few putts".

For full scores from the 2019 Three Tour Scramble CLICK HERE

Don't forget to check out the photos taken at the event!