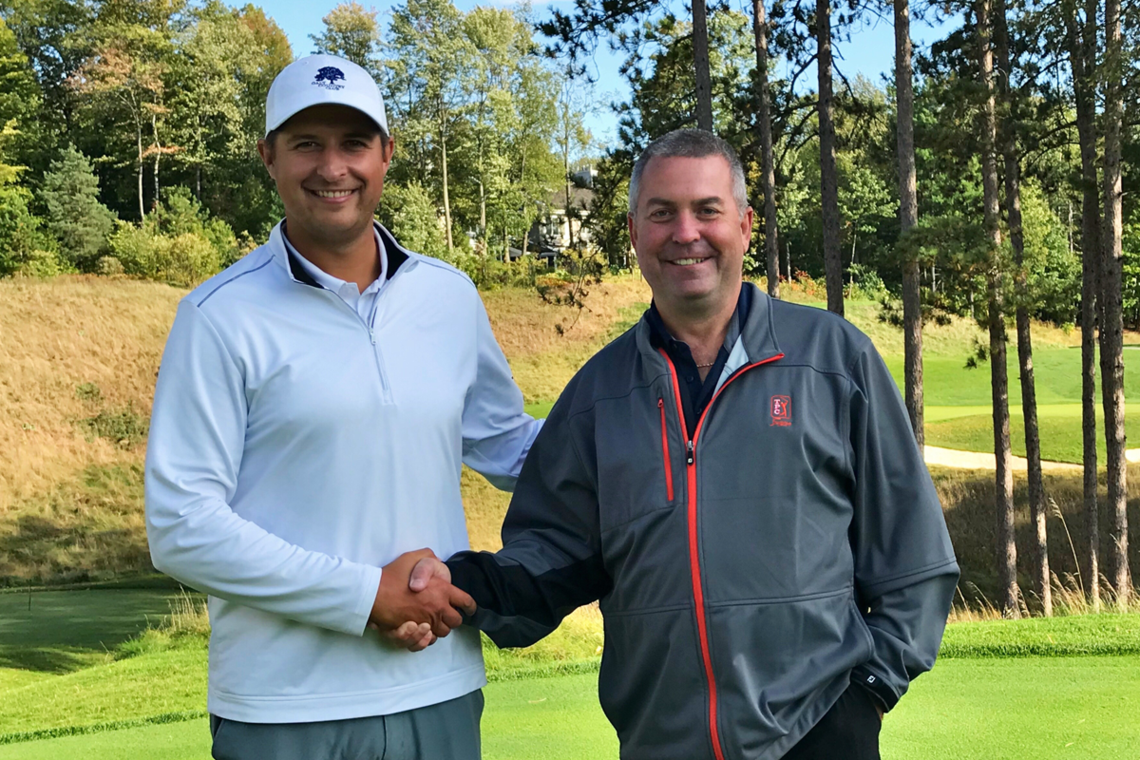 Ciesielski Wins First Career Merit Travel Golf Vacations Match Play Championship
The season long PGA of Ontario 2019 Merit Travel Golf Vacations Match Play Championship culminated on September 26th at Beacon Hall Golf Club. Four players descended on the annual venue for the Match Play Finals and started the morning with their semi-final matches which saw Bill Walsh facing Alf Callowhill and Victor Ciesielski facing Bradlee Ryall. Final matches were played in the afternoon.
Beacon Hall has been a wonderful host to the PGA of Ontario Match Play Semi-Finals and Finals and this year was no different. "Beacon Hall was in perfect condition like always, that place is so dreamy. We had a couple of weather challenges in the afternoon being pulled off the course a couple times due to high winds and severe rain that was close to hail at one point" said Victor.
Victor and Billy were both up thru 9 in their semi-final matches but in match play anything can happen with 9 holes still to play. "The game and strategy changes so often depending on the shot your opponent hits, that's what makes Match Play so fun. I've always been a great ball striker and in match play that can be a little intimidating simply because I make very few mistakes tee to green" said Ciesielski.
Ciesielski won his match 5&4 over Ryall and Walsh won his match 1up over Callowhill.
With the final match set to go Bill Walsh Jr. and Victor Ciesielski began the hunt for their first match play victory. Bill Walsh has made it to the finals five times over the years and hoped this was his year to bring it home. As weather was starting to make a turn for the worse and players had their eyes on the sky, Walsh and Ciesielski sent bombs onto the first fairway.
The consolation match between Alf and Bradlee barely made it to their second shots on the 1st hole before the horns went off. The weather cleared and all went back out, but shortly after another storm cell quickly rolled in and out of the area. Alf Callowhill won 1up over Bradlee Ryall to take the consolation match.
Victor defeated Billy 3&2 to win his first Match Play Champion title. When asked about the toughest match during the season Victor said "Billy Walsh in the finals was a tough match. He made a bomb on the first hole and controlled the front side. I rattled off a few birdies on the back to be able to take control and ended up securing the win on 16".
Ciesielski captured the Apprentice Championship at Lowville after a one hole playoff against Nic Ross and was leading the Apprentice points heading into the final event of the season. "I've been pleased with some of my play this year but it's often a frustrating game", says Vic with a laugh. I've dedicated a small amount weekly to practice around my work schedule and it's starting to show which is nice to see. I'm looking forward to the continued progress as well as representing The Galt Country Club and PGA of Ontario to the best of my abilities".
For all of the brackets and scores from the 2019 Merit Golf Vacations Match Play Championship CLICK HERE