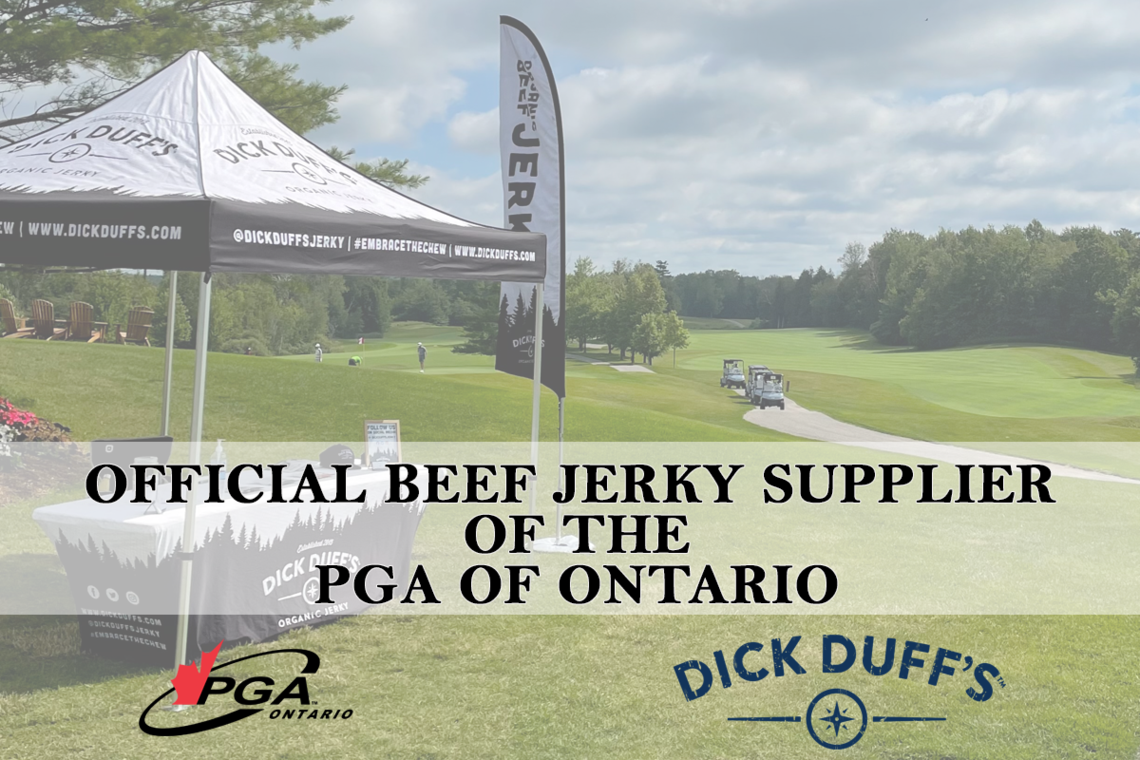 Dick Duff's partners with the PGA of Ontario as Official Beef Jerky Supplier
Markham, ON - The PGA of Ontario is excited to announce a partnership with Dick Duff's Organic Jerky as the Official Beef Jerky Supplier of the PGA of Ontario as well as becoming a Title Sponsor of the Dick Duff's Fall Classic to be held at Tarandowah Golfers Club on August 31st and September 1st, 2022.
"We are thrilled about our partnership with the PGA of Ontario and the opportunity to support the great game of golf, right here in our home province", said Jeremy Anderson, Co-Founder and President of Dick Duff's Inc. "Dick Duff's Organic Jerky is the perfect on-course snack, it's nutritious and mouth-watering, without leaving a mess".
Dick Duff's is aligned with a vision to enhance the golfer's experience by providing a healthy on-course snack option that golfers are sure to love.

"Dick Duff's is the real deal.", says Melanie van der Hoop, PGA of Ontario Executive Director. "I had the opportunity to try it last year and their team was so busy at our event that they had to hide product just to make sure I got some!".
Supporting a local business is an added bonus for a product well-suited to the golf industry.
"I encourage our pros to give it a try when they see the Dick Duff's tent at several of our upcoming events this season.", adds van der Hoop.
On-Course Activations
The team at Dick Duff's will be participating in on-course activations throughout the summer at various PGA of Ontario tournaments this season. It's a great opportunity to familiarize yourself with their product and learn about the value it can offer in your pro shops and on your courses.
Anderson added, "We're excited to share it with the PGA of Ontario members and fellow golfers. We look forward to growing the Dick Duff's brand alongside your great organization."
Members from Dick Duff's will be providing samples to our professionals at the Head Pro/Assistant Pro Team Series event on June 27th at Whistle Bear Golf Club. Be sure to give their product a try and chew into a new sensation!
Be sure to follow Dick Duff's on their social pages on Instagram, Facebook and Twitter.