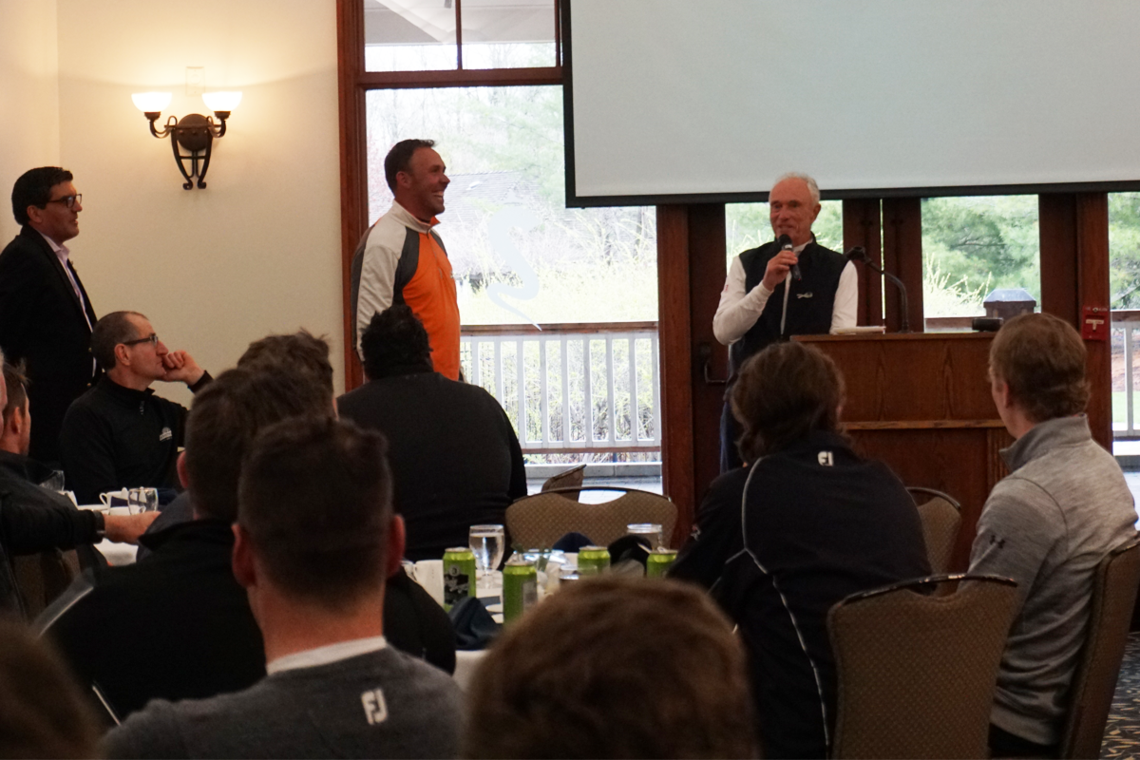 Hamilton and Maunder win 2019 Pro Pro Team Series
The PGA of Ontario Pro Pro Team Series has seen better days, but it was (mostly) all smiles as 128 professionals from around the Ontario Zone paired up and let the balls fly in the first Team Series event of the 2019 season. This year's competition was played on the Sidewinder course at ClubLink's RattleSnake Point Golf Club in Milton, Ontario.

G&G Golf Company came on board last year as the Pro Pro Team Series Presenting Sponsor, and returned this year all the way from British Columbia with their hard-working team to greet our professionals with a tee gift and a smile. Director of Sales & Marketing, Scott Masse, was joined by Jason Nadeau, Dan Jedrzejek, Wendy Shackleton and Laura Ouellette, all eager to meet and greet the players as they registered for the event. Each PGA competitor was provided with an Ecovessel water bottle with an engraving of the PGA logo and #WEBBYSTRONG on it, courtesy of our partners at G&G Golf Company.

The Pro Pro Team Series is the most popular team event on the PGA of Ontario schedule. Members of all ages and categories pair up with a partner of their choosing to give it their best effort while catching up with friends and colleagues after a long winter season.

The pair of Gar Hamilton and Eddie Maunder started the day on the 18th hole and finished with six birdies and an eagle, not only dubbing themselves the 2019 Pro Pro Team Series Champions, but also collecting the team skins pot of a whopping $2,320.

Upon claiming their prize, Gar said with a laugh "I drove the cart well today! Eddie and I had a great day, especially under very trying weather conditions.
The course was absolutely saturated but managed to hold up very well. Eddie was great making all the birdies and I managed a few critical pars - all in all, a wonderful day!"

Eddie responded by mentioning that yesterday was the third time he and Gar had played together in a team event. "We work well together. Gar is so steady, and that allows me to play more aggressively and make some birdies. The turning point today was on the back nine when I made 4 birdies in a row, the 12th thru the 15th. Gar was in for par every time and I was able to putt confidently for birdie. Gar and I would like to thank the RattleSnake Turf Crew for getting those greens in great shape. I couldn't believe how smooth and fast they were."

New PGA of Canada member, Jake Adams of RiverBend Golf Community, competed in his first PGA of Ontario event and went home with a victory of his own! Jake won $100 from the Merit Travel Golf Vacations Closest to the Pin on hole #16, giving him 100 reasons to celebrate braving the tough conditions at RattleSnake Point yesterday.

Although the skies were grey and the mist was never-ending, nothing brightened the day more than the presence of Ian Webb! In his first event since completing treatment for Glioblastoma, he and partner Rocco D'Amelio played 9-holes, then stayed to support playing partners Mike Surtel and Mark Ahrens as they finished their round. Ian graciously took a moment to share a few heartfelt words during dinner to thank everyone for the outpouring of support shown by his Credit Valley family, CSCM, and his fellow professionals near and far. It was a memorable experience as the room responded with a standing ovation - The love and support in the room was palpable.

Players also had the opportunity to purchase ribbons in support of the Ian Webb Scholarship Foundation, which raised $1,390.00 yesterday alone. Thank you to all that so generously donated. For more information about the fund, please email Stacey Hewett at stacey@pgaofontario.com

After the round, players warmed up and cheered up with a hearty meal and a Triple Bogey beverage. Big thanks to Geoff Tait and his team at Triple Bogey Brewing Co. for supporting all of the PGA of Ontario's events and supplying our members with a cold one to celebrate the completion of each tournament.
For full scores and leader board results from the 2019 Pro Pro Team Series, CLICK HERE
Did you smile for the camera? Don't forget to check out the images taken at the event!