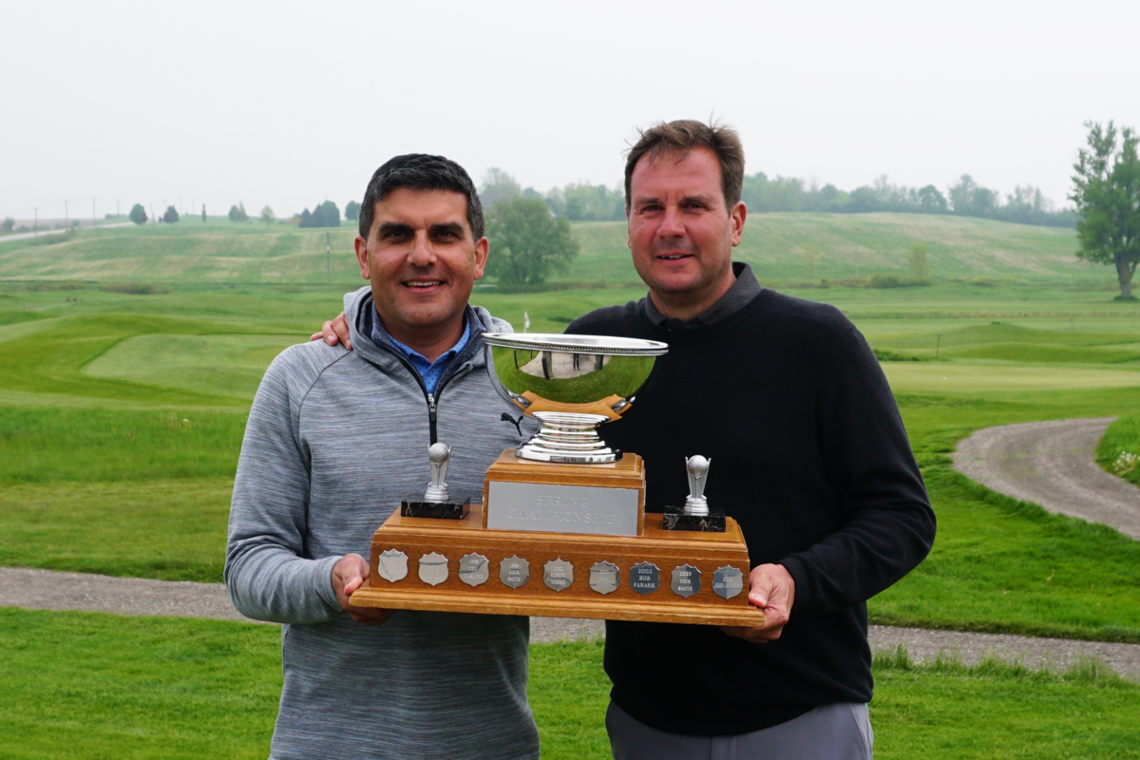 Hendershott wins Spring Open and Neil Smith wins Super Seniors at Tarandowah
The PGA of Ontario's Spring Open returned to Springfield this year, hosted by the rugged Tarandowah Golfers Club. The competition saw the introduction of a Senior and a Super Senior division where members 50+ and 60+ competed against their respective field.
Neil Smith, who hangs his hat at Maple Downs, competed in the Super Senior division (60+) and took home the win with a score of 82 12-over. Neil said, "I love playing at Tarandowah, and if a person can still sort of play at 74 years old, and the field is small enough, sometimes good things can happen".
Dennis Hendershott, who was making his Senior debut with the PGA of Ontario, won the Senior Division as well as the Spring Open title with a score of 65-69, 134 6-under.
What's the secret to his winning game plan? Hendershott has been putting more emphasis lately on studying the green compositions in his practice rounds, focusing on preparation prior to a competition and developing his strategy from Tee to Green. He said "My prep allows me to stick to my game plan and I don't have to waste energy in my practice round. It's like doing my homework before a big test; I feel more confident and am able to play more freely."
With the inconsistent Spring weather we have experienced, and the looming rain forecast that was scheduled for Day 2, Dennis said "I did know that the scores were likely going to be lower on Day 1. I stayed patient and was rewarded with a great start on my opening nine. The second day, I was pleased to see the tougher weather conditions. I felt if I shot anything under par it would be difficult for anyone in the field to catch me."
Hendershott reflects on his Day 1 performance, stating "I was pleasantlysurprised when signing my card that put me in the lead for the Open division, and ultimately awarded me the 50+ Sr title. I had a putt to go 7-under on 18 from approximately 15-20 feet. I actually three-putted it, and thought that may cost me the senior win or overall lead."
Hendershott has played at Tarandowah a dozen times or so, having previously owned The Great Lakes Tour and having hosted a few events there. He competed at Tarandowah in the 2018 Spring Open where he finished second place, right behind G.W. King. Dennis was also in Springfield on the Sunday prior to 2019 Spring Open competition, to map out the course and prepare for the following days.
Once the lead group teed off, only time would tell. Dennis' goal was to shoot anything under par, not give any shots back to the field, and force his competitors to catch him if he could remain in good position. On Day 2 of competition, Dennis was paired with Rok Hun Cho and Joseph D'Alfonso. "Joseph holed out on the 14th hole for an eagle and got to 4-under par total. I made my 10-foot birdie putt to have a 4-shot lead within my group and go 8-under par for the tournament.", said Hendershott. "It was not until the 17th hole that I decided to check if anyone else had made a move. I did not make a bogey until the 17th hole and Joseph had already gone bogey, bogey to fall back to 2-under. At that point, I knew I had a 5-shot lead over the field. I felt relaxed, which may have contributed to my two bogies coming in." Hendershott recalls. Only three players broke par over the two-day tournament.
A notable THANK YOU goes to Dave Schweyer and the Tarandowah grounds crew. They are always very accommodating and welcoming to our professionals. During the trophy presentation, Dennis addressed his fellow competitors with broken emotion. "It's hard work.", he begins, upon gathering himself. "It's really difficult to come out here and win tournaments. The course was in great shape - for all the rain we've had this Spring, it was very playable. Thank you to Dave and his team for maintaining the course condition. It's hard work and I'm very grateful."
When asked about competing in the Senior division and his outlook for this season, Dennis replied "Fellow professional Danny King and I went to Champions Tour Q School in the Fall and advanced to the Finals, but both came up a little short. I am looking forward to the PGA Senior schedules, and still competing in the PGA of Ontario Open Divisions as well. I see the PGA of Ontario Senior Championship and the PGA of Canada Senior Championship as two of my Majors this season and am excited to compete. I also plan to attend more Champions Tour Qualifiers in hopes to make my debut out there! It will be an exciting summer."

For full scores from the 2019 Spring Open, CLICK HERE
Don't forget to check out the photos taken at the event!