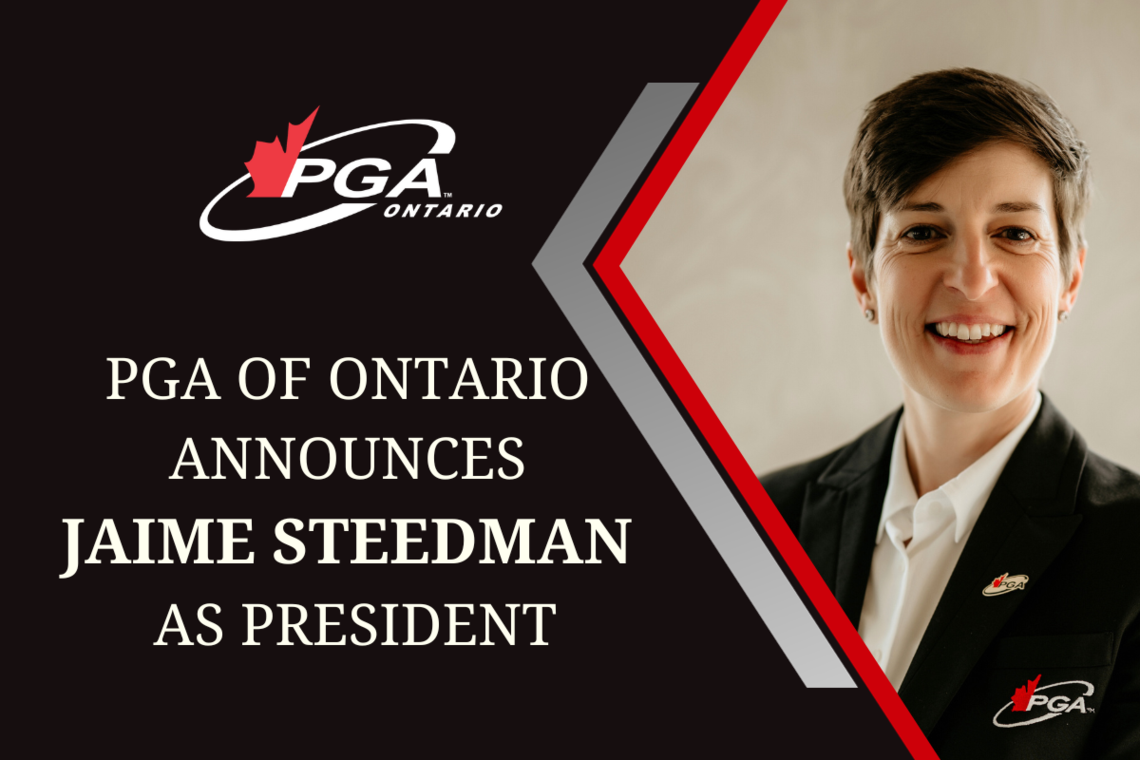 Jaime Steedman becomes President of the PGA of Ontario
Markham, ON --
Effective immediately, Jaime Steedman assumes the role as President of the PGA of Ontario Board of Directors, as former President resigns.

We would like to thank Brenden Parsons for his contributions to our leadership team over the past several years and wish him the best of luck in his future endeavours.
Steedman is currently the Head Golf Professional at Ladies' Golf Club of Toronto, and prior to her current role, had led the Ladies' Golf Academy as Head Teaching Professional from 2016-2021. Before joining the team at Ladies' Golf Club, she spent six years at Hamilton Golf and Country Club as Associate Professional & Junior Academy Director, and coached at the ClubLink Academy at Glen Abbey. She began her career in golf with the Golf Association of Ontario in 2004.
Jaime was nominated for the PGA of Ontario Teacher of the Year in 2017 & 2019, and nominated for Junior Leader of the Year in 2014. She is a graduate of the Professional Golf Management Program at Humber College where she competed on the provincial and national championship-winning squads, and a graduate from the University of Waterloo.
"The PGA of Ontario is in great hands with Jaime stepping into Presidency", said Melanie van der Hoop, PGA of Ontario's Executive Director.
"Jaime has a strong character and brings a variety of skills and a diverse background to our Board of Directors. She has already proven to be a valuable asset to our leadership team for the past several years. Jaime is a creative leader, a team-player, and a professional who encourages excellence by leading by example. We are thrilled to welcome Jaime as our President and I sincerely look forward to working closely together to achieve our shared goals in the coming years".
Throughout her tenure with the PGA of Ontario, Jaime has made a resounding impact, most recently as part of the Member Survey Committee and PGA of Canada's Equity, Diversity and Inclusion Taskforce.
With her appointment, Jaime becomes the first female President of the PGA of Ontario.
"I hope this encourages other female professionals in our industry and inspires a trend of diversity among our leadership teams in the future", added van der Hoop.
"First and foremost, I want to extend sincere thanks to Brenden Parsons for his leadership and many contributions during his time on the Board," said Steedman.
"To serve as President of the PGA of Ontario is an incredible honour. I consider it a privilege to work in collaboration with such a passionate and talented group of Board Members, as well as the dedicated operational team led by Executive Director Melanie van der Hoop".
An exciting time to be assuming this new role, according to Steedman.
"I am thrilled to be part of the next chapter as we continue championing and celebrating our dedicated professionals, strengthening partnerships within the industry, and cultivating an environment in our Zone that allows both our longer-tenured members, and emerging talents within our association to thrive, grow, and be engaged".
Please join us in welcoming Jaime! She can be reached at JSteedman@ladiesgolfclub.com.