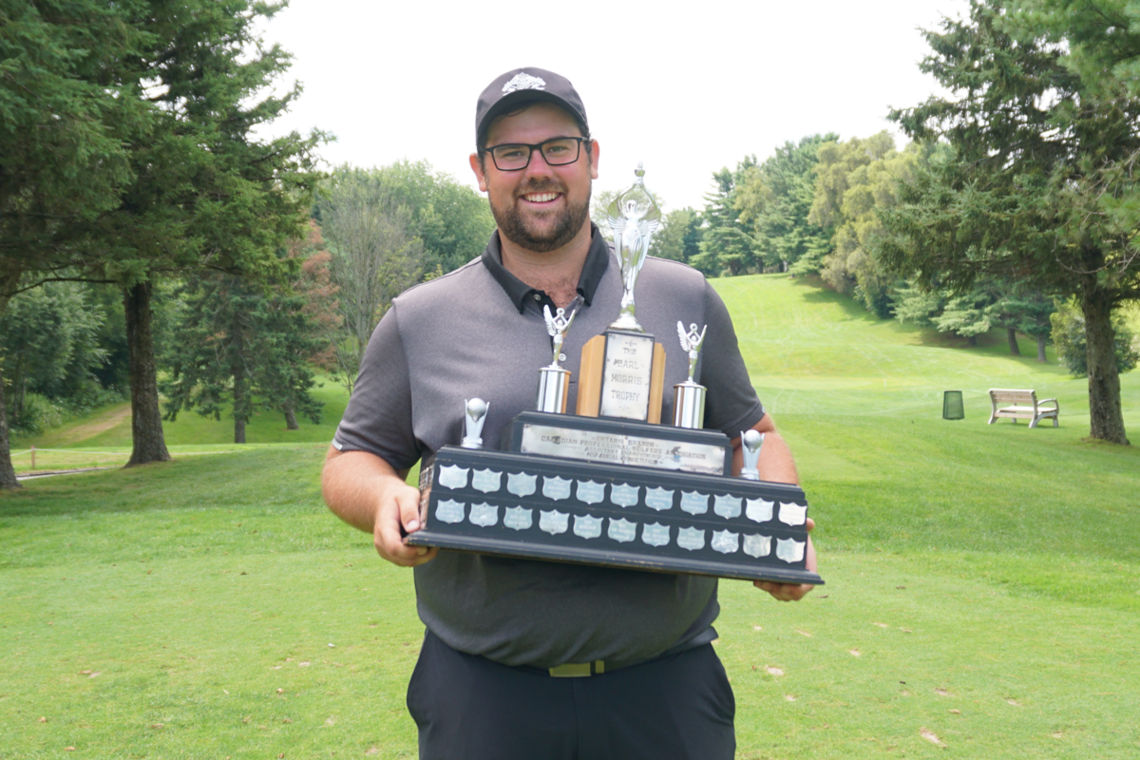 Jake McNulty wins 2019 PGA Assistants' Championship of Ontario presented by GOLFTEC
Allow us to introduce the 2019 PGA of Ontario Assistants' Champion, Jake McNulty of Oshawa Golf Club! Defending Champion Billy Walsh was in the running to vie for a repeat victory, and a fifth successful year hoisting the Assistants' Championship trophy, but none could compete with McNulty this week. Jake's scorecard of 67, 66 (133) 11-under lead the field by three strokes, Billy Walsh and Brad Kerfoot T2 at 136 8-under.

This is a sweet result for Jake after his T2 finish in 2018, beating out the defending champ on his "home turf" this year. Not only that, but this victory also earns him an exemption to compete in the Ontario Open in just a couple weeks! When the announcement was made that Jake would be offered a position to represent the PGA at the Ontario Open, he responded, "Oh that's great, but I've already qualified for that. I earned myself a spot at the Woodington Lake qualifier last month!"

His game speaks for itself, his successes calculated and deliberate. "I felt really good about my game coming into this event. I feel like I'm playing the best golf of my life right now.", says Jake. And who can argue with that?

Flamborough Hills Golf and Country Club hosted this event in 2018 and graciously had our professionals return this year. "I was excited to come back to Flamborough Hills. I played well there at last year's Assistants' Championship, losing to Billy Walsh by just one stroke. The course sets up well for me. I think it puts a premium on drivers, and wedges around the green because of all the reachable par 5's. I've really enjoyed playing this course.", Jake shares after his round.

McNulty was T2 with Victor Ciesielski after round one at 67 5-under. The leaders of the day were Stephen Bardswick & Brad Kerfoot, setting the pace at 66 6-under. "Billy Walsh, Brad Kerfoot, and Victor Ciesielski seem to always be around the top of the leaderboard at these events," says McNulty. "I knew I would have to play really well in the final round to beat them."

"I played great golf on the first round - just two misses on 3-foot par putts left me one shot behind the lead score. One shot is nothing over 18 holes though, so I wasn't really nervous going into round two. That's unusual for me, but I was pretty confident I was playing well enough to have a chance coming down the stretch."

Not only did he have a chance, he put the nail in the coffin with his beautiful birdie putt on 18. The final few groups drew quite the crowd, those waiting in anticipation to see who would rise to the top, and McNulty certainly didn't disappoint.
"In the final round, I got off to a nice front nine taking birdies on the first hole, the 4th and the 7th. After that front nine I thought I was probably leading, but I knew there was lots of golf left to play and it is certainly possible to have an amazing back nine, as Brad Kerfoot did the previous day. I was pleased with my play on the back nine as well, and capped it off with a 15-foot birdie putt on the 18th hole. When that putt went in the hole, I thought that 11-under would be a good enough score to win. I was pleased to see that it was!"

"The event was just a great time overall, with many examples of why these events are fun to play. I came up a day early to play a practice round and was paired with Aaron Brush. We had a great time and on the final day of the tournament we ended up paired together. He mentioned that his round one score of 69 was his first under-par tournament round, and he followed it up with another under-par round on the second day. That was so awesome to see. He played great golf and was a pleasure to play with." McNulty states with modesty.

Jake will be competing at the PGA of Ontario's Shoot Out Series at Twenty Valley on Monday, and at the PGA of Ontario CFM Championship the following week. Play well, Champ! We will see you soon!

For full results from the 2019 PGA of Ontario Assistants' Championship, CLICK HERE

GOLFTEC is the newest partner of the PGA of Ontario, and supported the 2019 Assistants' Championship of Ontario as Title Sponsor. We were pleased to have Steve Fox, Director of Instruction and Centre Manager at GOLFTEC Hamilton, join us for round 1, starting our playing professionals off the first tee and engaging with them about GOLFTEC's growing business. Steve Rodriguez, Director of Instruction and Centre Manager at GOLFTEC's Whitby location, was the GOLFTEC representative for round 2.
Thank you, gentlemen, for your attendance, dialogue with attendees, and representation of your business. It was a pleasure to have you out to support the event!
If any PGA of Ontario members are interested in continuing discussions with GOLFTEC, we invite you to connect via email at the following links:

Steve Fox
Director of Instruction/Centre Manager at GOLFTEC Hamilton
sfox@golftec.com

Steve Rodriguez
Director of Instruction/Centre Manager at GOLFTEC Whitby
srodriguez@golftec.com