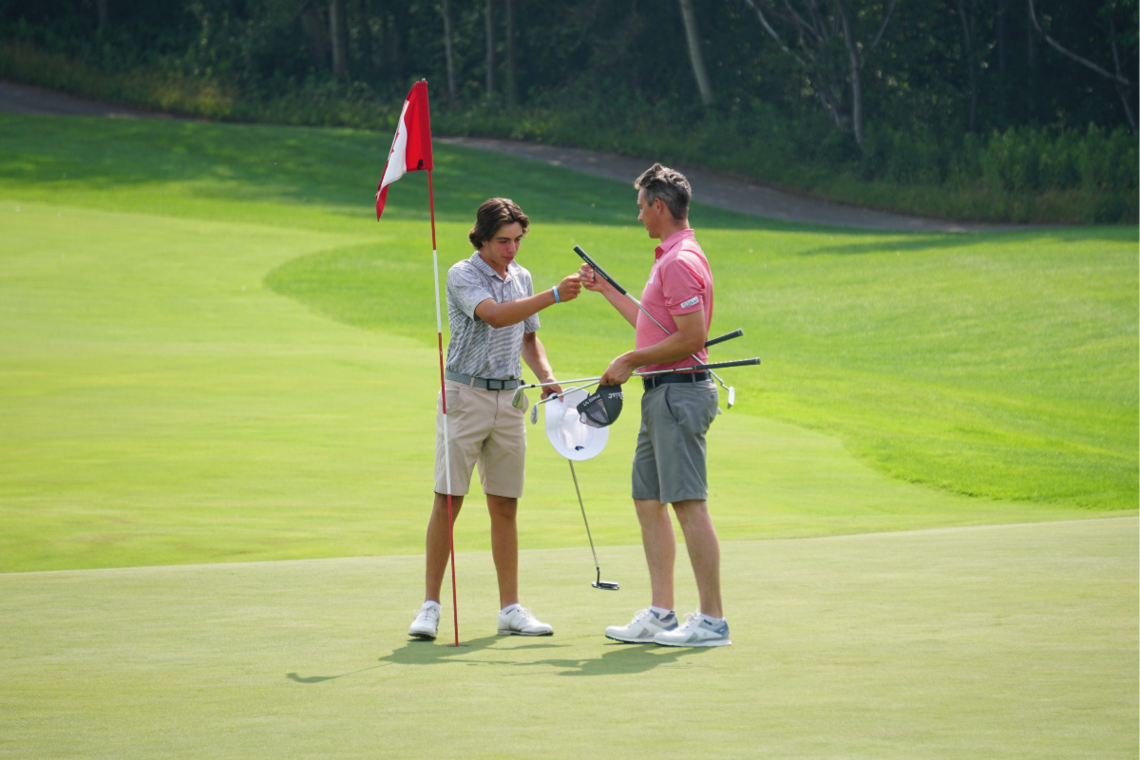 Juniors Shine Bright At Wooden Sticks
July 7th, 2021
They might be young but they sure can play.
That was the mantra heading into Tuesday's Pro Junior event at Wooden Sticks Golf Course. The annual competition attracted some of the top young and Professional talent alike from all over Southern Ontario.
With many holes at Wooden Sticks being replicas of famous holes around the world from the PGA Tour (See #17), the course alone was enough to make any kid (or even those at heart) excited to play.
JUST HAVING FUN
While there were some pretty sweet prizes on the line for the top-performing duo, the tournament style and feel were far more relaxed than other PGA events. You could feel that relaxation out on the course. The weather stayed hot and balmy all day with very little shade and even less wind. The field performed incredibly with most teams performing under or near par based on the handicap-index (HI). It wasn't uncommon to see players getting their photos taken with multiple teams from the same club competing against one another.
Callaway stepped up to assist with the junior's tee gift and as well as the junior prizing. Juniors who placed in the top 6 were given either a golf bag, putter, or driver, depending on where they were placed. All contestants were treated to a meal after their respected round.
THE NEST GOLF CLUB AND MEADOWBROOK COME OUT ON TOP
Sheldon Friske (Head Pro at Meadowbrook) and his Junior Matthew Rastogi claimed the top prize in the gross score category. Matthew walked away with a new Callaway driver and a custom fitting after shooting a 9 under-par.
In the net score category, Jason Moxam and Dimitri Protopapas from the Nest Golf Club came out on top.
"Dmitri is a wonderful young man with a massive love for the game, and to have him play an event among fellow professionals was a real treat," said Jason when asked about his junior Dimitri.
The common trend in both scores was that neither the pro nor junior carried one another to the championship. Both players in the two pairs seemed to equally trade bogies and birdies and played like a true team.
But that didn't stop a little inter-team rivalry.
"It is always a fun day to play alongside the juniors in a group with another Club Professional. It allows the kids to get a sense of what it is like to play in a professional event, plus it adds a little pressure on the Pros to play well alongside their Junior, I know that I tried a little harder not to get beat by Matthew," said Sheldon Friske of Meadowbrook.
Congratulations to both teams on your victory – we can't wait to welcome back the seniors and, hopefully, some of the juniors, to future PGA events.
"Being able to host a deserving junior golfer at the PGA of Ontario Pro/Junior event is one of the best initiatives that we have in our association. A huge thanks to the PGA of Ontario and its amazing team for putting on a great event, and as well, to Wooden Sticks for being a great host" added Jason.
---
For full results from the Pro Junior, click HERE.
Our next major competition is the Ontario Zone Championship at Barrie Golf and Country Club on July 12th and 13th.