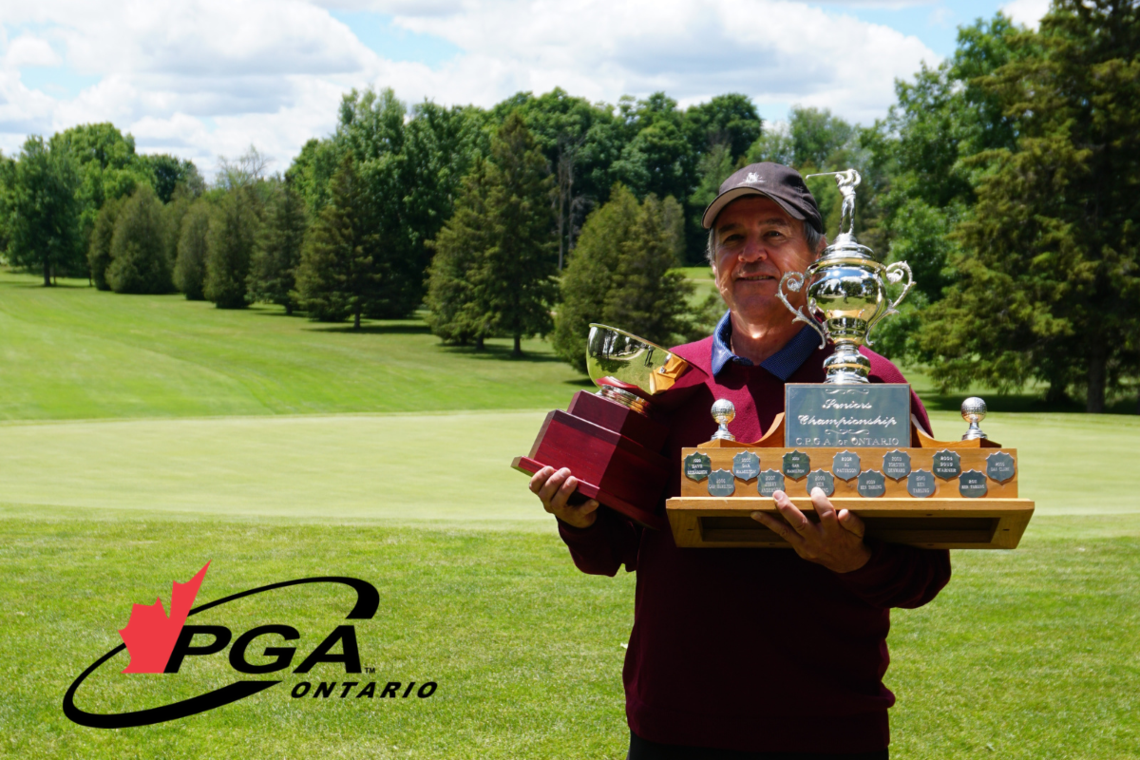 Ken Tarling Battles Injury + Weather To Sweep Trophy Case At Seniors
June 23, 2021
The PGA of Ontario was at Listowel Golf Club for the 2021 Senior and Super-Senior Zone Championship this week.
Despite difficult weather conditions both days, the field battled hard with one player, in particular, battling more than just the weather.
"I hurt my back and was stretching out like crazy beforehand," said Ken Tarling (Life Professional, Twenty Valley) who hadn't played a tournament in over 8 months due to lockdown restrictions.
"I couldn't get loose and was struggling a bit in the front, but luckily I was back on my feet coming back to the clubhouse"
Ken Tarling (or, KT, as he is commonly known) went on to win both the Super-Senior and Senior Championship titles.
DON'T CALL IT A COMEBACK:
Tarling finished his first round shooting a 73 (1 over-par) leaving him tied for 4th. Keir Smith (The National Golf Club of Canada) shot a 69 (3 under-par) to lead going into the second round. Despite not being paired with the leaders on day 2, Tarling just focused on playing his own game.
"I was just trying to play a clean-round"
(And he almost did)
"I bogeyed one on the front and it wasn't until the back-9 that I really caught my groove," recalled Tarling in the post-game interview.
"I had my partner ask before teeing-off on 10 if I wanted to see the live-score and I was more focused on playing the best game I could"
This is Ken's sixth time winning the Senior Championship. With COVID-19 and being abroad the last few seasons, this tournament was circled on his calendar. He wasn't going to let bad weather ruin his tournament.
"It's never easy playing in the cold as a senior," Ken said.
GREAT FEW DAYS OF GOLF:
Just under thirty seniors came out to Listowel to battle for the coveted trophy including a few newcomers (Colin Murray and Piero Poletto) who placed competitively for their first senior tournament. Despite windy, rainy, and thunderous conditions on day 1, and day 2 feeling more like late-fall than the third day of summer, everyone was in good spirits.
Seasoned referee Paul Byrne and starter Brenden Parsons (Head Professional at Listowel) also graced us all with their presence and support on both days. We would also like to thank all the event staff for making this a seamless experience for both the PGA and our competitors. We couldn't have done it without you.
"My wife and kids have been extremely encouraging in getting out to practice," said Ken when asked about who he owes the victory to.
Our players seemed to be in a very thankful mood coming out of Father's Day weekend and Ken was no exception.
"I'm at the age now where I go for lessons from my own son (Kevin Tarling), who is an Assistant Professional over at Pheasant Run".
Congratulations Ken on your victory.
---
For full results from the Senior Championship, click here.
Looking for photos? You'll find the best ones here.
Our next Player of the Year Series event is the PGA of Ontario Zone Championship on July 12 & 13, click here to register.