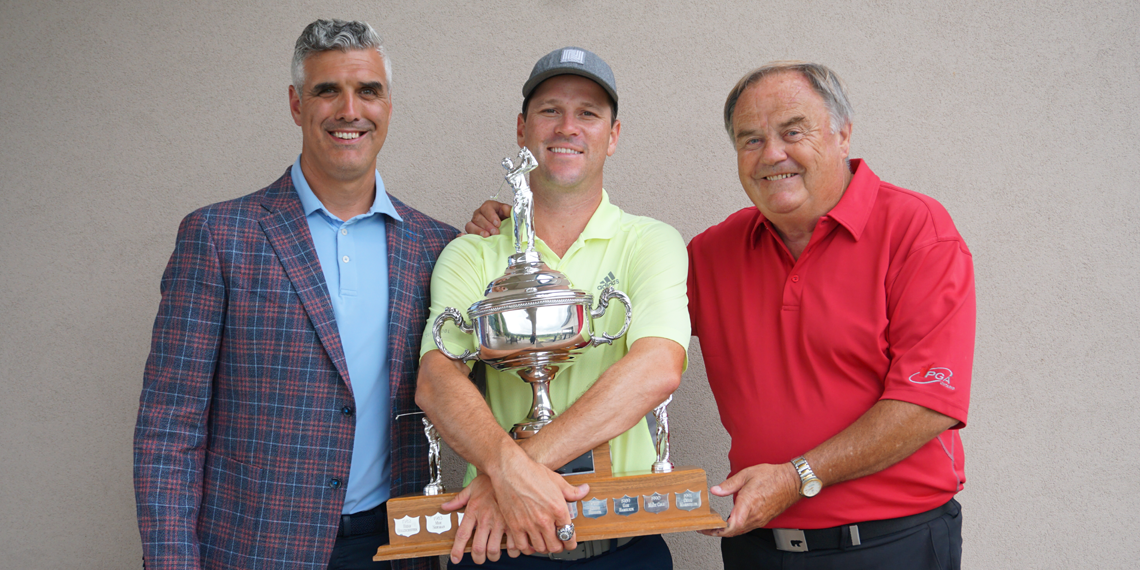 Kenney Wins TaylorMade adidas PGA of Ontario Championship
The PGA of Ontario Championship presented by TaylorMade and adidas is the longest running tournament in the history of the Ontario Zone. First contested in 1939, the PGA of Ontario Championship is synonymous with some of Canada's most accomplished club and touring professionals. Those names include Moe Norman, George Knudson and Al Balding. The PGA of Ontario Championship has been contested at some of Ontario's top golf courses; this year the historic event returned to Barrie Country Club.

Barrie Country Club last hosted the PGA of Ontario Championship in 2012, and as the PGA of Ontario's Tournament Captain Michael Moniz said, "It felt like we were coming home.".

National Partners TaylorMade and adidas support a major Championship in all nine PGA Zones which sees the winner receive an early exemption into the PGA Championship of Canada.

Mitch Pfenning from TaylorMade and Philippe Black from adidas started for our pros on both days of the tournament, and presented the 2019 Champion with a flashy championship ring, compliments of TaylorMade and adidas.
We had a larger field compete this year compared to the last several years, and saw the field cap out at 80 players. Following Round 1 the field was cut to the low 60 players plus ties.

Round 1 of competition culminated with a tie for first at 66 6-under, the leaders being Nick Kenney (National Golf Club of Canada) and Jake Adams (RiverBend Golf Community). Two strokes behind them were David Sheman (Emerald Hills Golf Club) and James Skrypec (The Golf Academy at Deer Ridge) at 68 4-under. This must have been a deja-vu for Kenney as he found himself in the exact same situation last year, sitting at 6-under after Round 1, tied for the lead.

Honourable mention goes to Steve Rodriguez of GOLFTEC Whitby who won the closest to the pin contest presented by Merit Travel Golf Vacations with a hole-in-one on hole #3! This earned him a free trip to Casa de Campo, and ultimate bragging rights for doing it in style!

The final result after Round 2 was Nick Kenney at 10-under, followed by James Skrypec of the Golf Academy at Deer Ridge at 8-under, and a third place tie at 5-under between Jake Adams of RiverBend Golf Community and Victor Ciesielski of Galt Country Club Limited.

Kenney recalls his second round, stating "James put the pressure on me all day, never making a bogey and if he missed a putt it was by a small margin. I'm proud that I wasn't hitting it my best but I managed my game well and was saved by a strong wedge and putting game. The lead got down to 1 up through 12 which was too close for comfort, but I made a 50-footer on 16 and wedged it close on 18 to seal the win.".

When asked of his game plan going into the tournament, Kenney's response was "stay present and positive". Knowing he was tied with Jake Adams going into Round 2, with Skrypec and Sheman on his heels, Kenney recounts "It was a stressful day, that's for sure. I've gassed enough leads to learn that it's your routine and positive thoughts that win tournaments. I knew I had to play well and I'm very happy with how I responded under pressure."

He continues about his playing partner, "Jake Adams had a great demeanour throughout the round. He'll only get better the more he puts himself in those types of situations."
After the awards presentation, Kenney was in awe discovering the original champions, measuring himself against the high-caliber golfers whose names were inscribed so many years ago on that very same PGA Championship trophy. "I'm honoured, excited and happy to be on that trophy with the likes of Moe Norman and Ben Kern, among others."

It was a National Golf Club of Canada reunion of sorts, with Tim McCutcheon (a.k.a. Mugsy) creating and populating the leaderboard both days of the Championship with his outstanding calligraphy, and Ryan Ennis (former member of "The Nash" as he calls it), both getting to celebrate Kenney's victory with him on Tuesday.

On Sunday prior to the PGA Championship, the PGA of Ontario, in partnership with Barrie Country Club, hosted a pro-junior event for the junior golfers at BCC.

This event was developed as a means to express gratitude to the members of Barrie Country Club for allowing the PGA of Ontario the opportunity to conduct our Provincial Championship on their great golf course.
The afternoon consisted of a "Past Champions at Barrie CC" clinic, lead by MC and PGA of Ontario Tournament Captain Michael Moniz. The PGA professionals included Brian Hadley, Brian McCann, Danny King, and Bruce Rogerson, all of whom had won the PGA Championship at Barrie Country Club.

Following the clinic, 26 PGA professionals were paired with a junior from Barrie Country Club and set out for a 9-hole competition that ended in a chip-off to determine the winning pair.

Congratulations to the winning team of Brad Kerfoot (Maple Downs) and his junior partner, Ella Dupuis!

For full results from the TaylorMade adidas PGA of Ontario Championship CLICK HERE

Did you smile for the camera? Don't forget to check out the photos taken at the event!
This album includes photos from the PGA of Ontario Championship, as well as the Pro-Jr event on Sunday July 14.