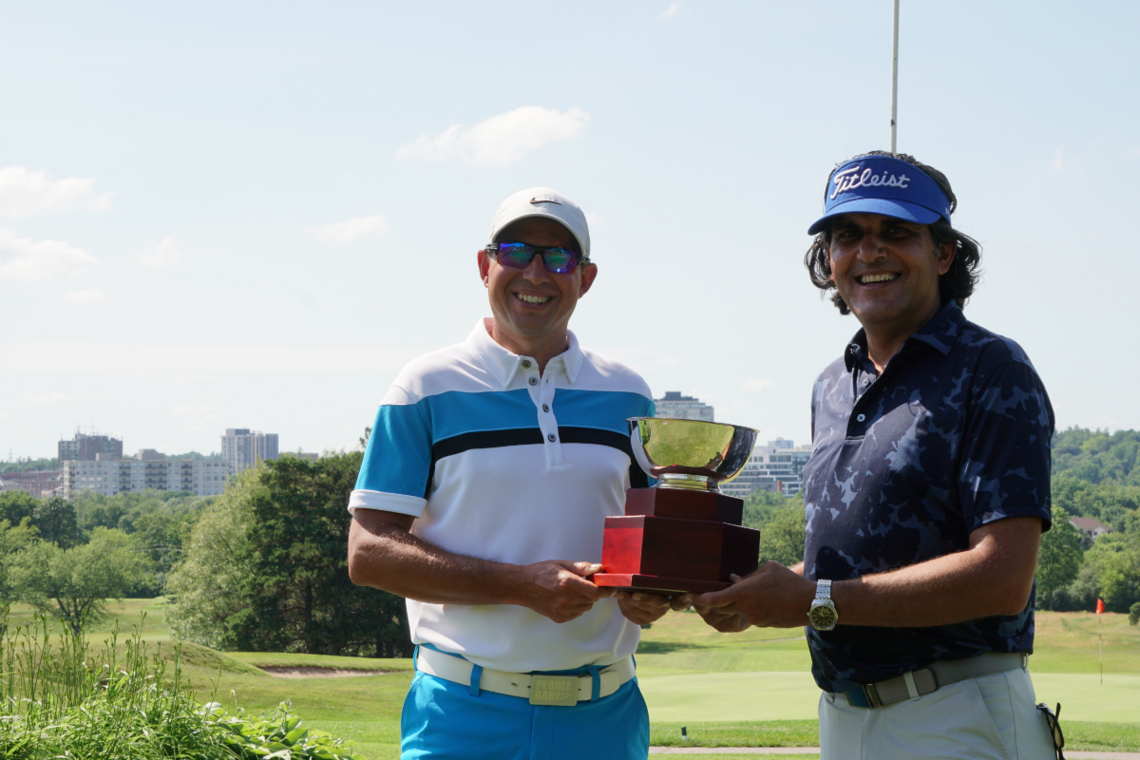 Maple Downs Melts Competition at Scorching Clean N Grill Head Pro / Assistant Pro Championship
"The water bottle budget for this tournament must have been astronomical" Summer Intern Oliver Flint said after sitting at the table for close to 9 hours.
Better out there on the course than over here I guess.
With humidex, the weather reached an astounding 37 degrees Celsius with very little shade and consistent wind.
The weather did however make for a great day of golf at Cutten Fields in Guelph this past Monday for the annual Clean N Grill Head Pro / Assistant Pro Championship. We played a 6-6-6 format of alternate shot, better ball & scramble.
With over 80 pros representing over 40 golf clubs in Southern Ontario, the day was successful thanks to help from our sponsors Clean N Grill, Greenside Social, and Levelwear, a ton of extra hands, and a lot of water (and even some beer!)
---
MICHAEL MONIZ + BRAD KERFOOT FAVOURITES GOING INTO THE DAY
With COVID-19 restrictions rendering the 2020 edition of the HP/AP championship unplayable, Michael Moniz and Brad Kerfoot of Maple Downs Golf and Country Club were our defenders from 2019.
"It's not every day we get to play a Stanley Thompson," said Michael at the first-tee.
"These alternating shots can be tricky, but we knew that if we just play our game, try to play under par, and stick to our practice, we can come up on top".
Unlike many competitors who drove up for the day, Michael and Brad spent the night in Guelph on Sunday after playing a practice round.
MAPLE DOWNS COME OUT ON TOP FOR 2ND TIME IN ROW AND 4th ALL-TIME
After making a birdie on 3 the floodgates were open. Michael and Brad went on to birdie 3 of 9 on the front with only one bogey on 5.
"It was after our start that we sort of looked at each other and realized we could really make up some ground here, we were hot," said Brad.
The pair finished the day shooting an impressive 67 (4 under-par).
In second place we had Brad Pemberton and Nick Oosterhof from Dalewood Golf Club who shot a 69 on the day (2 under-par).
"We didn't even think to check the live scoring," said Michael when asked if he had worried about other players catching up.
"We had a number we wanted to shoot, and we knew right away if we hit it, we would be set"
Congratulations Michael and Brad on your victory – looks like Maple Downs will have bragging rights until next year.
"I would first and foremost like to thank our sponsors for helping us out today. It's very tough to find courses to host these events right now and to play a course of this quality, it's special."
---
For full results from the HP/AP Team Series, click HERE.
Looking for photos from the event for your social? See the best ones HERE.
We look forward to seeing Michael, Brad, and the other pros at the Pro/Junior Team Series next week and the Ontario Zone Championship on July 12th and 13th.
PS: It is your final chance to register for the Zone Championship! The deadline is THIS Sunday, (July 4 @ midnight)