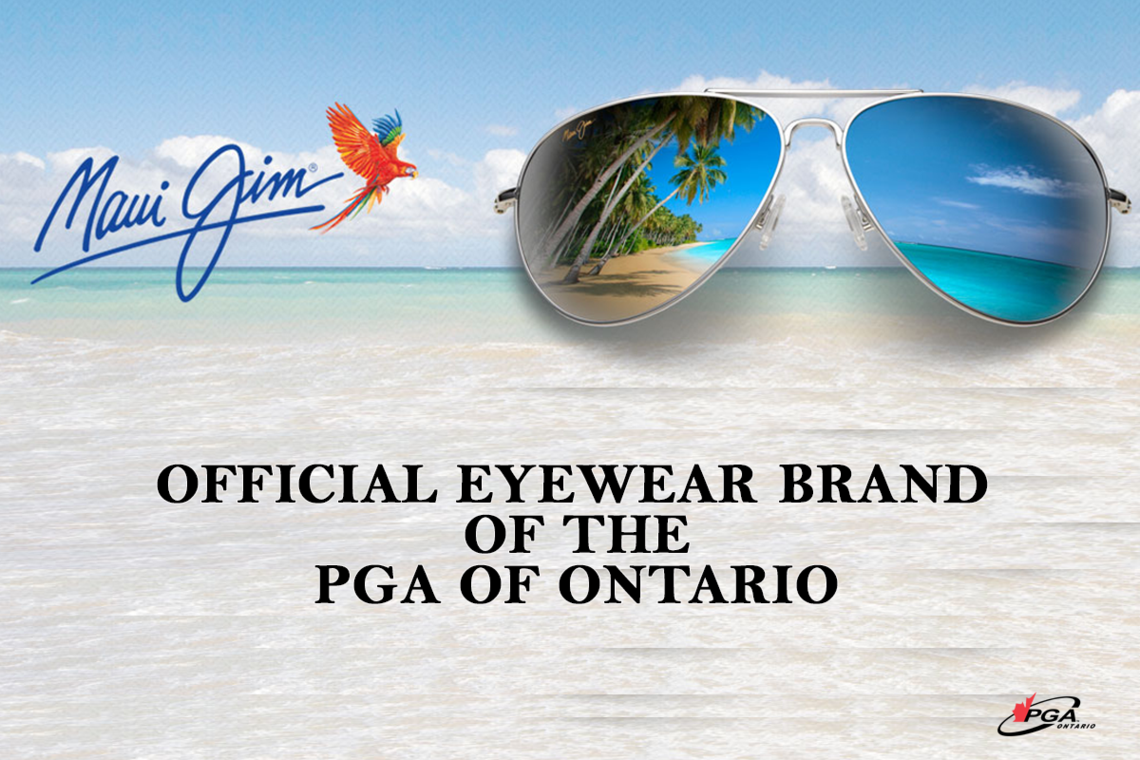 Maui Jim partners with PGA of Ontario as official eyewear brand
DON'T LET GLARE BE YOUR HANDICAP!
Aloha!
The PGA of Ontario is thrilled to announce that Maui Jim, the world's fastest-growing premium eyewear company, will be coming on board as the official eyewear brand of the PGA of Ontario.
Maui Jim has positioned itself as a functional luxury brand and is fully invested in on-course golf retail. Maui Jim can be seen at all the major golf events around the world and is the only brand recognized by the Skin Cancer Foundation.
Premium Polarised sunglasses offer the ultimate eye protection and performance. Read the green without distracting glare and enhanced depth perception, while blocking the sun's harmful UV rays!
With product knowledge and Eye Health education available to all PGA of Ontario members, you will be able assist your customers in making the right sunglass choice to suit them best. Maui Jim has exclusive programs set up for golf retail and their team understands the seasonal demand and need for quick, efficient service. Maui Jim will surely enhance your retail theatre with an assortment of styles and lenses for all light conditions.
Through this partnership, Maui Jim is contributing several sunglass vouchers to the PGA of Ontario which our professionals will have opportunities to win throughout the year. These vouchers will be distributed across many of our programs, including our Zone award winners, various tournament Champions, our Professional Recognition Program, and others.
"We're excited to partner with the PGA of Ontario. Maui Jim has been involved in golf for decades, from grassroots to the professional level. This partnership is a natural fit!", said Jeff Speiran Managing Director, Maui Jim Canada. "Our PolarizedPlus2® lenses not only fully protect against harmful UV radiation, but also eliminate glare and ease eye strain. Maui Jim's patented lens technology enhances natural colour, giving you improved visual clarity and contributing to the overall enjoyment of game".
"We are fortunate that a premium brand such as Maui Jim values a partnership with the PGA of Ontario and we look forward to the various activations and opportunities they will provide through this partnership", said Michael Moniz, PGA of Ontario President.
Reach out to Natalie Donsky or Luciano Caolo and they will assist you in setting up your stores for the season. Maui Jim also has tournament packages for your Member Guest Days or charity events. These are run by Maui Jim for a seamless tournament experience.
About Maui Jim
Maui Jim sunglasses were born on the beaches of Maui, designed to protect eyes from the harsh rays of the island sun. Today, Maui Jim is the world's fastest-growing premium eyewear company and is sold in more than 100 countries. Maui Jim is recognized for its unparalleled "Aloha Spirit", customer service, and advanced, patented PolarizedPlus2® lens technology. All Maui Jim sunglasses block 100 percent of harmful UV rays and eliminate glare while enhancing colour, clarity and detail. Maui Jim sunglasses have earned the Skin Cancer Foundation Seal of Recommendation as an effective UV filter for the eyes and surrounding skin.

For more information, visit mauijim.com or follow us on Instagram, Facebook and Twitter at @OfficialMauiJim.
MELANIE VAN DER HOOP
Executive Director,
PGA of Ontario
melanie@pgaofontario.com
NATALIE DONSKY
Account Executive, Maui Jim & Zeal Optics
ndonsky@mauijim.com
LUCIANO CAOLO
Account Executive, Maui Jim & Zeal Optics
lcaolo@mauijim.com