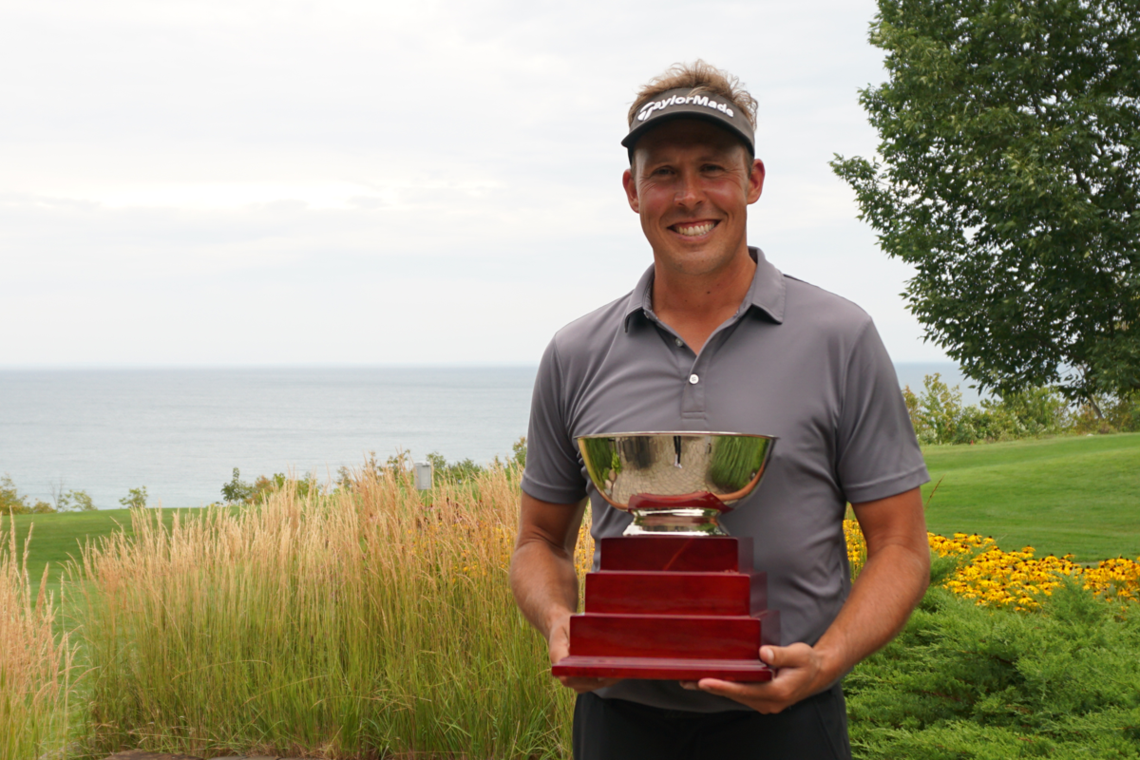 Maunder puts on a clinic at the Fall Classic, claims 2019 Title over Defending Champion
It was a war against the weather for the 2019 PGA of Ontario tournament this week, though nothing new for players who compete in the Fall Classic. Monday at The Georgian Bay Club saw flawless blue skies and sunshine, while Tuesday was downpour after downpour at The Golf Club at Lora Bay.
Despite the elements, the best always seem to rise to the top. Eddie Maunder showcased his skills this week at the Fall Classic, claiming the 2019 title with an impressive 67, 65, 132 11-under performance at Georgian Bay & Lora Bay. He puts the cherry on top by winning a skin with his birdie on hole #12 and walks away a happy man!
Round 1 saw Justin YW Kim out in front at 65 6-under, followed closely by Defending Champion of the Fall Classic, James Skrypec, T2 with Gord Burns at 66 5-under. Our 2019 Champion, Ed Maunder, sat comfortably behind at T4 with Danny King at 67 4-under.
"Both courses are great venues and amazing conditions, and this time of year is when everybody can take a deep breath after the season.", says Maunder. "I felt great warming up on Monday, calm and relaxed. Round 1 was an easy 67 and I felt like I was in a great position for Tuesday at Lora Bay."
It's commonly agreed that Lora Bay presents a tougher trial after playing Round 1 at Georgian Bay. "Lora Bay is more challenging off the tee, and I could definitely feel that on the front nine.", recalls Maunder. "I managed 1-under but hit the ball poorly and wasn't comfortable. My putting is what kept me in the tournament."
It's like Eddie flicked a switch and went guns-a-blazing down that back nine, knowing he had to turn it up if he wanted to give the field a run for their money. "My turning point was the 10th hole when I hit a hybrid very close for a tap-in eagle. I told myself to make aggressive swings on the back nine, and I knew some more putts would fall in my favour."
"Coming down the stretch, I didn't even know where I was on the leaderboard. My playing partners Danny King and Nick Kenney were both around 5-under like me. I just tried to keep making birdies and stay aggressive, and not worry about who was winning or what place I was in. The momentum in the group helped everyone." Looking at the group's scores, that was certainly the case. Danny King finished closely behind Eddie just two strokes back, with Nick Kenney right on his heels, one shot back from Danny.
"Fortunately, I came out on top against a strong field of top players. I hope this great event stays at the two courses. The club staff and membership really embrace the event to make it one of the best on the schedule."
Georgian Bay Club has always been a special place to Maunder. It's the first place he worked after playing six years on the Mackenzie Tour. "I worked at that club in 2007 and 2008. My caddie this week, Sean Landreth, was a golf professional at the club then, and we have stayed friends ever since."
Danny King won the Senior Division of the Fall Classic at 67 4-under on Monday and finished second overall, two strokes behind Maunder.
Noteworthy mention goes to Steve Rodriguez who hit an impressive drive on hole #12 on Monday, smashing 153 yards and claiming his second hole-in-one of the 2019 season!
Maunder takes home the jackpot and earns 75 points towards the Breenie Cup Standings.
The Chase for the Breenie Cup will come to a close for the 2019 season at Grand Niagara Golf Club on September 30th & October 1st.
CLICK HERE for the current Breenie Cup Standings.
For full results from the 2019 Fall Classic, CLICK HERE.