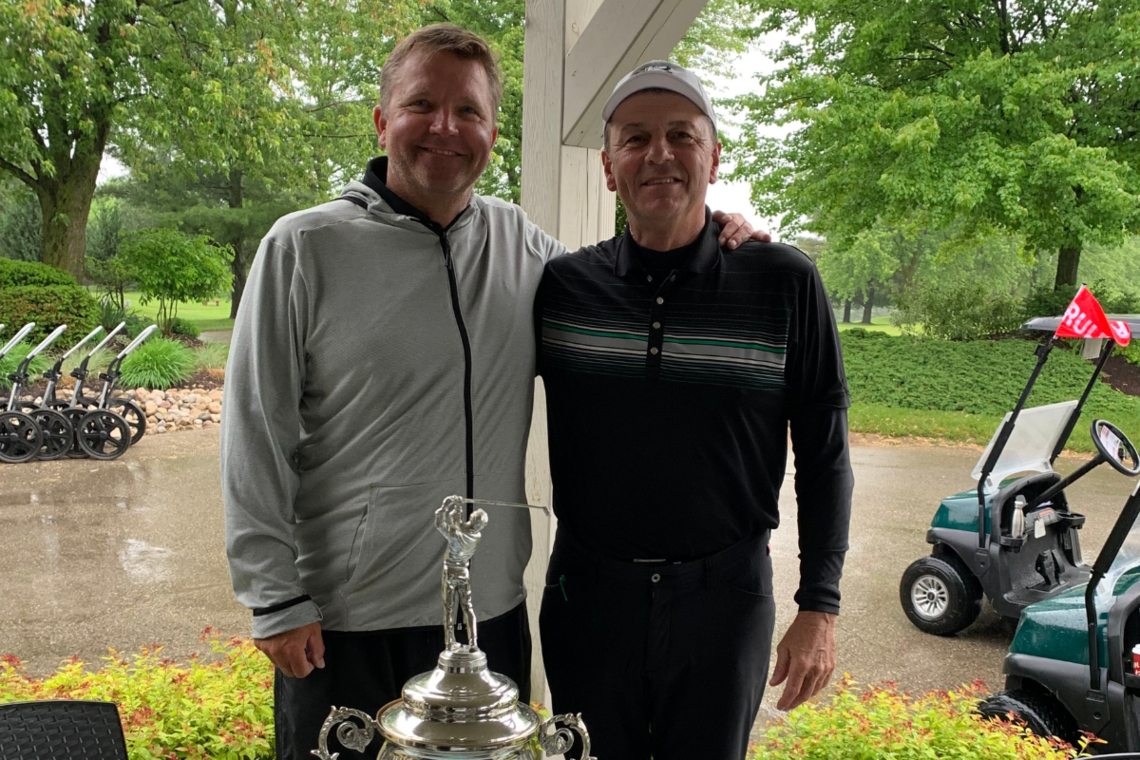 McLean and Smith use strong starts winning the Senior and Super Senior Championship
June 8, 2022
Good afternoon Pros,
Thank you for competing in the Senior Championship at Listowel Golf Club.
A total of 31 players competed in the championship and Alan McLean of Echo Valley Golf Club came up on top after carding a 5-under 67 for the victory.
McLean had seeds of doubt coming into the event having limited practice and play due to previous commitments coaching the Western Mustangs Women's Golf Team and being at the University National Championships at Bromont this past week.
SOMEONE GRAB THE HOSE
However that doubt was erased by a quick start on the front nine.
"I hit a great tee shot on the first hole and hit a 7 iron approach on the par 5 to about 11 feet or so. Although I missed the eagle attempt, my swing felt great and that solid hole just started the day off well and I went from there", said McLean after recording a red-hot 32 on the front. "To play bogey-free was obviously awesome and accruing a couple birdies along the way just built on a solid start".
McLean hopes to carry this strong momentum into future events as the defending champion of the Ontario Zone Championship to be held at the Barrie Country Club on July 11th and 12th. A friendly reminder that the early birdie registration for the Ontario Zone Championship closes on Monday June 27th at 9:00 am.
RAIN RAIN GO AWAY
The tournament got underway on Tuesday but was suspended due to inclement, wet weather conditions to take the event back to an 18 hole championship. McLean had high praise for the staff and the conditions on the course, thanking Director of Operations Brenden Parsons and superintendent Chad Adamson.
"Unfortunately Chad is not a miracle worker and eventually mother nature won the battle resulting in the event being curtailed", said McLean.
Michael Moniz, President of the PGA of Ontario agreed.
"We knew the forecast wasn't promising coming into the event however we were hoping for the best. Once the golf course became unplayable we had no choice but to end play and shorten the tournament", said Moniz. "We would like to thank Brenden and his team for all the hard work they put into hosting this event."
IT'S ALL MENTAL
Meanwhile in the Super Senior Division held on Monday, Keir Smith (The National Golf Club of Canada) played extremely well to win the division championship. Smith signed his scorecard with a 3-under 69.
His success can be attributed to a flawless front nine where he started 4-under through five holes, recording an eagle and two birdies.
Smith finished his front with four straight pars and went on to only double bogey the 15th hole.
The key to his fast start? A stroke of confidence.
"I've been playing well lately and felt quite confident", said Smith. "I got off to a nice start and hit the majority of the greens but couldn't get a putt to drop on the back nine. It's a good win and I hope to keep it going at the BetRegal PGA Championship of Canada at Beacon Hall Golf Club later this month.
Smith also had high praise for the staff, his playing partners and McLean!
"Being paired with Ken Tarling and John Cochrane, it was a nice group", said Smith. "Ken is a long time friend and mentor, I've always enjoyed playing with him because his demeanour and precision is admirable". "I would also like to congratulate Alan on his win, best wishes for the upcoming U.S Senior Open".
Ken Tarling, our defending champion finished tied for 5th place after carding an even par 72.
Full tournament results for the Senior Championship are available by clicking HERE.
Congrats to everyone who participated, we look forward to seeing you at our next tournament at the Head Pro Assistant Pro Team Series at Whistle Bear Golf Club on June 27th, 2022. Michael Moniz and Brad Kerfoot of Maple Downs Golf and Country Club are returning to defend their title.
Tee'd Up Next!
June 13 - One Shot Shootout Meet and Greet - Registration Deadline June 12
June 27 - Head Pro Assistant Pro Team Series - Registration Deadline June 19
July 5 - Pro Junior Championship - Registration Deadline June 26