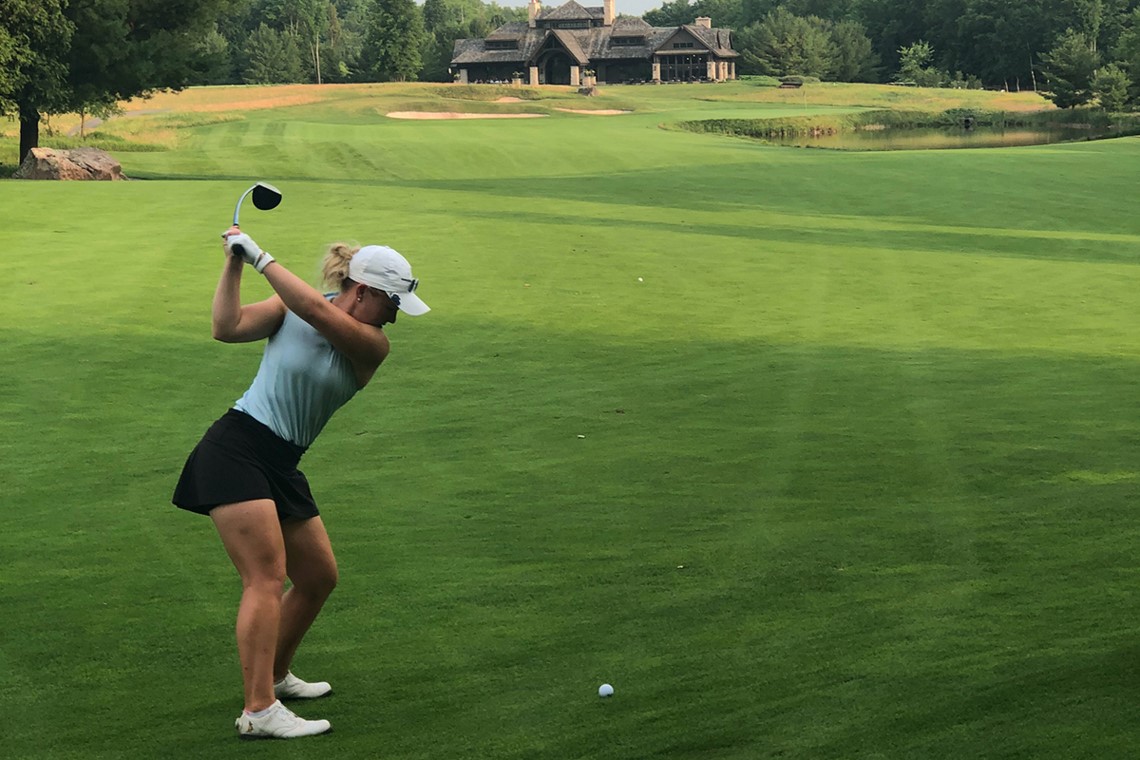 Meghan McDougall proves there are many paths for PGA of Canada professionals
By: Lara Kuipers
Meghan McDougall was just seven-years old when she swung her first golf club.
Her father tells her it was "pretty good."
And the next thing she knew, she was signed up for lessons.
Now, nearly twenty years after her first swing, McDougall, who recently earned her PGA of Canada Class 'A' status, has made a career out of the game and continues to pursue the sport professionally from different perspectives.
And, embodying the fact that it's never too late for a career shift, as recently as this past September, she elected to head back to school after years of working at various golf courses.
"I wanted to be involved in sport, but from a different level – not so much grassroots but from sort of an administrating body," McDougall said.
Change is nothing out of the ordinary for McDougall, who's spent time living and playing golf in the United States, Japan, and Australia in addition to Canada.
McDougall's golf journey started at Weston Golf and Country Club in Toronto, where she'd visit her grandfather, a long-time member. It was just the first "pivotal" role her grandfather played in her golf journey.
McDougall recalls a photo of her and her siblings standing on the first tee at Weston. She was just three-years old, in attendance of their Canada Day celebration.
It may have been one of her first times stepping on a golf course, but it certainly wouldn't be her last.
While her journey started at Weston, it was a few years later at Travis Pointe Country Club in Michigan that McDougall said her passion for golf really developed – crediting the club's "fantastic" junior program.
McDougall's family soon after moved to Japan for a period where she continued playing golf, before returning to Michigan. It was back in the United States that a 14-year-old McDougall entered her first golf tournament.
She recalls walking up to the 16th hole.
"In hindsight I was actually in the lead," she said.
But it was short-lived, as she'd end up making a 35-foot putt for a 13 on the par-five, and ultimately carding a 96.
McDougall wouldn't let one bad hole stop her from pursuing her goals. When McDougall moved back to Canada, she continued to play golf – accumulating an impressive junior career that included and second-place finish in the girls' division at the Ontario Summer Games in 2010 and a fourth-place finish at the Ontario Junior Girls' Championship in 2012.
"I played in anything I could," McDougall said. "All the Ontario tournaments I could, all the Golf Canada tournaments I could, up until I was 18-years old."
Following her impressive junior career, McDougall signed to play at the University of Kentucky. But after her freshman year at the school, McDougall said she found herself missing the Canadian culture she grew up so familiar with. So, she transferred to Ball State University in Indiana where she would join friends and fellow Ontario golfers Jenna Hague and incoming freshman Kelsey Sear.
"It just felt really, really nice and normal and natural to kind of gravitate towards my fellow Canadians while competing in the NCAA," McDougall said.
While she says she struggled at times during her collegiate golf career – McDougall said her individual highlight was when she shot her collegiate-low 69 at the first day of the Cardinal Classic during her junior year and with her family – including her grandfather – there in person to see it.
McDougall went on to graduate from Ball State with a degree in history, coming from a family – once again including her grandfather – of historians.
But following graduation, McDougall said she knew she didn't want to pursue history, so instead she began doing what she did know she'd enjoy – working in golf.
In 2016, with the help of her grandfather, McDougall found herself back at the same golf course where it'd all began, Weston Golf and Country Club.
Nearly twenty years prior, she'd been standing on the first tee as a guest. Now she was there working as the starter.
"It was one of the best things – really – without exaggeration, that could have happened," said McDougall on ending up back at Weston.
After the golf season ended in Ontario, McDougall moved to Melbourne, Australia, to work at a golf course there. It was there that she decided to register to become a PGA of Canada member.
The following summer, she'd return to Weston, but this time as a PGA of Canada apprentice professional.
McDougall continued to work at Weston between the summer of 2016 up until September 2020, when she decided to go back to school to attend George Brown College for Sport and Event Marketing.
It was the first time in nearly twenty years of McDougall's life that she wasn't involved in golf – and that's when she realized how much she missed it, and how much she needed to get back in.
After four years of working at Weston, McDougall's goal now is to work in golf at a different level. She said she aims to run events and tournaments, with the ultimate dream being a Tournament Director position at the PGA TOUR level.
This summer, she will have her hand in one of Canada's biggest amateur golf tournaments, interning with the PGA of Canada to help oversee the RBC PGA Scramble.
"I love it," McDougall said on the notion of running golf tournaments and events. "I think it's one of the best things in golf – is the idea of bringing people together or in COVID – bringing people to the same facility, to be able to compete and play, no matter your ability."
But McDougall has more dreams than just running a PGA TOUR event.
"To be honest, anything that I can do that helps develop, inspire, and promote others – especially women and people who have a difficult time accessing golf – to be able to experience the joys of the game, would be fantastic."