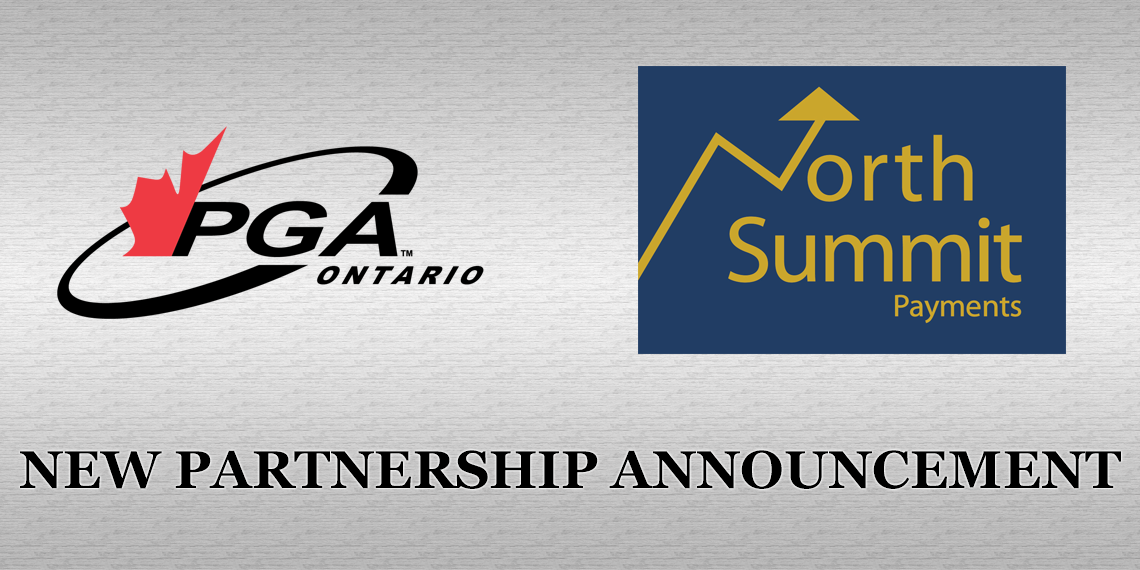 New Partnership Announcement: North Summit Payments
SPECIAL OFFER TO PGA OF ONTARIO MEMBERS: Free Audit on Your Payment Processing Fees
North Summit Payments is a leading Credit and Debit payment service provider and has offered to audit all your rates/fees free of charge. Their team will tell you if and where your business is being overcharged, and what NSP can do to better serve you!
90% of all business owners in Canada are currently being overcharged on credit card payment processing rates and fees
We will prepare a free cost comparison and let you know how much we can save your business per month and per year
We have saved business owners as much as $100,000 a year on processing fees with our audit service
This is a free service for all PGA of Ontario members! Our goal is to help each member to reduce their current credit card processing fees
The process is simple:

Contact Shayne Christie, Strategic Relationship Manager at Shayne@northsummitpayments.com.

North Summit Payments will provide a complete audit of your payment processing statement and reveal your potential savings. For more information on NSP, visit www.northsummitpayments.com
Testimonial #1
"As a golf professional and small business owner I had been flip-flopping between Moneris and Stripe in search of finding the best rates and savings for my golf academy business.

In 2018, I had North Summit Payments do an audit of my payment processing fees and could not believe the monthly savings they could provide in switching to their platform.
If increasing your bottom line is a priority then I would highly recommend all PGA of Canada professionals to engage North Summit Payments with their promotional offer and receive a free internal audit of your facility's monthly fees.
It's totally worth it! "

Bradlee Ryall
Director, Bradlee Ryall Golf Academy
Lionhead Golf Club and Conference Centre

Testimonial #2

"I switched my two businesses to North Summit Payments recently and the savings have been in the thousands of dollars a year. In 2020 we launched a new sports complex and lounge in Milton called Elevate The Community. It has batting cages, cricket cages, basketball courts, barbershop, kids parties, lounge, and bar. The payment solution we use called Clover flex that North Summit Payments provided us not only helps with savings but also helps run our business easier, with less overhead cost. I highly recommend getting a free audit and discussing your payment solutions with North Summit Payments. It was one of the best business decisions I have ever made."
Chris Horning
Partner, Elevate The Community
North Summit Payments (NSP) was formed in 2015 by Darren Brockie and Craig Brockie. Darren worked at First Data Canada for 10 years on their National Business Development Team. First Data, now known as Fiserv, is the largest payment service provider in the world. Together, Darren and his brother Craig started their own payment company. Their goal is to help small to medium size businesses reduce their payment processing costs and to provide integrity to an unregulated industry.
NSP works and provides merchant accounts with the majority of payment processors in Canada. NSP has over 3000 merchants in both Canada and the US and has formed many partnerships with small and large Associations such as Soccer Shots, Christian Camping Association, Helicat Skiing Association, several of the Chambers of Commerce, ORCA (Ontario Retirement Community Association), and now have teamed up with the PGA of Ontario.

North Summit Payments message: We provide the best payment solution for the best prices. We are focused on customer service and building our business through referrals.
For more information please contact:
Shayne Christie
North Summit Payments
Strategic Relationship Manager
shayne@northsummitpayments.com
Cell 647-409-9895
Office 1-888-85-North (856-6784) Ext 4
www.northsummitpayments.com