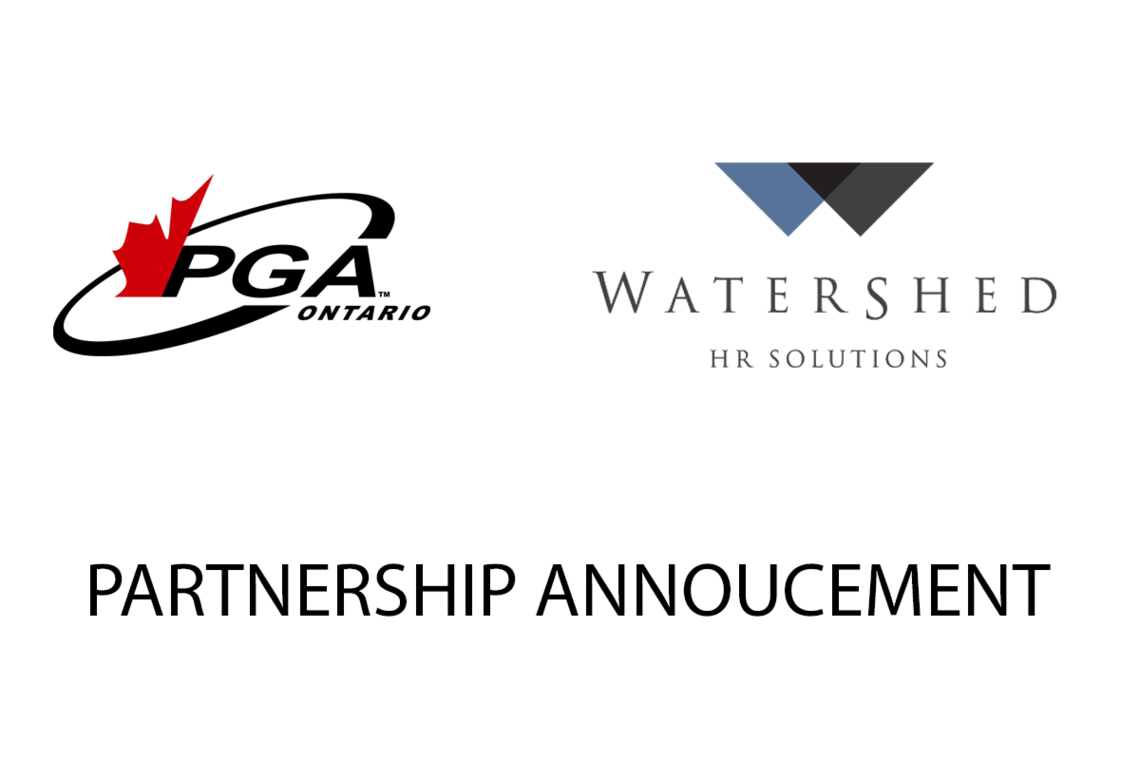 Partnership Announcement with Watershed HR Solutions
May 4, 2020 --
The PGA of Ontario is pleased to announce a strategic partnership with Watershed HR Solutions! Watershed offers a fully integrated Human Resources solution for small to mid-sized businesses, conducive to our member facilities.
Founded by Steve Mendelssohn, a labour and employment lawyer (and avid golfer!), Watershed offers templates, forms, how-to advice along with a Human Resources Information System (HRIS).
The HRIS system allows members to fluidly and seamlessly manage all aspects of the employment relationship from hiring, on-boarding, performance management, time-off requests, discipline and discharge as well as other means of ending the employment relationship, such as layoff or temporary layoff given the seasonal staffing adjustments that our member courses experience annually.
These customizable templates will substantially assist with risk management and efficiency of your HR practices.
We believe every employer should be able to access specialized HR support regardless of their size. Whether you have an HR department or not, Steve and his team have reinvented HR support in an affordable way.
As businesses reopen following the Covid–19 crisis, remote support will become the new normal. Watershed has created a one-stop offering of comprehensive HR support at a fraction of the cost of having any dedicated HR support within your business.
What is included?
Unlimited Voice and/or e-mail consultation with an HR and/or legal professional on all employee issues (unlimited one-on-one consultation!)

Unlimited online access to over $10,000 worth of how-to advice, templates and word documents to effectively deal with the employee life cycle and a wide variety of HR issues such as recruiting, performance management, discipline and discharge, and dozens of downloadable forms including offer letters and termination letters

A fully integrated Human Resources Information System (HRIS) to simplify and eliminate tedious day-to-day tasks and eliminate paper-based employee files

A payroll system which allows you to submit payroll in as little as three mouse clicks

Access to a practicing labour and employment lawyer
Cost
Our service is affordably priced ranging from $25.00 - $15.00 per employee per month based on volume of employees, with consideration for employers with less than 30 employees based on a flat fee of $750 per month.
If you are interested in learning more about how Watershed HR Solutions can simplify the day to day management of your employee files, please review the attached document or you can CLICK HERE to arrange for a demo of our comprehensive service offering.
We have arranged opportunities for our members to see the quality of the content in the resources library and to see the HRIS system in a number of scheduled Go to Meetings.
Demonstrations will be held on: