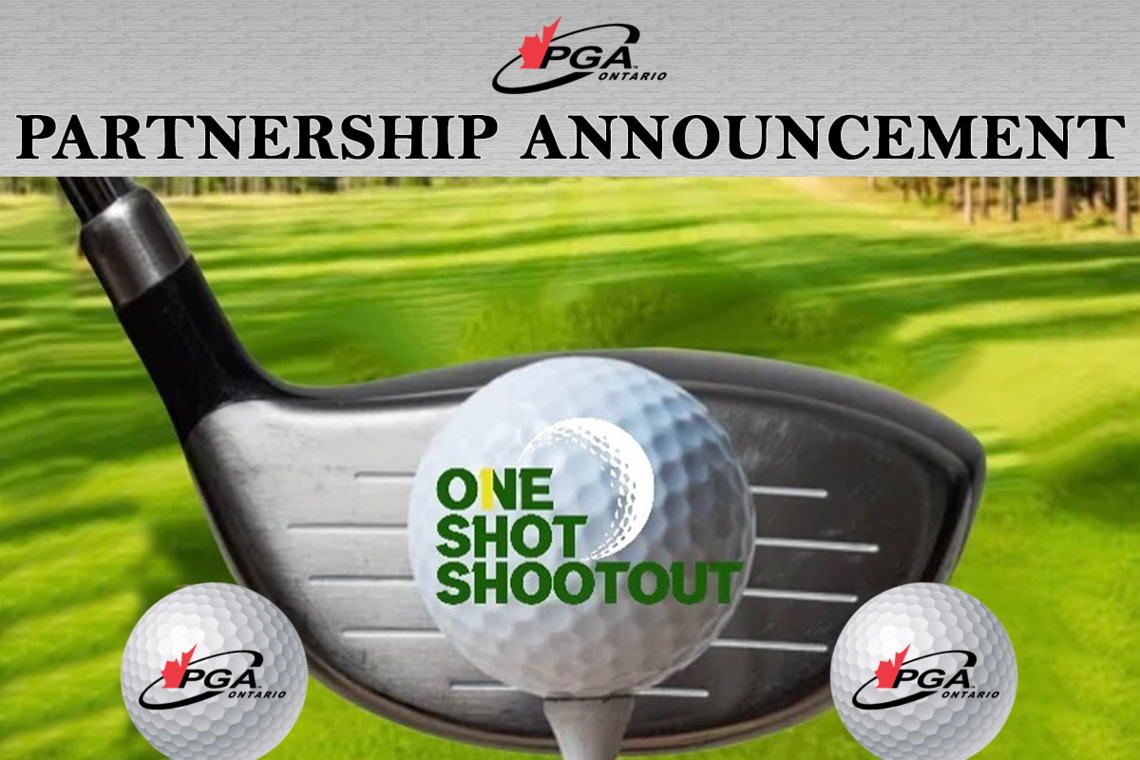 PGA of Ontario is proud to announce our new partnership with One Shot Shootout as the official hole-in-one partner
May 26, 2022
The PGA of Ontario is proud to announce our new partnership with One Shot Shootout as the official hole-in-one partner.

One Shot Shootout was launched in 2021 by introducing $10,000 and $20,000 hole-in-one contests along with an additional $100,000 season-long challenge to the golf industry in Ontario.
Incorporating the One Shot Shootout team at your events guarantees to add an extra element of fun and excitement to your day by turning a par 3 hole into a memorable experience.

With one tee shot, golfers will be participating in the following events:
Ball on the green
Closest to the pin
Target golf (our $100,000 mat)
Hole in One Contest

How it works is simple: One Shot Shootout sets up a hole-in-one challenge at any club event at your course, helps you add value and elevate the experience for all participants, and it's free to the host facilty.

By bringing One Shot Shootout to your golf events and tournaments, you will be adding a unique and exhilarating feature that will set the event apart from others and bring additional value and revenue to your clients. Participants also will have an opportunity to win some wonderful gifts!

All One Shot Shootout golf challenges are at no cost to the event/tournament or golf course.

There is a $20.00 fee per golfer, which can be added to the cost of the tournament at registration, or One Shot Shootout can collect on the golf course at the par 3 hole, which gives the golfers the option to participate or not.

One Shot Shootout supports charities as a portion of net proceeds of any event will be donated to organizations at the end of the season such as the Yellow Brick House, which provides life-saving services and prevention programs to meet the diverse needs of individuals, families, and communities impacted by violence.

Wait, there's more.

Join us for a Partners Meet & Greet with Barry and Hildy from One Shot Shootout – the official hole-in-one partner of the PGA of Ontario. Tune in live on Monday June 13th @ 10am to learn what One Shot Shootout is all about and how they will elevate your club events this season! Click here to register.
For joining this 30-minute Partner Meet and Greet, all registrants will be entered to win a gift set and One Shot Shootout will randomly draw five lucky winners. The first five golf pros to book One Shot Shootout for a golf tournament will also receive this complimentary gift set, which includes:
Canadian handcrafted

Twigg

wood putter grip
Deep Clean Club kit
Crystal wine stopper

RFID

wallet
Golf towel
The team at One Shot Shootout would love the opportunity to be a part of your events and tournaments and look forward to entertaining you on the greens this season.
Testimonials
"Wow, you have a winner of a product with your One Shot Shootout golf events".
Michael Moniz
Maple Downs Golf and Country Club

"Your One Shot Shootout golf events are a great addition to our club."
Todd McGrath
Thornhill Golf Club

"I don't see why anyone wouldn't want you at their golf tournament…it's a no brainer."
Andrew Aguanno
Preferred Player
For more information please contact Barry Lee at sales@oneshotshootout.com or by phone at 416-662-0444.