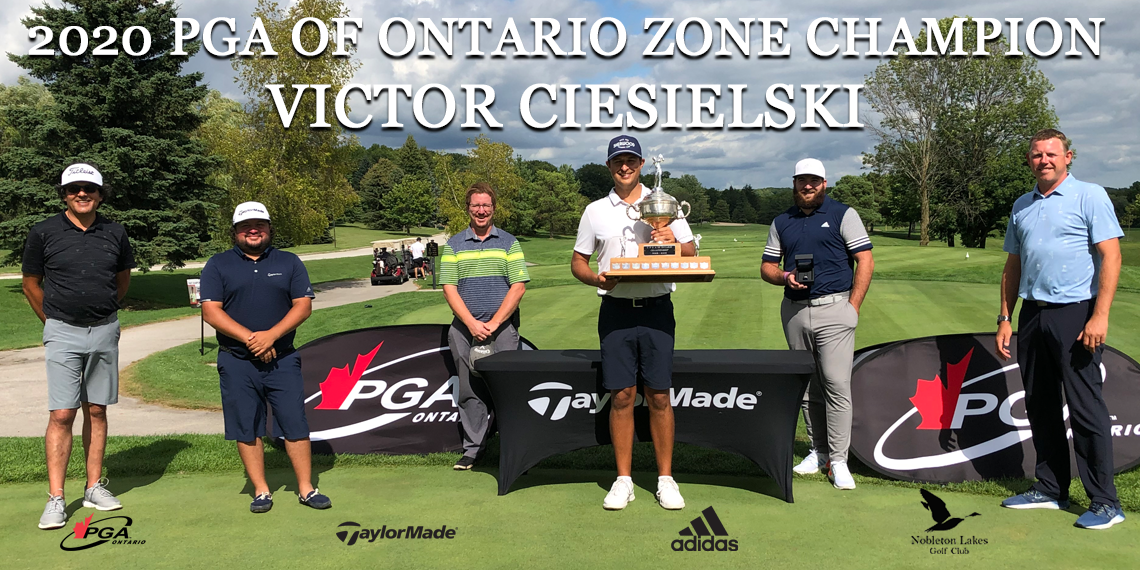 PGA of Ontario Zone Champion Crowned
August 13, 2020
The PGA of Ontario Championship presented by TaylorMade & adidas is the longest running tournament in the history of the Ontario Zone. First contested in 1939, the PGA of Ontario Championship is synonymous with some of Canada's most accomplished club and touring professionals. Those names include Moe Norman, George Knudson and Al Balding. The PGA of Ontario Championship has been contested at some of Ontario's top golf courses. This year the historic event was hosted at Nobleton Lakes Golf Club.
National Partners TaylorMade and adidas support a major Championship in all nine PGA Zones which sees the winner receive an early exemption into the PGA Championship of Canada. Mitch Pfenning from TaylorMade and Casey David Lennon from adidas joined us for both rounds of the tournament, and stayed to participate in the trophy presentation where they awarded the 2020 Champion with a custom championship ring.
Our numbers were impressive as our field rounded out at 70 participants, including the Defending Champion, Nick Kenney, who took the title in 2019 at Barrie Country Club.
Round 1 of competition culminated with Victor Ciesielski leading the field by posting a solid 68, 4-under par. Tight on his heels were David Sheman, James Skrypec and Danny King who all sat one stroke back, keeping the pressure on our eventual Champion. The field was tight after round one with 13 players posting scores within 3 strokes of our leader. It was anybody's title to win on round two and the field showed up ready to prove it!
The final result after Round 2 was Victor Ciesielski of Galt Country Club Limited sitting pretty at 70, total gross of 138, 6-under, a comfortable four strokes ahead of T2 David Sheman of Emerald Hills Golf Club and Dan Payton of Oliver's Nest at 2-under on the event.
Honourable mention goes to Gord Burns of Gord Burns Golf School who won the closest to the pin contest presented by Merit Travel Golf Vacations on view #3 the island green at 529 yards which was played as the tournaments 12th hole.
"Nobleton doesn't allow for many mistakes", says Ciesielski. "The front nine is extremely tight and challenging, forcing you to create a more strategic and cautious game plan. The greens have a tremendous amount of slope and undulation which reeked havoc not only for me but, I imagine, the entire field. I three putted six times throughout the two days. Navigating a challenging layout and then to give a shout back on the green becomes pretty defeating. I just kept telling myself that I was striking the golf ball very well and if I kept my head down, birdies would come." They certainly did come for Vic as he banked twelve birdies over two rounds.
"This being our provincial championship, I knew the field was stacked with a lot of incredible players. Lots of defending champions, guys that I've played with before and who's abilities I highly respect. My thought at the beginning of the week was that two-under par scores will put me into contention unless somebody does something special and runs away with it.", Ciesielski continues.
"My game plan changed slightly after I played my match on Saturday with Nic Ross and saw the golf course. The course is mixed with survival holes and holes that you could become aggressive on. I broke my game plan down into three separate six-hole events. The six very tight and challenging holes became survival holes that I played very safe, hitting to bigger targets and trying to walk away without making mistakes. The six easy holes including the par fives and the shorter fours I became more aggressive and tried to capitalize on my opportunities. The remaining six I took one shot at a time and tried to give myself a decent birdie chance."
"I was fortunate to have two great groupings Monday and Tuesday. I've played with and competed against those guys for a long time so it put me into a relaxed and focused mindset. All the fellas that we have out here are great players and even better guys. It's also nice to play with somebody that you have competed head-to-head against before."
"Thanks again to the staff at Nobelton Lakes, the PGA of Ontario and all my fellow competitors for the support and I hope to see everyone again sooner than later!" says the new Zone Champion, Victor Ciesielski.
From our team at the PGA of Ontario, huge thanks go to our gracious Partners TaylorMade, adidas, and Rob Coulter from Merit Travel Golf Vacations for their support, time, and financial contribution to the PGA of Ontario Zone Championship.
Also, to Jon Mozes, Stefan Kerr and the entire team at Nobleton Lakes for their incredible generosity and hospitality during these times of trial. It was certainly an event to remember and we look forward to returning to Nobleton Lakes sometime soon!
And a final Thank-You to James Skrypec (james@deerridgegolfclub.com) for his courteous donation of the Pin Caddy that enabled us to bring this Championship event to Nobleton Lakes.
To view the leader board please click here.