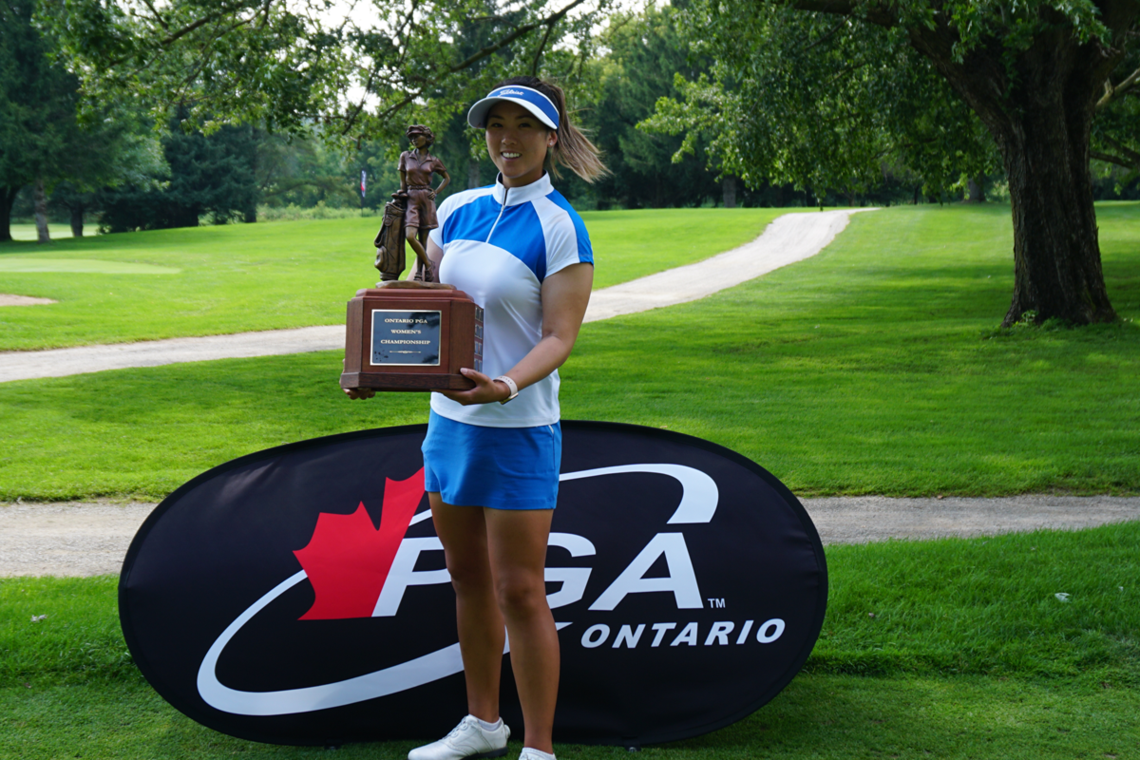 Rebecca Lee-Bentham wins Ontario Zone Women's Championship, Danny King brings home 2019 Ontario Zone Senior Title
The PGA of Ontario was at Cambridge Golf Club this week for the 2019 Ontario Zone Women's Championship and Senior Championship.
The Women were the first to step up to the tee on Monday. Defending champion Maggie Trainor was in the field and looking for a consecutive victory at this event, but instead there was a new name that topped the leaderboard. Rebecca Lee-Bentham added another trophy to her collection, winning the 2019 PGA of Ontario Women's Championship, just weeks after winning the DCM PGA Women's Championship of Canada at the Ladies' Golf Club of Toronto.
Rebecca finished her day with a score of 71, 1-under. Meghan Allum had the second-best result with 79, 7-over, and yet when we asked Rebecca to share her thoughts on her round, her response was "I don't think I played very well - I was expecting to do better! No big highs or lows; my play was pretty consistent. I wasn't hitting it well, especially off the tee. I only hit one fairway all day which kept landing me in the trees. It was good practice for me because I had to keep shaping my shots around the trees to put myself back into a position where I could score."
Rebecca recently competed in the PGA of Ontario Zone Championship and played from the men's tees. She said that she had gotten familiar with playing longer holes and overall yardages, so the course at Cambridge posed a different challenge.
She explains, "The course was shorter than what I'm used to and it's a very narrow course. If you're not hitting your tee shots well, it's harder to score. But it's very scorable if you do hit those fairways. I initially thought I could have birdied a lot of the par 5's since it's a shorter course, but I wasn't hitting off my driver very well and found myself punching out of trees frequently."
So, what's the secret to Rebecca's habit of success? Her mindset. She does not want to come in second! "I have been playing really well lately and I feel like my game's in a good place. After winning PGAC Women's Championship, which had a much bigger field, there was no reason in my mind that I couldn't win this one. I signed up for this tournament because I want to get more tournament reps in. I'm trying to focus on each shot I take, and continuously putting myself in a competitive environment, to play against different people. At the end of the day, whether the field is five or 100 people, I still want to play well and score low. A win is a win and I'll always be happy with my performance if I know I've done my best.".
Rebecca is heading to Q-School in a couple weeks - we wish you all the best!
With the ladies' competition underway, the Seniors began round one of their two-day championship. One man separated himself from the rest from start to finish, with a round one score of 63, 9-under. Danny King, second-place finisher in the 2018 Senior Championship, rose to the top, where he would remain for the entirety of the tournament.
"I shot 6-under on the front with a bogey 3 putt. I eagled two in a row and had three eagles in the front 9 which I've never done! I almost had four eagles in 10 holes but I lipped one out. I was definitely in the zone and feeling really good." Danny recalls of his first-round play.
"It was great to get back in the winners circle again; it's been a couple years since I've won. In the back of my head I really wanted to win. I came out really aggressive in round one, wanting to post a really good score. Second round I was trying to play ultra-conservative and stay patient. Cambridge is one of those courses where if you miss your shot marginally, you pay the price. I was just trying to shoot even par or better. Round 2 I made eight pars and a double in the front, and left a couple out there on the putting green. I didn't want to shoot 9-under again, and knew that if I played a good score that it would keep me in front."
The course revisions that Cambridge Golf Club underwent in 2018 changed the layout of the golf course, meaning Danny King also set a new course record with his round one score! Doug Warner held the record on the previous course, with a similar score of 63 at the PGA of Ontario Seniors' Championship back in 2005. Congratulations Danny!
In the Super Senior Division of the Senior Championship, Bob Beauchemin took the 2019 title over defending champion Dan Clark who finished fourth overall. Dan was in the lead after round one with a one-stroke lead over Bill Wogden, and Bill a one-stroke lead over Bob Beauchemin. Bob managed to climb to the top spot with his round two score, with Bill Wogden finishing just one stroke behind.
The one-day Sixty-Plus event ended in a tie between John Davis and John White. The Seventy-Plus competition also ended in a tie, Ian Clark and Bob Panasik the successful duo.
It was a special treat to have the PGA of Ontario Board members out to show their support. President Simon Bevan, accompanied by Vice President and Tournament Captain Michael Moniz, were on the first tee starting our pros for round one of the Championship. Simon remained for the entirety of competition to present the trophy to the 2019 PGA of Ontario Women's Champion. Day two saw Donovan Fraser doing the starting, and Finance Chair Brenden Parsons presenting the award at the end of competition. Thank you all for your support!

For full results from the 2019 Women's Championship CLICK HERE
For full results from the 2019 Senior Championship and Super Senior Championship CLICK HERE
Don't forget to check out the photos taken at the event!