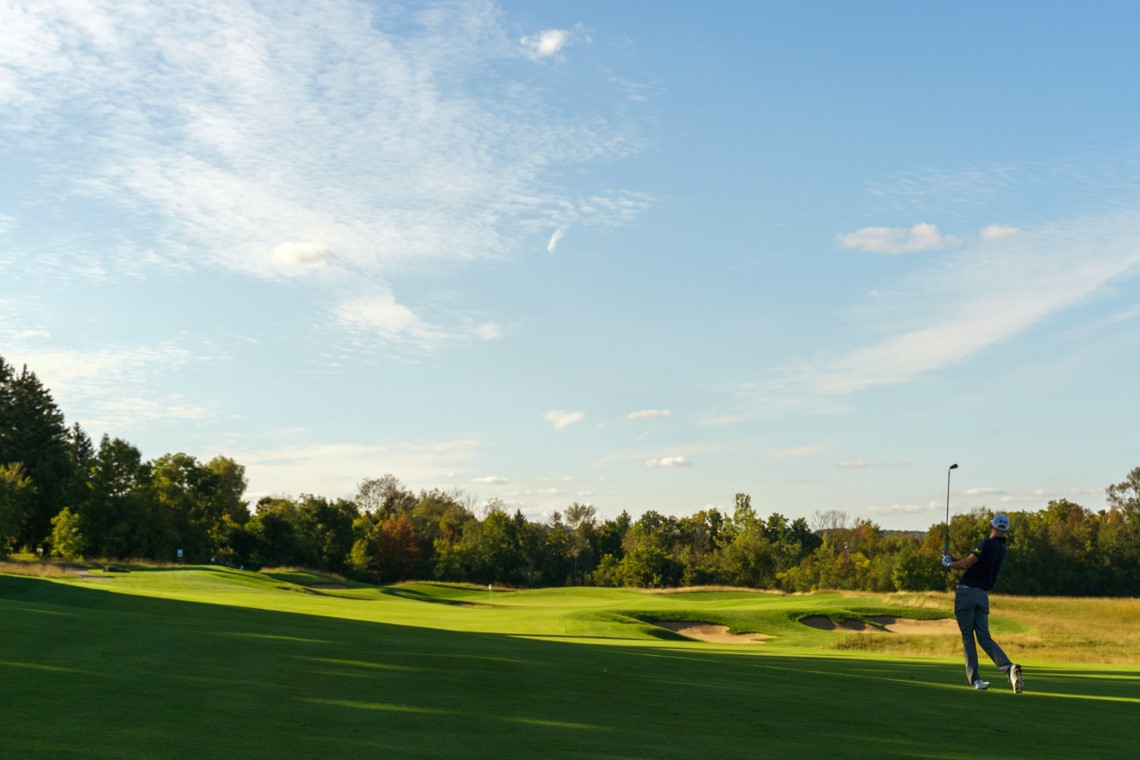 Recipe for Success
Apparently the recipe for low scoring includes radiant sunshine, no wind, soft greens and fairways with loads of width.
A number of players cooked up impressive rounds at TPC Toronto at Osprey Valley for the first round of the PGA Assistants' Championship of Canada presented by Callaway Golf. Thirty-one players broke par Tuesday, with Quebec's Yohann Benson leading the way after an opening-round 9-under-par 63.
"It's just absolutely perfect conditions out here," Benson said. "The fairways and greens are soft and the weather today was absolutely beautiful."
Benson, who won the PGA of Quebec's Zone Championship last week, featured 10 birdies on the soft North Course at TPC Toronto at Osprey Valley.
Amazingly, he wasn't the only player in the field to make double-digit birdies on the day, with past PGA Championship of Canada winner Pierre-Alexandre Bedard also turning the trick. Bedard made two bogeys however and is currently T2 with B.C.'s Isaac Weintraub at -8.
"The fairways are so wide out here that everyone is going to hit them, so it's turning into a putting contest and thankfully I made some good putts today," Bedard said. "I really tried to enjoy myself out there and stay in a good mindset all afternoon."
Like Bedard, Weintraub said he was just happy to enjoy his experience on the golf course.
"I'm just trying to enjoy every shot, take in all the beautiful scenery and enjoy my fellow playing competitors," Weintraub said.
Kevin Stinson of B.C. sits alone in fourth at -7, while Luke Bogdan, Wes Heffernan, Eric Locke and Oliver Tubb round out the top five at -6. Ethan Danish, James Colin Davis and Nicholas Ross all shot -5 and are T9.
For the full PGA Assistants' Championship of Canada presented by Callaway Golf leaderboard, CLICK HERE.
TPC Toronto at Osprey Valley is the first TPC property in Canada featuring three golf courses all ranked in SCOREGolf's Top 100 Golf Courses in Canada list.

Designed by famed Canadian golf course architect Doug Carrick, the venue features a parkland-style layout that welcomes players with generous landing areas and naturally rolling fairways. While its width off the tee may be benevolent, deep greenside bunkers and undulating putting surfaces put a premium on approaching pins from the right angles, providing a challenge that rewards good shots but tests those who get out of position.

The championship also features a 36-hole Inter-Zone competition compiled of four players on each team representing their respective PGA Zone, which is contested over the first two rounds. Through the first round, Quebec leads at -22 with B.C. at -16 and Alberta at -10.
Admittance to the PGA Assistants' Championship of Canada presented by Callaway Golf is free and spectators are encouraged to attend during championship play.

To follow the PGA Assistants' Championship of Canada online throughout tournament week, visit pgaofcanada.com, twitter.com/pgaofcanada, instagram.com/thepgaofcanada and facebook.com/pgaofcanada