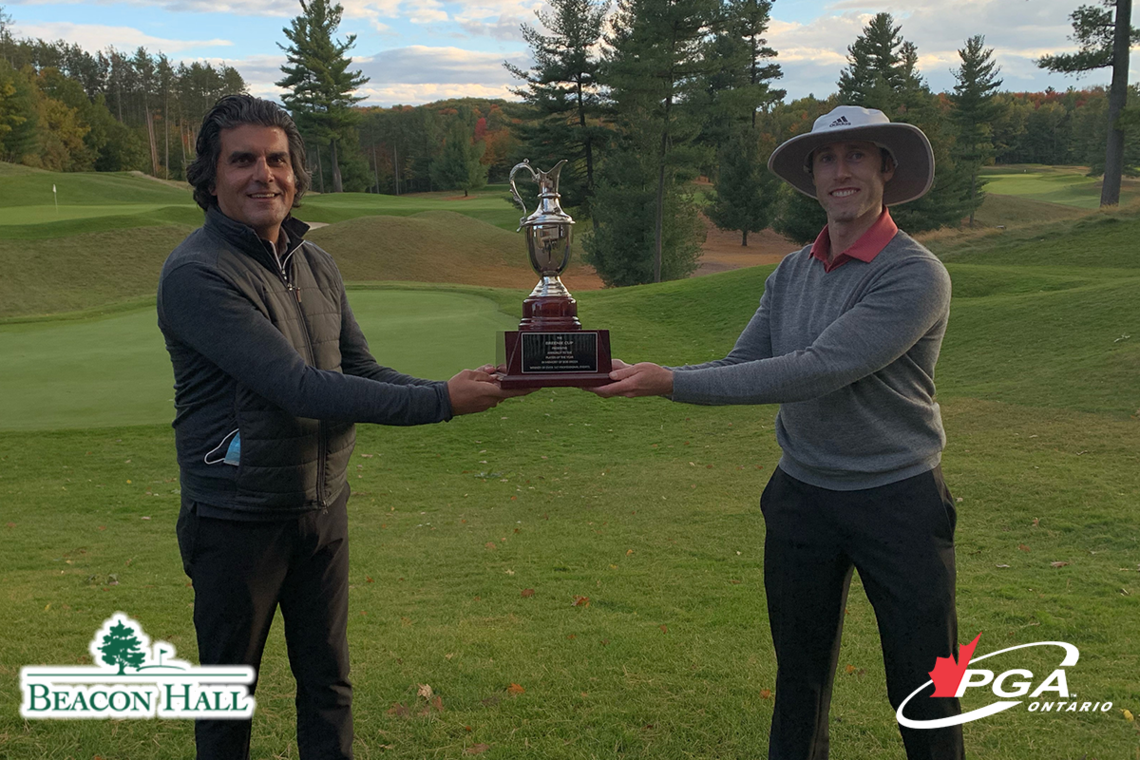 Sheman adds to trophy cabinet at Beacon Hall
The PGA of Ontario was at Beacon Hall Golf Club this week for the Match Play Championship. The Semifinals saw David Sheman taking on Victor Ciesielski, and Gordon Burns taking on Matthew Peavoy.
While the winner of each match would advance to the Match Play Final, there was an added layer of pressure for both Sheman and Ciesielski - The Breenie Cup. Heading into their match, both were tied on the Breenie Cup Leaderboard at 242.5 points, meaning the winner of their semifinal would determine this year's Breenie Cup Champion and ultimately the 2020 Player of the Year.
Their match certainly lived up to the hype - with Sheman and Ciesielski being all square through 18 holes. It took a total of 20 holes to decide this year's Breenie Cup Champion, but in the end David Sheman came out on top. In doing so, he also punched his ticket to the Match Play Final.
The Match Play Final saw Gordon Burns, who finished 1 up over Matthew Peavoy in the Semifinal, taking on Sheman for all the marbles. A thrilling contest between the two, which saw Burns go 3 up through nine - only for Sheman to claw his way back to all square through 16. On 17, Sheman made an incredible 40 foot pitch-in for birdie to go 1 up heading into 18, where he would keep his lead - and win the match.
The Breenie Cup and Match Play victories add to Sheman's incredible run this fall - including wins at the Fall Classic and the Assistants' Championship. "It's been such a weird year for everyone. I've been super busy with lessons, and I somehow managed to get hot and play well. Luckily, all the events were crammed together and I could play well." Sheman said, reflecting on his past month.
In terms of the course, Sheman was quick to praise Beacon Hall. "It's one of the nicest courses I've ever played. It was my first time here, and it was tricky, but amazing."
Congratulations David on the Breenie Cup and Match Play Championship, and on an incredible season as a whole. We'd like to thank Beacon Hall Golf Club for their ongoing support and wonderful hospitality. The next PGA of Ontario event is the Pro Pro Team Series at Rattlesnake Point Golf Club on October 13th.
To view the full results from the race for the Breenie Cup, click HERE.
To view the full results from the Match Play Championship, click HERE.