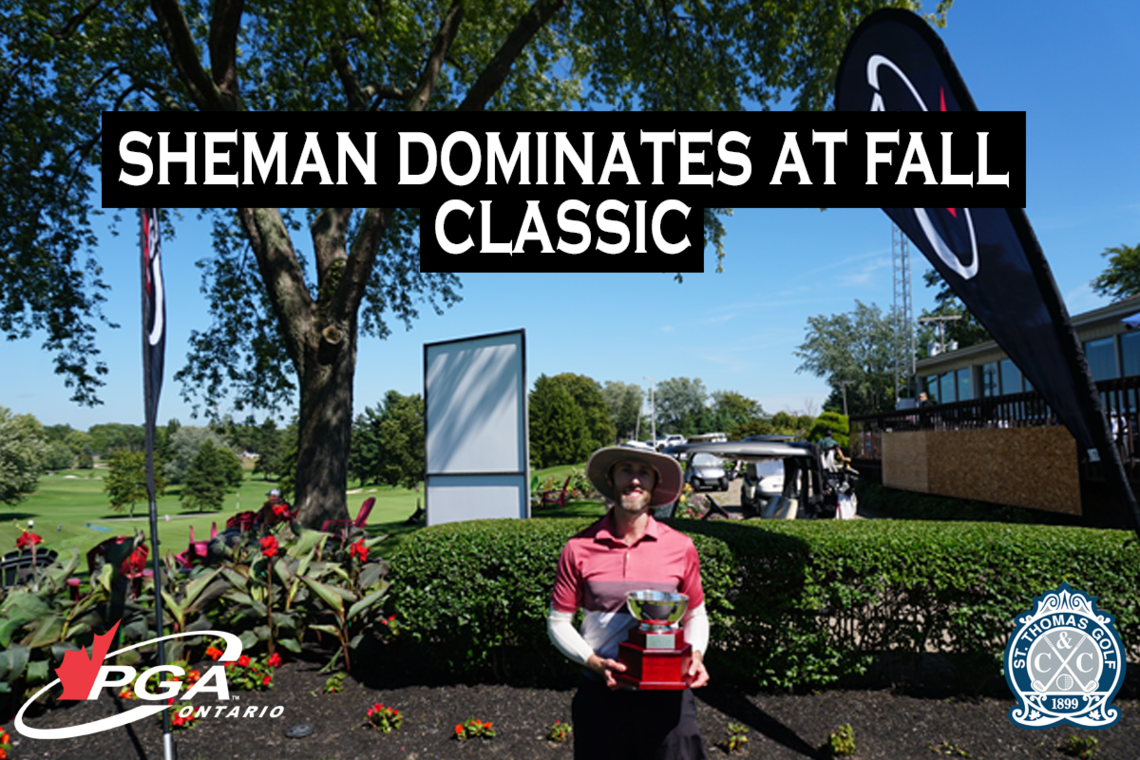 Sheman Dominates at Fall Classic, Claims 2020 Title at St. Thomas Golf & CC
September 4, 2020
In a season where nothing is certain given the times, one thing was: David Sheman dominating at St. Thomas Golf and Country Club. In 2005, Sheman placed second at the Ontario Junior Championships and prior to this weekend, had won two more pro events at St. Thomas GCC. "Needless to say, I really like the place," Sheman said when reflecting upon his past victories at St. Thomas.
On one of the tougher tracks that players will face this year, Sheman captured the title with an impressive 67, 68 135 9-Under performance. Sheman's tournament was highlighted when he made Eagle on Hole #12 during Round 1. "I hit a nice drive that got me about a pitching wedge out. From there I had the ball sit on the green for me, and I sunk the putt to make Eagle." Sheman said. Coming off an impressive first round, Sheman was atop the leaderboard (-5) with Nick Kenney (The National Golf Club of Canada) and Victor Ciesielski (Galt Country Club Limited) right on his heels, both at 4-Under. Sheman knew he had to dial in and focus for Round 2 if he wanted to capture the title.
When asked if his gameplan wavered for Round 2, Sheman said "I actually didn't change anything. I played aggressively yesterday, and I wanted to play aggressively today. I hit driver on 1, which I was nervous about but I wanted to play freely". On a hole where many clubbed down to 3 Wood, Sheman decided to go for it - and it paid off with a birdie, one of seven on the day.
With his playing partners only one stroke behind, Sheman had to remind himself to stay centered on the task at hand. "I started paying a bit too much attention to my partners on the back nine, but when I focused back on myself, I played much better," Sheman recalled. "To be honest, I tried to do today what Vic (Victor Ciesielski) did at the Zone Championship. He played so well and it was inspiring," Sheman said of his playing partner for Round 2.
The course at St. Thomas Golf & Country Club was met with high appraisal from everyone during the tournament. Sheman was no different, saying "Overall, I've been blown away with how well the course at St. Thomas is maintained. It was in true championship condition. Kudos to the staff on this."
"I really appreciate everyone coming together to make this work, thank you to everyone at St. Thomas and thank you to the players as well, taking time off work to come play golf. I've been really impressed with the level of play, and I'm looking forward to more of it in the future," Sheman said in his victory speech.
We'd like to thank Mike Long, the head professional at St. Thomas Golf and Country Club and all their staff for helping the Fall Classic come together. The PGA of Ontario Senior Championship is our next event, taking place September 8-9, at Cambridge Golf Club.
For final results of the 2020 Fall Classic,
CLICK HERE.