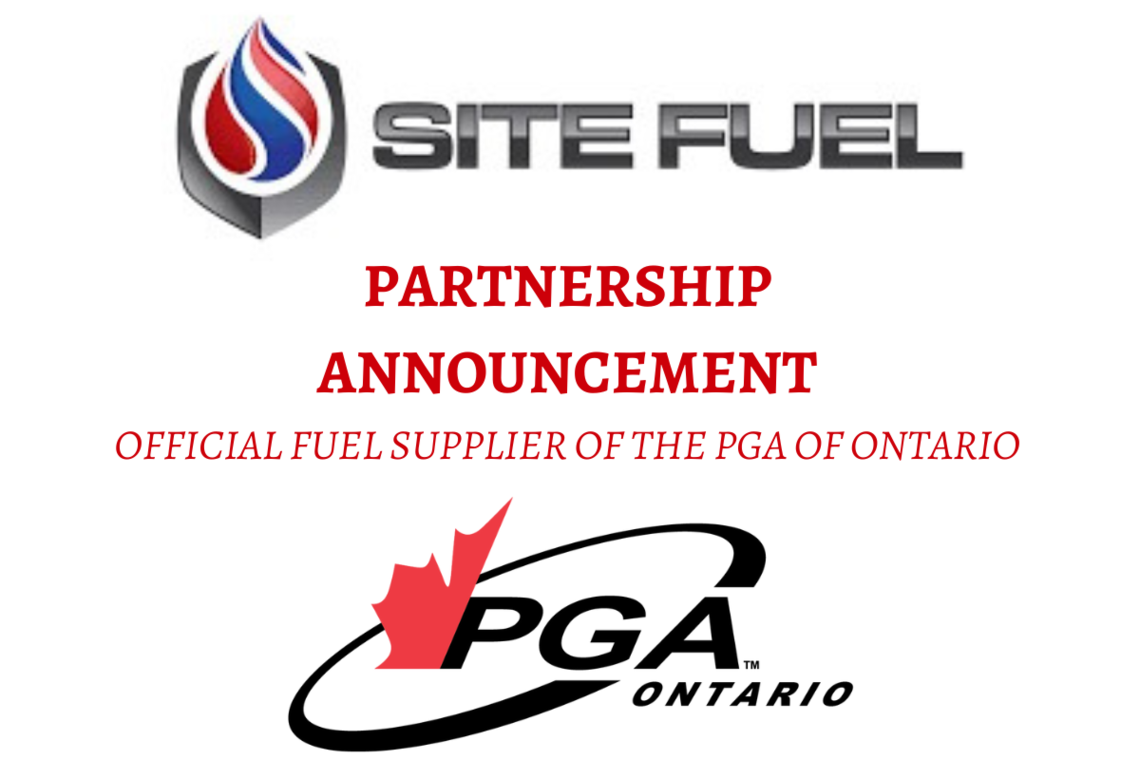 SiteFuel is the new official Fuel Supplier of the PGA of Ontario
The PGA of Ontario is excited to announce a partnership with Site Fuel, the new official fuel supplier of the PGA of Ontario.
"We are very pleased to be partnering with the PGA of Ontario", says Nick Falbo, Director of Operations and Corporate Partnerships at Site Fuel. "We look forward to bringing our golf course specific fueling service to all PGA of Ontario affiliated courses".
Falbo added, "We're a full-service fuel purchasing team, with the largest network of suppliers in North America, and we're looking forward to expanding our relationships with the PGA of Ontario for years to come".
With the focus on delivering the best experience for golf course management, Site Fuel's motto is to "Never worry about Fuel again", delivering a seamless experience throughout the season.
Site Fuel incentives include the following:
Free fuel consumption analysis for all participating members
New fuel program proposals for all interested members
Guaranteed cost savings
Guaranteed improved efficiency around fuel related tasks at clubs
Monthly analysis report
Invoice consolidation
Financial rebates for all qualifying courses and facilities
"We are thrilled to be offering a solution for consolidating and managing fuel orders for clubs around Ontario with our new partners at Site Fuel", said Melanie van der Hoop, Executive Director of the PGA of Ontario. "We look forward to seeing their exceptional service first-hand, and encourage our pros to take advantage of this consultation to see where clubs can save on their needs without needing to change suppliers."
The company prides itself with various deliverables, from free fuel analysis to understanding the unique needs of golf course operation while sourcing from North America's largest network of suppliers, vendor consolidation and providing multiple fuel types including regular and marked diesel, DEF, gasoline, propane and more.
Site Fuel provides accurate, simple and timely reporting and invoices.
Online tech will simplify your equipment refueling process.
Monitor fuel consumption and improve overall efficiency.
Provide clear and detailed reports with industry leading timeliness.
Your invoice will ALWAYS be what you've agreed to pay with their data showing that 8 out of 10 invoices are incorrect, from fuel suppliers.
Automatically, you will be able to keep track of fuel consumption by project, fuel litres used per vehicle and the fuel price per litre.
Site Fuel delivers reliability and expert customer service.
Service any location in Canada.
Relationships with thousands of fuel suppliers.
Automatically dispatch fuel deliveries.
Call directly, order through a mobile app & they can monitor your tanks.
"However you order fuel, we've got you covered!"
Have a question or would you like a free consultation?
To learn more about Site Fuel, please connect with Nick Falbo for further information.
The first 50 members to reach out are eligible for a Toronto Blue Jays prize pack including hotel, game and spending for the night!!
About Site Fuel
Site Fuel - Your 24/7 Mobile Onsite Fueling Solution
Site Fuel provides access to the largest fuel delivery supply service network in Canada. From top construction companies to national equipment companies – we provide fuel delivery service to keep you up and running. We provide a one-stop shop for fuel delivery. Anywhere in Canada. Anytime.
​Our Fuel Delivery Service is Better!
Through our network of strategic petroleum suppliers, we can service fuel to any location in Canada. Our awesome tech connects thousands of suppliers and allows us to automatically dispatch fuel deliveries. You can call us directly, order through our app or we can monitor your tanks. However you order fuel, our fuel delivery service has got you covered.
Twitter: @SiteFuel
Website: www.fueldelivery.ca
For more information please contact:
Nick Falbo
Director of Operations and Corporate Partnerships
Site Fuel
Cell: (647) 963-0107
nick@sitefuelusa.com
www.sitefuel.com
www.fueldelivery.ca