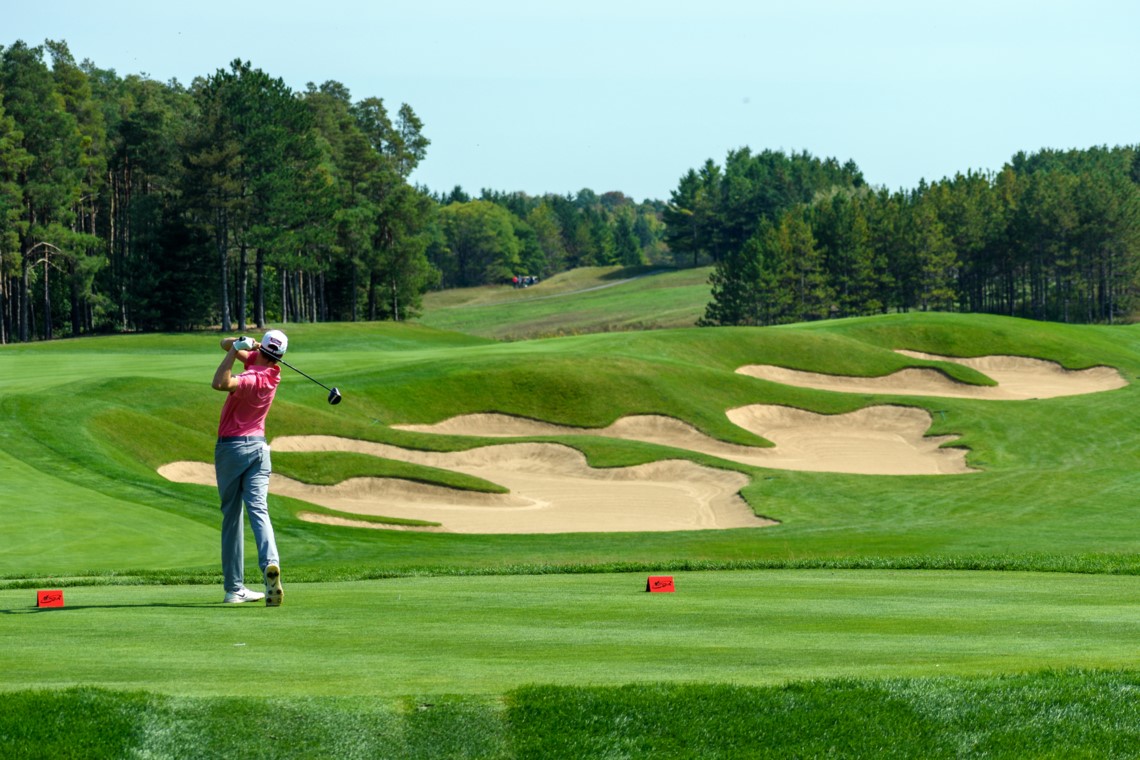 Tour Calibre Action at TPC Toronto at Osprey Valley
He didn't quite have his best stuff Wednesday at TPC Toronto at Osprey Valley, but Quebec's Yohann Benson held on to his lead heading into tomorrow's final round of the PGA Assistants' Championship of Canada presented by Callaway Golf.
After a first-round 63 at the North Course at TPC Toronto at Osprey Valley, Benson fired a second-round 4-under-par 68, bringing his two-day total to 13-under-par, one shot better than Oliver Tubb of B.C., and two shots clear of Alberta's Wes Heffernan.
"I definitely didn't play my best out there today, but I fought pretty hard," Benson admitted. "Conditions were much different than yesterday with a longer course setup and some wind kicking up too," he said, adding, "I'll have to play much better tomorrow if I want to win, so I'll be trying to make as many birdies as possible."
Benson, along with Tubb and Heffernan are all in search of winning their first PGA of Canada national championship.
Tubb, who has finished runner-up twice at the PGA Championship of Canada, says he's in a good position being one-shot off the lead heading into Thursday's final round.
"Tomorrow I'm just going to go out there and play my own game and lots can definitely happen over the span of 18 holes," Tubb said. "But I'm definitely hitting it really well and I feel that if I can make some putts I'll be really good."
Tubb's two rounds have seen him hit every fairway and 35 of 36 greens in regulation.
Like Tubb, Heffernan has hit every fairway this week at TPC Toronto at Osprey Valley, but says the simple key for him in the final round will be his approaches into the greens.
"I'm driving it really well here, but tomorrow I've just got to hit it closer to the hole and make some putts," Heffernan said. "If I can catch them early, maybe it'll turn it into a bit of a match play and we'll see what happens from there."
Lurking just four shots off the lead at -9 are a trio of B.C. players, including perennial favourite Bryn Parry, Kevin Stinson and Ethan Danish. Victor Ciesielski and past PGA Championship of Canada winner Pierre-Alexandre Bedard are at -8, T7 and will play with Nicholas Ross who is at -7.
For the full leaderboard and final round tee times, CLICK HERE.
TPC Toronto at Osprey Valley is the first TPC property in Canada featuring three golf courses all ranked in SCOREGolf's Top 100 Golf Courses in Canada list.

Designed by famed Canadian golf course architect Doug Carrick, the venue features a parkland-style layout that welcomes players with generous landing areas and naturally rolling fairways. While its width off the tee may be benevolent, deep greenside bunkers and undulating putting surfaces put a premium on approaching pins from the right angles, providing a challenge that rewards good shots but tests those who get out of position.

The championship also features a 36-hole Inter-Zone competition compiled of four players on each team representing their respective PGA Zone, which is contested over the first two rounds. Both Quebec and B.C. tied, however, the tiebreaker gave B.C. the edge.
Admittance to the PGA Assistants' Championship of Canada presented by Callaway Golf is free and spectators are encouraged to attend during championship play.

To follow the PGA Assistants' Championship of Canada online throughout tournament week, visit pgaofcanada.com, twitter.com/pgaofcanada, instagram.com/thepgaofcanada and facebook.com/pgaofcanada