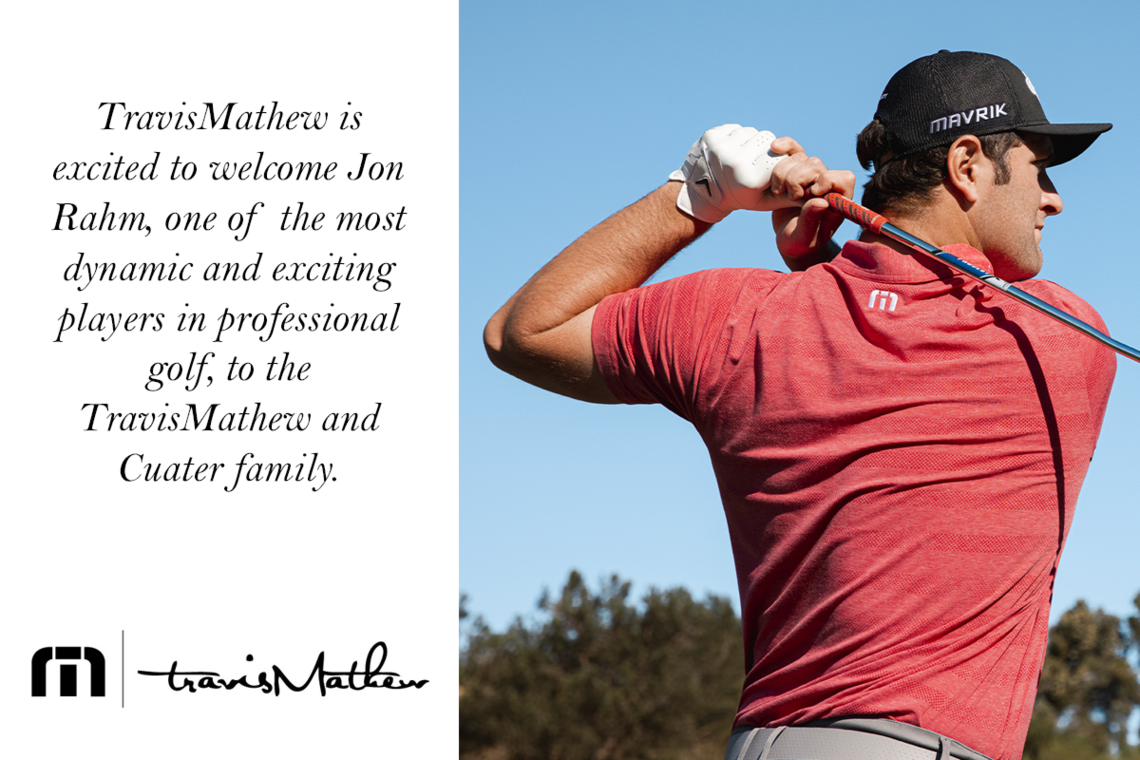 TravisMathew Welcomes Jon Rahm To TravisMathew & Cuater Family
TravisMathew is excited to welcome Jon Rahm, one of the most dynamic and exciting players in professional golf, to the TravisMathew and Cuater family. Currently ranked #2 in the Official World Golf Rankings, Rahm will wear TravisMathew apparel both on and off the golf course and will work with the Cuater team to develop custom performance footwear he will wear during competitions later this year.

"I'm really pleased to begin the next chapter of my career as a part of this team with TravisMathew and Cuater," said Rahm. "Everything TravisMathew makes is lightweight with stretch, providing a lot of comfort. I really feel confident playing in TravisMathew apparel and can't wait to wear it off the course as well."

Jon's motivation to make the move to TravisMathew apparel and Cuater footwear can be attributed primarily to the signature blend of performance, comfort, and style that each product offers. Both TravisMathew and Cuater are committed to making products that meet the performance requirements of the best players in the world while still delivering the comfort, style, and versatility for wear on and off the course. This was a major draw for Jon as he considered a new apparel and footwear partner.

Early in the discussion, Jon was impressed with TravisMathew's commitment to sourcing fabrics that deliver the performance benefits he looks for in his golf apparel, but also the casual, lifestyle look he enjoys when not playing. A few of Jon's favorite items include TravisMathew's Wanderlust jacket, Heater polo, and Open to Close pant.

Signing a player like Jon Rahm is a huge opportunity for both the TravisMathew and Cuater brands. The companies are eager to introduce their apparel and footwear to new customers both on and off the course.

TravisMathew CEO Ryan Ellis spoke highly about adding Rahm to the company's Team. "At TravisMathew and Cuater, we couldn't be happier to add an athlete of Jon's quality to our ranks. He plays golf with such confidence and is an all-around great guy to be around. He finished 2020 strong and we can't wait to see what the future holds for him."

Not only are TravisMathew and Cuater delivering the lifestyle performance products that will refuel Jon's overall look, but the two brands align extremely well with Jon Rahm's personality too. TravisMathew and Cuater are looking forward to helping Jon tell his story, giving fans an inside look into what makes him a champion—and a great guy.

Since joining the PGA Tour in 2016, Jon quickly amassed five PGA Tour wins—including a playoff victory at the 2020 FedEx Cup BMW Championship, five top ten finishes in major championships, and six European PGA Tour wins. Rahm, nicknamed "Rahmbo", holds the title for the fastest Spanish player in history to win five European Tour Titles and was also a member of the winning 2018 Ryder Cup team. After winning the Memorial Tournament in 2020, Rahm was ranked the world's number #1 golfer in the Official World Golf Ranking for two weeks in July.

About TravisMathew: TravisMathew is a leading innovator in lifestyle & performance apparel. Using best-in-class fabrications and designs, we are pushing forward a growing market trend toward casualization. For us, comfort comes first. Every TravisMathew product is created with attention to detail, designed to deliver the perfect fit and a soft, lightweight feel. By offering hundreds of varied, unique designs across monthly new product releases, we are establishing a new standard for the young professional. We want to elevate your look with details, subtleties, and craftsmanship that will get you noticed...but without flash or pretension. As an aspirational brand, TravisMathew prides itself on being approachable. Anyone and everyone can look great—and feel great—in TravisMathew. For more information, please visit www.travismathew.com.

Release courtesy of G&G Golf Company
MEDIA CONTACT: Chris Zeller, TravisMathew
czeller@travismathew.com