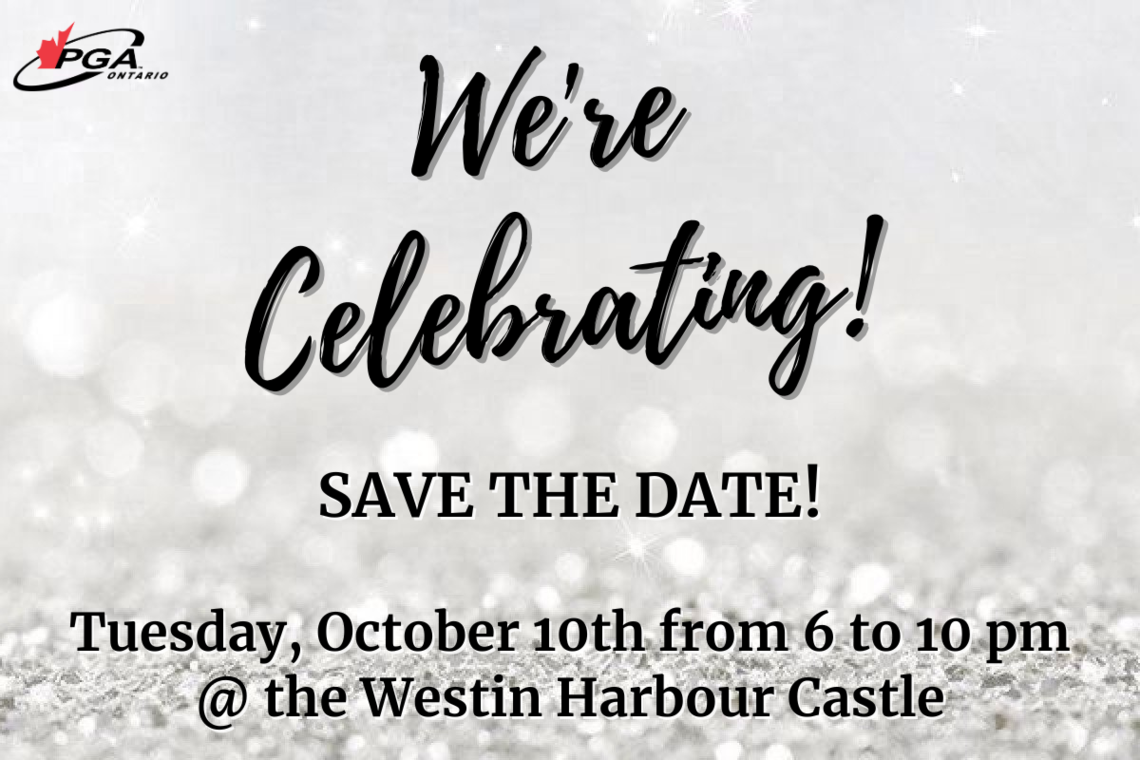 We're celebrating! Save the Date!
IT'S ALMOST TIME FOR OUR YEAR-END CELEBRATION!
If you missed out last year at Spencer's at the Waterfront; here is your chance to join the party in downtown Toronto!
Come enjoy an evening with us at the Westin Harbour Castle on Tuesday, October 10th for some cocktails, hors d'oeuvres, live music, and a fun night of celebration at a great location.
Party starts at 6 pm.
Dress code: Business Casual
We invite you to bring your team, family members, or guests – ALL are welcome!
Admission tickets for the celebration can be purchased by clicking here.
We will be recognizing our Zone Award recipients, our 25-year and 50-year Class "A" Members, Professional Recognition Top 100 and more!
Let's get our PGA Family together once more and enjoy a night of celebration.
We look forward to seeing you there!
EDUCATION DAY
BPG's Annual Education Day is presented to you in partnership with the PGA of Ontario and the Association of Golf Merchandisers (AGM).
The Education Day will be composed of four capsules and is open to anyone working in the golf industry.
9:00am Balancing Work & Life in a Seasonal Industry by Bruce Mayhew
10:30am Business Planning & Master Calendars presented by Tracy Moffatt
12:00pm Lunch Break
1:00pm Unlocking the Brain's Loyalty Code: AI-Driven Content Strategies for Predictable Marketing Success presented by Doug Foley
2:30pm Industry Round Table Discussion hosted by a special guest
There is a charge of $50.00 per person for the day of learning and lunch.
Interested in attending? Register HERE.
DIRECTIONS INTO THE CITY
Parking is limited around the Westin Harbour Castle so we strongly encourage you to consider carpooling or taking public transportation to save on parking, travel expenses and travel time.
Click HERE for directions to the Westin Harbour Castle.
If you plan on driving, please click HERE for a parking map identifying available lots surrounding the Westin Harbour Castle. Please note this is paid parking.
Most public transportation routes will transport you to Union Station, and the Westin Harbour Castle is only steps away!
Please click the following links for suggested modes of transportation:
Stay tuned for registration information! More to come next week!