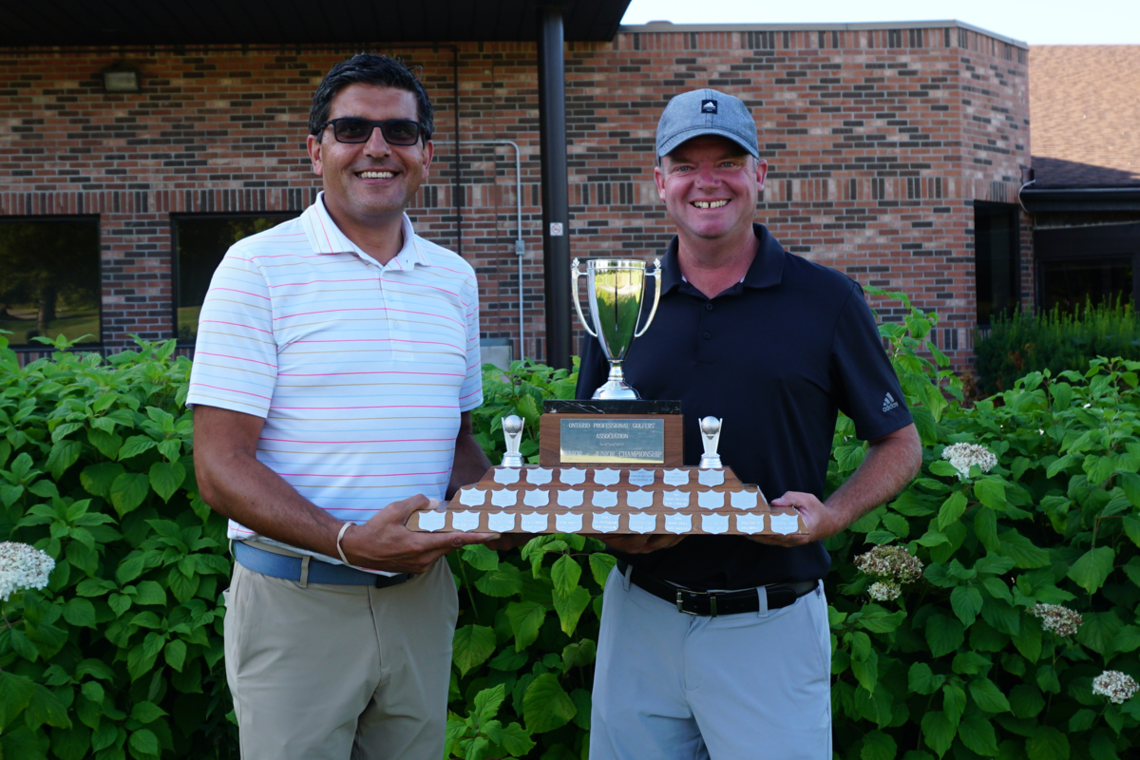 Winning Duo David Banks & Brian McCann claim 2019 Senior Pro/Junior Pro Title
It was a close finish at this year's Senior Pro Junior Pro Team Series! Twenty-seven teams fiercely competed at the beautiful Mill Run Golf Club, including 2018 Champions John Najev and Brett Walker who returned to defend their title. Congratulations to winning duo David Banks and Brian McCann who took home the hardware and the 2019 title, beating the field with a score of 61, 11-under. The pair managed to finish just one stroke ahead of Gar Hamilton and Ed Maunder, who were also just one ahead of T3 pairs Rob Roxborough & Nick Kenney, and John Cochrane & Jake McNulty.
What was it that separated Brian and David from the rest? "We drove it well all day. Each hole we were in perfect position off the tee", says McCann. "I made a few putts, but David putted last all day, like he has for us for a few years now. I used to be the one to putt last, but in the last few years, his putter has become the best club in his bag."
Banks recalls his partnership with McCann, "Brian and I have known each other for 33 years and we've competed in many team events, winning quite a few including the Sr Pro/Jr Pro back in 2014. Brian was his consistent self hitting it in-play off the tee and I drove it well on the Par 5's to give us opportunities to go at the greens."
It was McCann's first time playing the course, which proved to be challenging with small greens and dog legs that made it difficult to keep the ball in play. Banks had played the course once before, at least 20 years ago and only nine of the holes the players competed on this year. "It was fun playing some of the unfamiliar holes and we both remarked that some of them felt like North Carolina, pine trees and rolling hills.", says Banks.
He continues, "As most PGA members know, Brian reads greens and putts very well. He made some putts putting first, and when he didn't make it, he always gave me a very good idea of exactly what needed to be done. I'd often say, "I've got this" and he'd laugh after I made it because it happened so often. My successful putting was largely due to his putt giving me a clear picture of what was needed and confirming our read."
"Brian frequently references how much better I putt now (referring to the last 5 years) and it stems from proper green reading far more than stroke changes. He's even referenced that I putt second now in our team events because of my improvement - a nice compliment. As in most events, putting is crucial, and our putting as always been strong on the occasions that we've been successful."
Banks carries on, "There was a good field for the event from a caliber perspective, and the teams that finished well were exactly the teams we knew we'd have to beat. Funnily enough, when we finished I mentioned to Brian that if 11-under wasn't good enough then he'd be on his own for the playoff because I had to hurry back to coach a couple sessions. I learned we had won via text from Brian on my way home - don't tell the cops I read the text while driving!".
McCann concludes by saying "It's always nice to win. I don't think I had a win last year, so even though this wasn't an individual title, a win is still a win in my books." The pair look forward to defending their title next year!
Special thanks go to Triple Bogey, as always, for providing refreshments after the round for all players. And to Merit Travel Golf Vacations for hosting a Closest to the Pin competition won by Richard Arlidge of The Club at Bond Head.
For full results from the 2019 Senior Pro Junior Pro Team Series, CLICK HERE

PLEASE NOTE: There is only ONE team event remaining in the 2019 season and it's a big one!
This year's Fall Scramble will return to Glencairn Golf Club in Milton, ON. Don't wait - register early to secure your spot! Click here for event information.