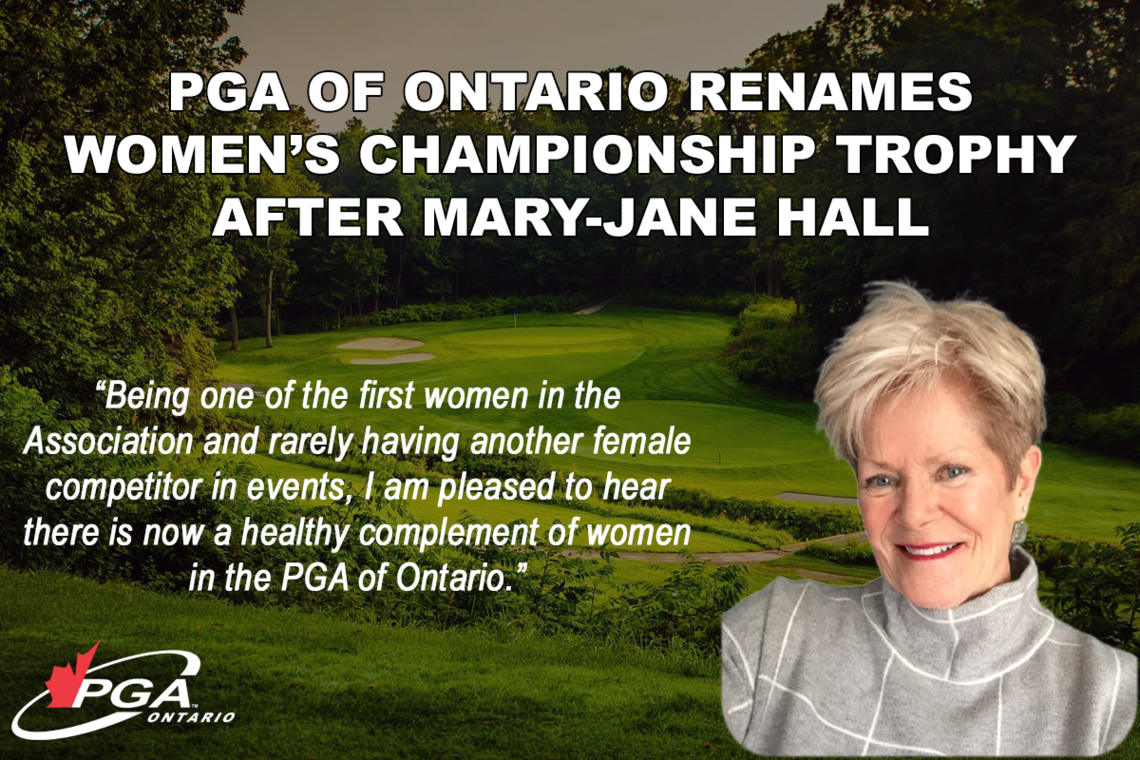 Women's Championship Trophy To Be Renamed After Local Golf Legend
The PGA of Ontario, in coordination with the Ladies' Golf Club of Toronto, is proud to celebrate women in sport on this International Women's Golf Day. As Canada's largest professional golf organization, the PGA of Ontario continues to propel women both on the course and off of it. That is why the PGA of Ontario is excited to announce a joint effort dedicated to fostering the future of women in golf while recognizing one major trailblazer that got us here today.
Starting this year, the PGA of Ontario will be renaming the annual Women's Championship trophy after long-time Ladies' Golf Club of Toronto Head Professional and Ontario golf icon Mary-Jane Hall. The PGA of Ontario is also proud to announce that they have signed a 4-year deal with the Ladies' Golf Club of Toronto, home of Hall, to host the tournament in 2021, 2022, 2023 and 2024.
"The commitment which Ladies' Golf Club of Toronto has provided the women of the PGA of Ontario is tremendous. Knowing they have a host course for the next four years and support from the Club will only assist with participation and enhance the player experience" stated PGA of Ontario President and Tournament Captain Michael Moniz when asked for comment.
"As a club founded by women for women, with a vision to support, promote and grow the game for women, we could not be prouder to be the host venue for the PGA of Ontario Women's Championship through 2024" said Wendy Girvan, Club President at Ladies' Golf Club of Toronto.
Born in Southern Ontario in 1952, Mary-Jane Hall has fought tremendously hard throughout her years as a golf pro to grow the game for women. After becoming the first female golf professional in Atlantic Canada, she went on to earn her Class "A" certification in record time. She was then brought on as a pro at the Ladies' Golf Club of Toronto where she competed in countless tournaments, including those against men and in the process, becoming the first woman to compete in the association's national championship. In 2020 she was inducted into the PGA of Ontario's Hall of Fame as part of the Charter Class. Despite being recently retired she remains active within the PGA. After 25 + years of service with the PGA, Hall was awarded the "Life Member" designation in 2018.
Current Head Golf Professional at Ladies' Golf Club of Toronto Jaime Steedman owes a practical level of gratitude to Hall.
"I am so thrilled that the PGA of Ontario Women's Championship trophy is being renamed in honour of Mary-Jane Hall. Her legacy in the PGA, at Ladies' Golf Club of Toronto, and the golfing community at large is indelible. The light that pours through the ceiling she broke when she became the first woman head professional in Canada continues to shine a path for every woman in the PGA of Canada and one that I am particularly grateful for."
"I want to thank the PGA of Ontario Board, it truly came as a complete surprise," said Hall in a statement.
"Being one of the first women in the Association and rarely having another female competitor in events, I am pleased to hear there is now a healthy complement of women in the PGA of Ontario."
"I sincerely believe with their enthusiasm we can really grow the Women's Championship."
This year's tournament, scheduled for September 13th, 2021, is poised to be one of the most exciting yet. Those interested in registering can do so online here.