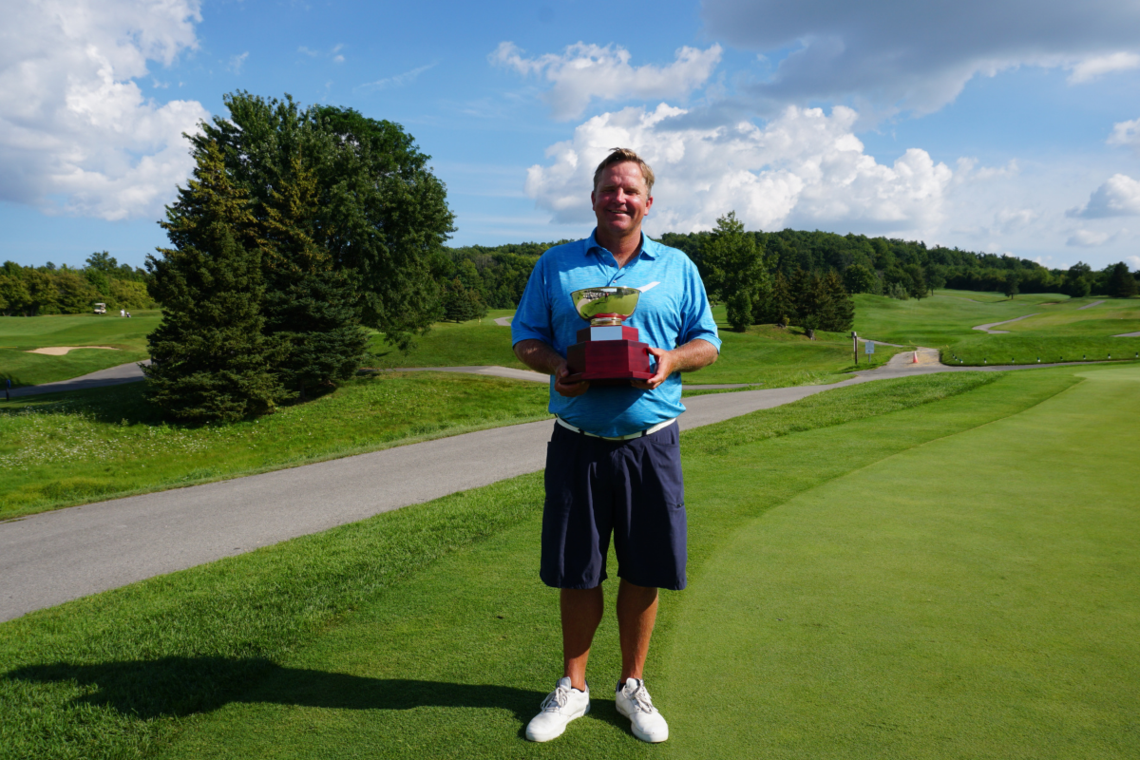 Alan McLean Brings Home Gold 🥇 From Lowville
August 20th, 2021
If you feel like you've heard from the PGA of Ontario a lot this week you aren't wrong.
After a great two days of play at Flamborough Hills for the GOLFTEC Assistants' Zone Championship earlier this week, we quickly shifted gears for the 2021 edition of the Apprentice Professional Championship at Lowville Golf Club.
Despite sweltering heat in the low 40's, little relief from the sun and practically no wind, the pros battled hard to show our PAT hopefuls, who were our second group out following our Apprentices what it meant to compete like a PGA pro.
MANY NEW FACES
Despite seeing some familiar faces on the PAT side, there were many pros on the Apprentice roster who were embarking on their first PGA of Ontario tournament of the season, and even, for some, of their career.
Addison Nixon (Weston Golf & Country Club), who only completed his PAT requirement last month, was one name that stood out on the tee sheet.
"I live right across the street and have been looking forward to competing in tournaments like these my whole career, so for me, it was a no-brainer," said Addison.
HEAT, GREENS, AND PINS TURN OUT TO BE TROUBLESOME
The general feel at the scoring table for both the PAT and the Apprentice Professional Championship was one of missed opportunities.
"The greens have been moving extremely fast, and the pins don't help either," said Golf Ontario Referee Scott Murfitt.
"It wasn't uncommon to see guys 3-putt most finishes" he added.
Despite this, Lowville Golf Club was truly in immaculate shape. Walking around the course, it was clear that some tee-boxes have been completely untouched for some time and were in the best shape we had ever seen.
We would like to thank Lowville Golf Club and their entire staff for ensuring a very special day out for our pros.
We would also like to thank our friends and Player of the Year Series sponsor Greenside Social for once again providing the much-needed hydration our players needed at the end of their round.
DIFFICULT CONDITIONS MAKE THEMSELVES PRESENT ON SCORES
When you deal with extreme talent like our PGA pros, the outcomes will often come down to the wire.
Turning the corner at 10, Barrett McCarthy (Brampton Golf Club) was our leader, sitting at 3 under-par (33). Alan McLean (Echo Valley Golf Club), our ultimate winner, was not far back at 2 under-par (34).
With the challenging course and weather conditions, players either battled through or succumbed to the elements. Players like Alan were able to keep a consistent game, shooting a perfect par on the back 9. Whereas the other leaders like Barrett McCarthy, Mark von Kalckreuth (Twenty Valley Golf & Country Club), and Jordon Lisko (Rockway Vineyards) shot over par. These three players tied for second place at 1 over (72) on the day.
At the end of it all, Alan McLean finished with a total score of 1 under (69) to claim the silverware in a tightly contested round.
"It's amazing the work that both the club and the PGA of Ontario staff put in to make these tournaments run like they do, so many thanks to them," said Alan following his victory.
"I just came out here and shot my shot. It was a tough day with the weather and the way the greens handled with the pins where they were, but I think that was what I needed to do to keep on top, not stay too much in my head" he added as an explanation to his performance.
Alan McLean now hopes to continue his good form on the PGA Champions Tour.
Congratulations to Alan on his second PGA of Ontario victory of the season.
---
For full results from the 2021 Apprentice Professional Championship, click HERE.
Those looking for photos from the event will find them on the PGA of Ontario Facebook page.
Competitors also receive Professional Recognition Points (PRP) for taking part in tournaments like this one. Interested in learning more about PRP points and what they mean for your credentials? See HERE.
Looking to get out and play with your fellow Ontario pros?
The Senior Pro Junior Pro Series at Upper Unionville Golf Club is our next available tournament. This team event has a registration deadline of August 22nd at midnight, do so HERE.
Want to stay solo? Our Fall Classic/Senior Fall Classic might be for you. The registration deadline is also August 22nd at midnight and can be done HERE.