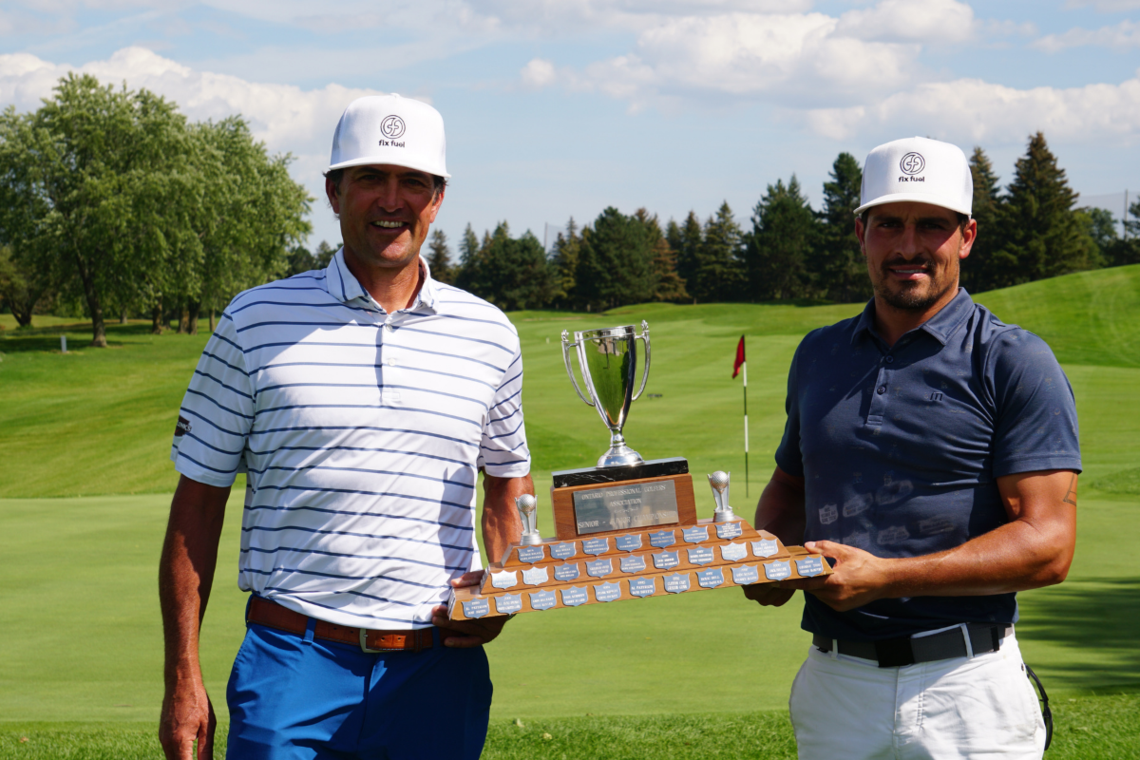 Danny King and Joseph D'Alfonso Give-and-Take as Senior Pro/Junior Pro Champions
September 3rd, 2021
It was a jammed-packed week at the PGA of Ontario! Our first stop? Up the street from our home base at Angus Glen to Upper Unionville Golf Club for the 2021 edition of the Senior Pro / Junior Pro Team Series.
Despite a heavy rain around the GTA the night before, our pros were treated to some incredible playing conditions thanks to the quick-thinking and hard work of the Upper Unionville ground crew and, of course, a beer from our Player of the Year title sponsor Greenside Social.
A TRUE "SHOTGUN" START
The 2021 Senior Pro / Junior Pro was the first shotgun of the tournament season for the PGA of Ontario. After checking in and grabbing breakfast on-the-go, teams took off like a swarm of bees to their respected holes.
Without a formal "shotgun" horn to indicate when to tee off, one might wonder how the players knew when to be ready ... for the team of Danny King (The Performance Academy at Magna) and Joseph D'Alfonso (The Academy at Copper Creek), they were ready the moment they got out of their car in the parking lot.
"We knew before the tournament where our individual strengths were, but ultimately we trusted one another to hit the shots we needed to," Joseph explained.
Starting on hole 18, Danny and Joseph had to make adjustments for starting on a difficult stretch of the course.
"We had two par 5's right off the bat, which is difficult to wrap your head around if you have a bad hole as it could affect your chemistry for the rest of the tournament" Joseph added.
Danny and Joseph birdied their first three in an impressive start.
"Danny was great off the tee, set us up perfectly to hit the putts we needed to get started ahead" Joseph explained.
PLAYING AGGRESSIVELY
"With a scramble format every team is scoring their best so you need to come out swinging; it's important to get ahead early." That was Danny and Joseph's mantra heading into the back shooting an impressive 9-under on their first 9.
It was raining birdies for Danny and Joseph who recorded birdies on holes 1, 2, 5, 6, 10, 11, 13, 14, 17, and 18 leading to a 10-under (61).
If only it was that easy.
Two other teams were also playing hot and shared the lead at 10-under 61. The teams of Brian McCann (Centennial Park Golf Centre) + David Banks (David Banks Simply Golf Academy), and Ed Maunder (Oakville Indoor Golf Centre) + Gar Hamilton (Life Professional), and our eventual winners Danny King + Joseph D'Alfonso headed to hole 18 for a playoff.
A shootout playoff was called; closest to the pin on 18. It was the same hole Joseph and Danny had started close to 4 hours prior.
The mood was tense 150 yards out as spectators drew at the 18th green. With a swing of the trusty 8-iron, Danny placed it beautifully just off the green. Due to where the pin was placed, a measuring tape was needed to crown Danny King and Joseph D'Alfonso champions.
Mere inches determined a win that felt miles ahead while playing ... welcome to the PGA of Ontario.
Congratulations to Danny King on his 2nd trophy in 2 weeks, and Joseph D'Alfonso for his first PGA of Ontario tournament win.
"I would like to thank Danny for being such a good partner today, I have been playing in these tournaments for quite some time so to finally get the monkey off my back and win one, it feels good" Joseph added.
---
For full results from the 2021 Senior Pro Junior Pro, click HERE.
Those looking for photos from the event will find them on the PGA of Ontario Facebook page.
Competitors also receive Professional Recognition Points (PRP) for taking part in tournaments like this one. Interested in learning more about PRP points and what they mean for your credentials? See HERE.
Looking to get out and play with your fellow Ontario pros?
The 2021 Ontario Zone Women's Championship has a registration deadline of September 6th at midnight. This one-day event at Ladies' Golf Club of Toronto will feature many former and current women golf pros including LPGA legend Sandra Post.
The Player of the Year Championship on September 27th & 28th at Grand Niagara Golf Club! The registration deadline is September 19th at midnight and is one you do not want to miss! Register HERE.