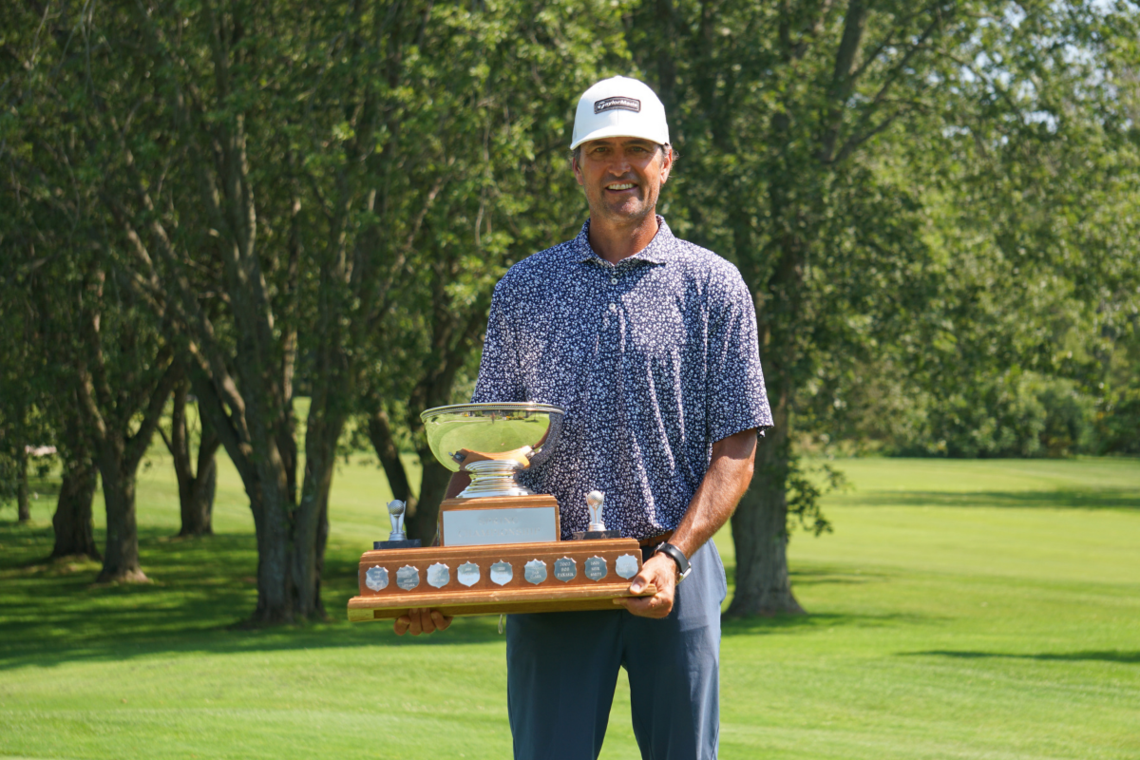 Day 2 Comeback From Danny King Secures Trophy Sweep at Spring Open
August 26th, 2021
The PGA of Ontario rescheduled the Spring Open due to COVID restrictions back in May. This past Monday and Tuesday Dalewood Golf Club hosted over 40 pros battling it out for both the Spring Open and Senior Spring Open titles.
Despite not feeling exactly like Spring out on the course, our pros were treated to some incredible playing conditions and, of course, hospitality from the Dalewood team as well as our Player of the Year title sponsor Greenside Social.
DANNY KING MAKING HIS PRESENCE KNOWN EARLY
In 2013, Danny was the Spring Open Champion and last won this event at Heron Point Golf Club. As a senior, Danny now competes in the Spring Open and Senior Spring Open, which are 36-hole and 18-hole contests respectively.
It was not a strong start for our eventual winner Danny King (The Performance Academy at Magna), who bogeyed the first hole.
"I was really trying to get a feel for the course on the front nine on Monday, it has been a while since I played at Dalewood," said Danny.
"I knew the Senior Spring Open was a one-day event, so I was letting myself make decisions that would put me in a better position on the leaderboard for round two," he added.
Putting became an issue on hole 8 where Danny double-bogeyed on an otherwise simple par 3.
"Putting was tricky here; the greens were moving slowly and there were lots of bends and hills that weren't quite visible at first glance"
A random 10-minute rainstorm in the early afternoon on day 1 also presented challenges in reading the greens.
After a quick recharge (and a cold towel) at the clubhouse after 9, it was like night and day on Danny's scorecard. Despite being 3-over on the front, Danny went on to birdie 5 holes on the back, cementing the Senior Spring Open title with a score of 3-under, 68.
Close on Danny's heels, PGA of Ontario President Michael Moniz (Maple Downs Golf & Country Club) performed well on the front, but just couldn't keep pace with Danny when it came to the back, finishing at 1-under (70), two strokes behind our leader.
Danny had learned something playing that day, something that would later come in handy on day 2.
KEEPING IT SHORT
Danny was tied with David Sheman (Emerald Hills Golf Club) for third place going into round 2 action. They trailed behind Brad Kerfoot (Maple Downs Golf & Country Club) who had a great day at 6-under (65) and hometown favourite Brad Pemberton (Dalewood Golf Club) alongside Bill Walsh at 5-under (66).
While all the attention was on the lead pairing of Bill Walsh, Brad Pemberton and Brad Kerfoot, Danny King was staging a comeback.
"I knew it was going to be hard to catch some of these guys, they are great golfers and are often hanging around the top 5 in tournaments like these," said Danny.
But like the weather, Danny remained hot. With a bogey-free front nine, Danny was 4-under through nine of round two. Coming back toward the clubhouse, Danny bogeyed his first hole of the day on 10. He turned it around quickly, however, with his eagle on 14, a very difficult par 5.
Despite all eyes being on Danny's performance, he was dialed into his game and stuck to his guns.
"I really just stayed in the present moment. I haven't played a lot of tournament golf, and after narrowly missing the title at the PGA Seniors' Championship of Canada up in Quebec a few weeks ago, I really tried to hone in on my game, not focus on things that I can't control, and keep the energy going" said Danny about his win.
What was the key to his victory? His short game.
"I really had to see my lines, but not just on the greens. Having the greens perform the way they did on day 1 really allowed me to hone in on my approaches. I was thinking strategically about the pins and where I would be putting from".
Danny's discomfort that day was not only with the greens.
"I have been working on my wedge game so I was trying to get those out of the bag more often than not. I think that played a big part in where I was sitting on the leaderboard and made my life easier as we moved down the fairway, especially with the size of the greens out there".
"I hit some good drives considering the demanding shape of the course. What it comes down to is taking some risks, building your swing better and better, and ultimately, just treating it as practice" Danny added regarding his performance.
Congratulations to Danny King on a stellar performance and some key advice.
"I would like to thank the entire PGA of Ontario staff, our President Michael Moniz, Greenside Social for sponsoring events like these and, of course, Brad Pemberton and his staff at Dalewood for hosting such a great event," Danny added.
---
For full results from the 2021 Spring Open, click HERE.
Those looking for photos from the event will find them on the PGA of Ontario Facebook page.
Competitors also receive Professional Recognition Points (PRP) for taking part in tournaments like this one. Interested in learning more about PRP points and what they mean for your credentials? See HERE.
Looking to get out and play with your fellow Ontario pros?
The 2021 Ontario Zone Women's Championship has a registration deadline of September 5th at midnight. This one-day event at Ladies' Golf Club of Toronto will feature many former and current women golf pros including LPGA legend Sandra Post.
Our Player of the Year Championship is coming up in September! The registration deadline for this major tournament is September 19th at midnight.