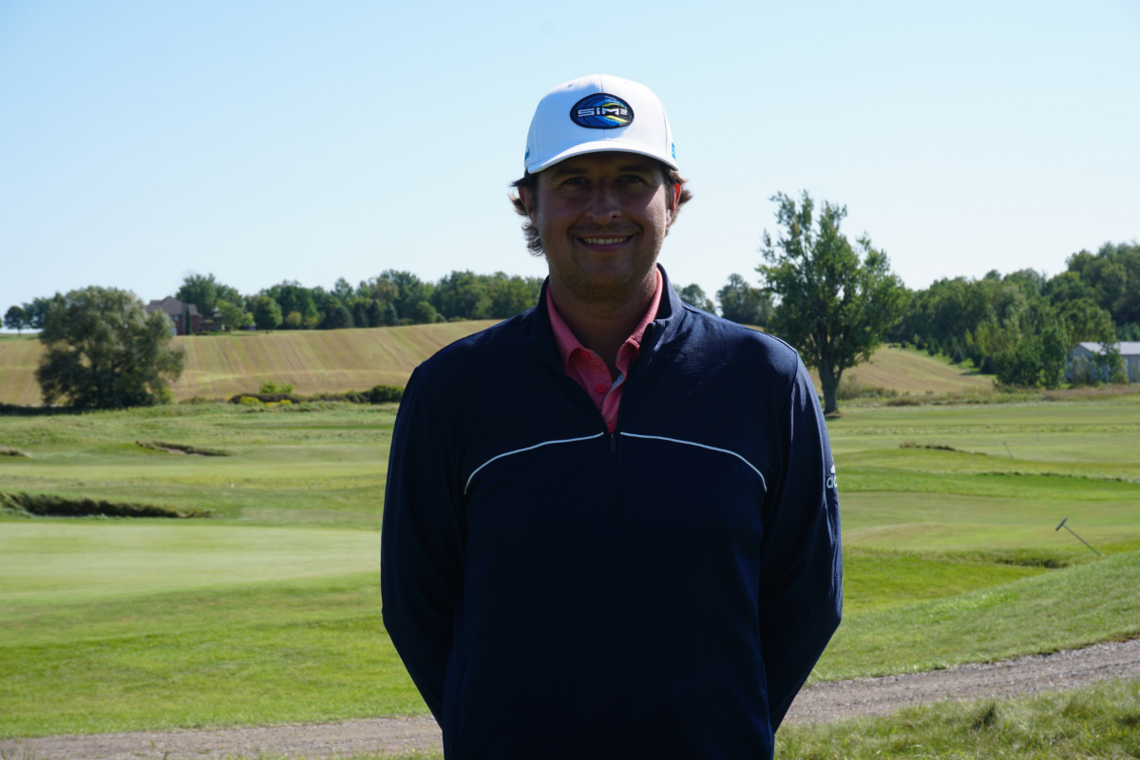 Victor Ciesielski Crowned Fall Classic Champion After Wild Playoff Finish; Danny King Takes Seniors
September 3rd, 2021
The 2021 edition of the Fall Classic and Senior Fall Classic truly was (sorry for this ...) a classic. Our pros were treated to an incredible (and difficult) course at Tarandowah Golfers Club.
Thank you to Tarandowah Golfers Club and its members who came out bright and early to volunteer as spotters and scorekeepers, the pros really appreciated your help and your insight into the course.
Thank you also to Greenside Social our POY sponsor for sponsoring the event and providing a beer for our pros after round 1 action.
HOT STARTS
Speaking to PGA of Ontario tournament regular and Ontario Zone Champion Alan McLean (Echo Valley Golf Club), it was clear he was confident going into round 1.
"I shot a 61 here once, I think it still is a course record," he stated.
Tarandowah is often considered one of the toughest courses in Southern Ontario with over 109 bunkers, a flat and twisty landscape, and multiple other hazards to worry about.
David Sheman (Emerald Hills Golf Club), our defending champion from 2020, came out just looking to play his own game.
"I can't give you anything other than typical tournament golf stuff - go out, play my own game, and keep strategic, it's a long tournament," David said as he set off on #1.
He shot an even 35 on the front on his way to a 3-over (73) finish for round 1.
Danny King (The Performance Club at Magna) took the Senior division title after round 1 shooting 2-under on the day (68).
He was tied with Ed Maunder (Oakville Indoor Golf Centre) and PGA of Ontario tournament veteran Victor Ciesielski (Galt Country Club Limited) heading into round 2 of the Fall Classic.
PLAYOFF PACKED WITH COMEBACK PERFORMANCES
It was almost like GW King (The Georgian Bay Club), who had shot a 2-over (72) the day prior, took Alan's front 9 performance during round 1 personally.
GW went out and birdied 5 holes (1,2,6,7 and 9) on the front like it was nothing. He would later go on to chip back on his round 1-over par performance and finish with a tournament-best 5 under round, landing him in the hunt for the title with a 3-under (137) score.
It was the same story for Branson Ferrier (Vespra Hills Golf Club) who landed himself in the title race after an average 1-over (71) performance in round 1. He shot 4-under (66) in round 2 after some strategic lies and great putts.
Victor Ciesielski, unlike others, just played a truly consistent game of golf carding 2-under (68) in round 1 and a 1-under (69) in round 2.
"I knew from the moment I hit that first ball on Wednesday that tee-shots mattered here," Victor explained.
"The course was a lot firmer than what we have played this year, so I had to adjust my play pretty much immediately. I had to hit greens, even with a lob-wedge you needed to land it sometimes 5-10 yards short of the green and let it roll."
When asked if he had ever considered checking the leaderboard, Victor responded: "I was relying a little bit on luck on some holes. I had three-putted 4 and 5 and was worried I might slip, but I hit a few clutch putts on the back (including an eagle on 14), and knew I just had to trust myself and my game."
Ed Maunder, GW King, Branson Ferrier, and Victor were all tied at 3-under (137) after two rounds and would compete in a playoff.
After some great tee-shots on hole #1, Ed missed a key putt for par that eliminated him from the playoff.
On hole #2, Victor's tee-shot was perfectly placed for a clear approach to the green. After hitting it about 60 feet away from the pin, all three players had a shot at the birdie putt. Being furthest away, Victor studied the green for a good 2/3 minutes before walking up the ball. After a few gauges of power, with spectators looking on, Victor calmly sunk the 60-footer to birdie and with it, claim the title of Fall Classic champion.
Congratulations to Victor on a stellar performance and a stellar putt.
Only 1 point on the Breenie Cup Player of the Year Standings separates Victor Ciesielski and Danny King heading into the Player of the Year Championship on September 27th & 28th at Grand Niagara Golf Club!
The Player of the Year registration deadline is September 19th at midnight and is one you do not want to miss! Register HERE.
---
For full results from the 2021 Fall Classic and Senior Fall Classic, click HERE.
Those looking for photos from the event will find them on the PGA of Ontario Facebook page.
Competitors also receive Professional Recognition Points (PRP) for taking part in tournaments like this one. Interested in learning more about PRP points and what they mean for your credentials? See HERE.
Looking to get out and play with your fellow Ontario pros?
The 2021 Ontario Zone Women's Championship has a registration deadline of September 6th at midnight. This one-day event at Ladies' Golf Club of Toronto will feature many former and current women golf pros including LPGA legend Sandra Post.