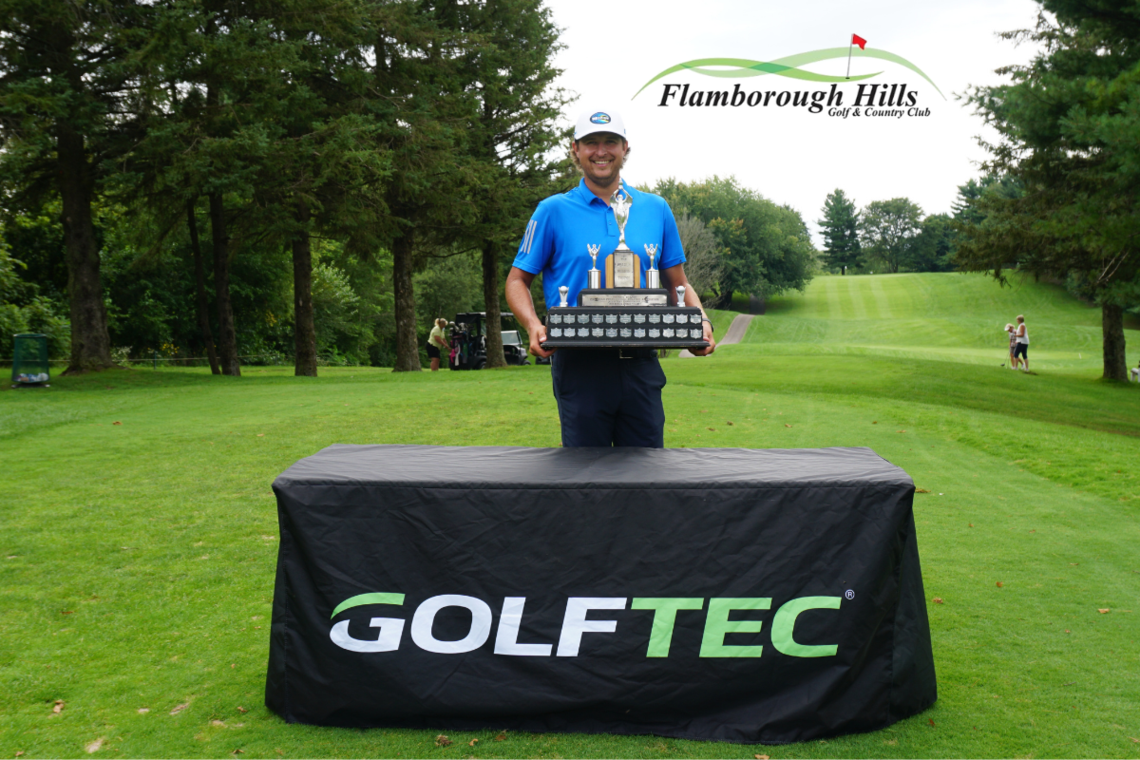 Victor Ciesielski Stays 🔥 at GOLFTEC Assistants' Zone Championship
August 18th, 2021
Victor Ciesielski (Galt Country Club) was the one to watch at the 2021 GOLFTEC Assistants' Zone Championship at Flamborough Hills Golf and Country Club.
After a commanding performance at the PGA of Canada BetRegal Championship in Bromont, Quebec a week ago, a PGA of Ontario title at the 2021 Pro-Pro Team Series last month, and consistent top-10 finishes throughout the season, it would be hard not to bank on a standout performance from Victor.
With a field of over 40 Assistants' battling it out for the title, including many past winners, players took to the course at 7 AM playing the Lakes/Hills rotation. Those watching the leaderboard could only guess as to who would come out on top.
PLAY HARD TODAY (FOR TOMORROW)
Victor wasn't the only person who came to play. With day 1 players spread out all over the course in their respected pairings, the scores from day 1 were reflective of an overall good day on the course.
After day 1, all 3 leaders were only separated from each other by one stroke. Victor Ciesielski shot an impressive 6 under-par (66) with runner-up G.W. King (67) and Bill Walsh (68) all within one stroke of the man ahead.
All players seemed to be focused on locking down a good score in anticipation of poor weather and high winds on day 2.
SPONSOR GOLFTEC SHOWING THE PROS SOME LOVE
As with any PGA of Ontario tournament, we owe a lot to our sponsors for making tournaments like this one function.
On day 1, our pros were welcomed by GOLFTEC Mississauga Meadowvale Head Teaching Pro Ryan Klassen starting at hole #1.
On day 2, PGA of Ontario Tournament Committee member & GOLFTEC Whitby & Markham Director of Instruction Steve Rodriguez was seen all over the course chatting with the pros and was on-site to present the championship trophy.
"Flamborough Hills is a great and equally challenging course and we are so happy to be here," said GOLFTEC Hamilton Pro Joel Martens.
Thank you to both GOLFTEC and the course staff at Flamborough Hills Golf Club for their support in putting on tournaments like this one.
VIC CONTINUES HOT STREAK ON DAY 2, NO PLANS TO SLOW DOWN
Day 2 brought with it some pleasant surprises.
The greens were wet from a night of rainfall for our first group out at 7 AM. As the day started to progress, however, the wet ground seemingly penetrated the air as an impending storm bringing lightning and heavy rainfall inched closer.
Luckily the storm very briefly touched us before moving east with no delay reported.
Around mid-morning, there was cheering coming from the 2nd hole with reports that a player had got a hole-in-one. Austin Morrison of Whistle Bear Golf Club, with his trusty 7-iron, recorded his first-ever ace on the par 3, snapping a photo and winning a skin in the process. Congrats on your first hole-in-hole Austin!
The photo can be seen on our Instagram @PGAofOntario.
Maybe it was the pressure brought on the from the storm, but as the leaders started their way back to the clubhouse, the scores started to separate from where they were on day 1.
At the end of it all, Victor finished with a total score of 66-68 (134) over two days, securing the hardware with emphasis.
"I want to thank all the PGA of Ontario staff alongside the staff at Flamborough Hills, you guys truly put on a great show," said Victor following his win.
"For all the pros here today, go back to your clubs and tell them about all the fun you had here and encourage them to come out and play at the next event. Let's increase the purse, the competitiveness of these events, and grow this program with the help of the PGA of Ontario" he added.
Congratulations to Victor on his victory. Thanks to the generous support from our sponsor GOLFTEC, Victor claimed $2,000 CAD for his stellar performance.
---
For full results from the GOLFTEC Assistants' Zone Championship, click HERE.
Those looking for photos from the event will find them on the PGA of Ontario Facebook page.
Competitors also receive Professional Recognition Points (PRP) for taking part in tournaments like this one. Interested in learning more about PRP points and what they mean for your credentials? See HERE.
We look forward to seeing you out at our next team event, the Senior Pro Junior Pro Series at Upper Unionville Golf Club. This tournament has a registration deadline of August 22nd at midnight, do so HERE.