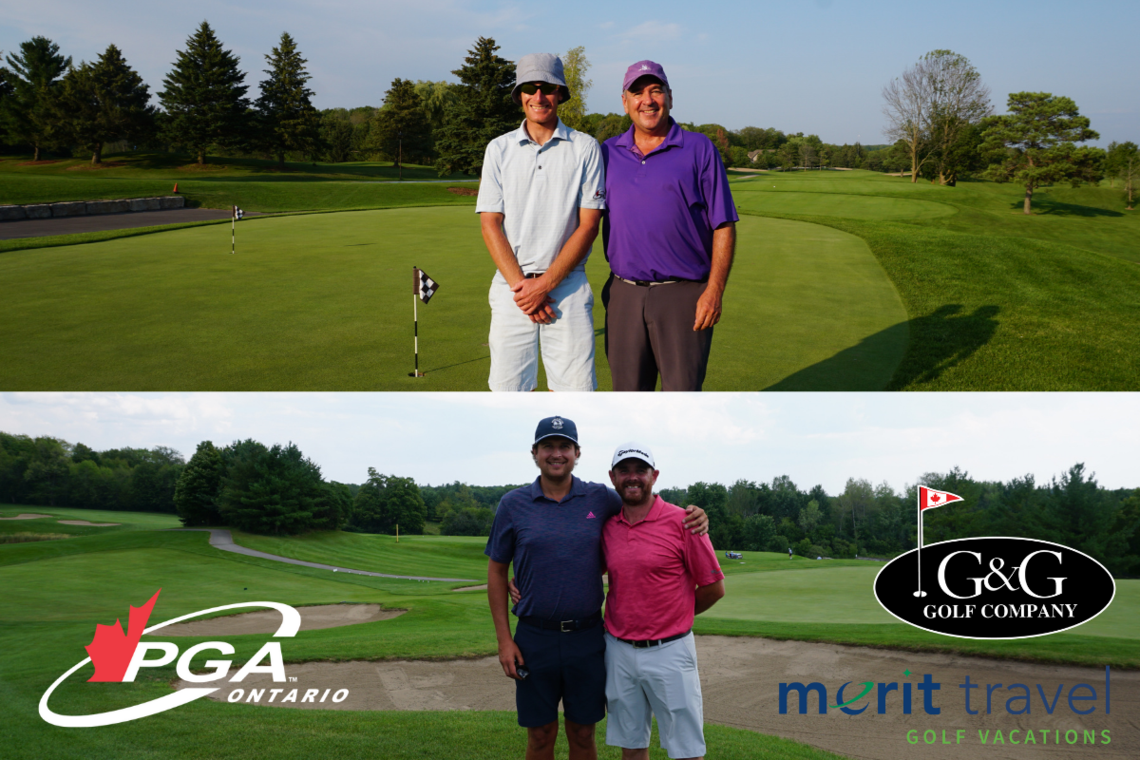 Two Teams Tie At Pro/Pro; Split Title
July 27th, 2021
After a long (and hot) day playing 18 holes at the beautiful Nobleton Lakes Golf Club, most participants thought the team of Dan Payton (Oliver's Nest) + Victor Ciesielski (Galt Country Club Limited) would have secured the win, shooting an impressive 9 under-par (63).
With 120 players battling it out with their partners for the title and straight tee-times starting at 8 AM, our last group of Ken Tarling (Twenty Valley Golf & Country Club) and Jakob Montemurro (Oak Gables Golf Club and Learning Centre) felt like more of a formality than a genuine contention.
That wasn't the case for Ken and Jakob, who came ready to play.
At almost 6 PM, they presented a tying score of 9 under-par (63), rendering them co-champions of the 2021 G&G Golf Company Pro/Pro Team Series presented by Merit Travel Golf Vacations alongside Dan Payton and Victor Ciesielski.
PERFECT WEATHER FOR GOLF (AND A GOOD EXCUSE TO GET OUT OF THE CITY)
With the downtown core of Toronto covered in smoke and under an air quality warning, you would not have guessed we were only 45 minutes away in the country.
With highs of 35 degrees, sun all day, and zero wind, the players truly had each other to battle. Most players shot well under par with the greens moving quickly as the sun started to warm up the ground and with it, dry the dew from the morning.
Want a good indication of how well everyone was shooting with the good weather?
Out of 58 teams that bought into skins, we had zero skins winners and had to draw two lucky teams who got to split the pot.
Despite the perfect weather, it was raining birdies!
SPONSORS SHOWING THE PROS SOME LOVE
It would have been hard to not notice all the tents around the course yesterday.
At the first tee-box, G&G Golf Company had complementary tee-gifts for our players - a custom stitched leather scorecard holder that many of our pros were spotted using out on the course that very day.
Merit Travel Golf Vacations and Casa de Campo were out on an island par 3 (hole #12) doing a closest to the pin contest for a 100-dollar prize. They were stressing to our pros that despite the warm weather today, winter is coming quicker than you think. Why not golf all year long at one of Casa de Campo's 3 world-class courses in the Dominican Republic? One lucky player from the player roster was drawn from a box at the end of the tournament and won a 3-night stay and 3 rounds of golf this winter courtesy of Casa de Campo.
At the 10th tee, the pros were treated to an impressive spread of organic, non-GMO beef jerky flavours from Dick Duff's Organic Beef Jerky. The snack was a well-deserved and well-received energy boost for our players as they turned.
Our beer provider, Greenside Social, was at the scoring table keeping our pros hydrated. And thanks to our friend Colin Morgan from the Sunday Red Podcast, they were kept entertained with on-course content and interviews.
WINNER(S?)
Some of the names in the winner's circle we have already seen before this year.
Victor Ciesielski was our Ontario Zone Champion from 2020 and we had the opportunity to speak with him going into the 2021 Ontario Zone Championship where he placed competitively.
"I had a great partner (Dan Payton) and we were bouncing off one another," said Victor in a post-match interview at the Pro/Pro Monday.
"Thank you to the PGA of Ontario and all the sponsors for being out there today, it was nice to be social with the other pros and see a few new faces" he added.
The social aspect was extremely prevalent in Ken Tarling's pairing, where, by chance, he was paired with his son, Kevin Tarling, and his partner.
"It's always fun playing with my son, he might be the reason I performed so well today! But I and my partner, Jakob, both hit a few key putts on 11 and 16 that I think put us even with the other group," said Ken when asked about how Kevin contributed to his performance.
"We had no idea what the score was, we didn't even look. I won this tournament back in the '80s in a playoff, so maybe it is just the course that wants us together"
Congratulations to Victor, Dan, Ken, and Jakob on your victory. Thanks to the generous support from our sponsors, each team claimed a purse of $2,550 CAD for their win.
---
For full results from the G&G Golf Company Pro/Pro Team Series Presented by Merit Travel Golf Vacations Championship, click HERE.
Those looking for photos from the event will find them on the PGA of Ontario Facebook page.
Competitors also receive Professional Recognition Points (PRP) for taking part in tournaments like this one. Interested in learning more about PRP points and what they mean for your credentials? See HERE.
We look forward to seeing you out at our next major competition, which is the GOLFTEC Assistants' Championship Team Series at Flamborough Hills Golf and Country Club on August 16th-17th. You can register HERE until August 8th, at midnight.