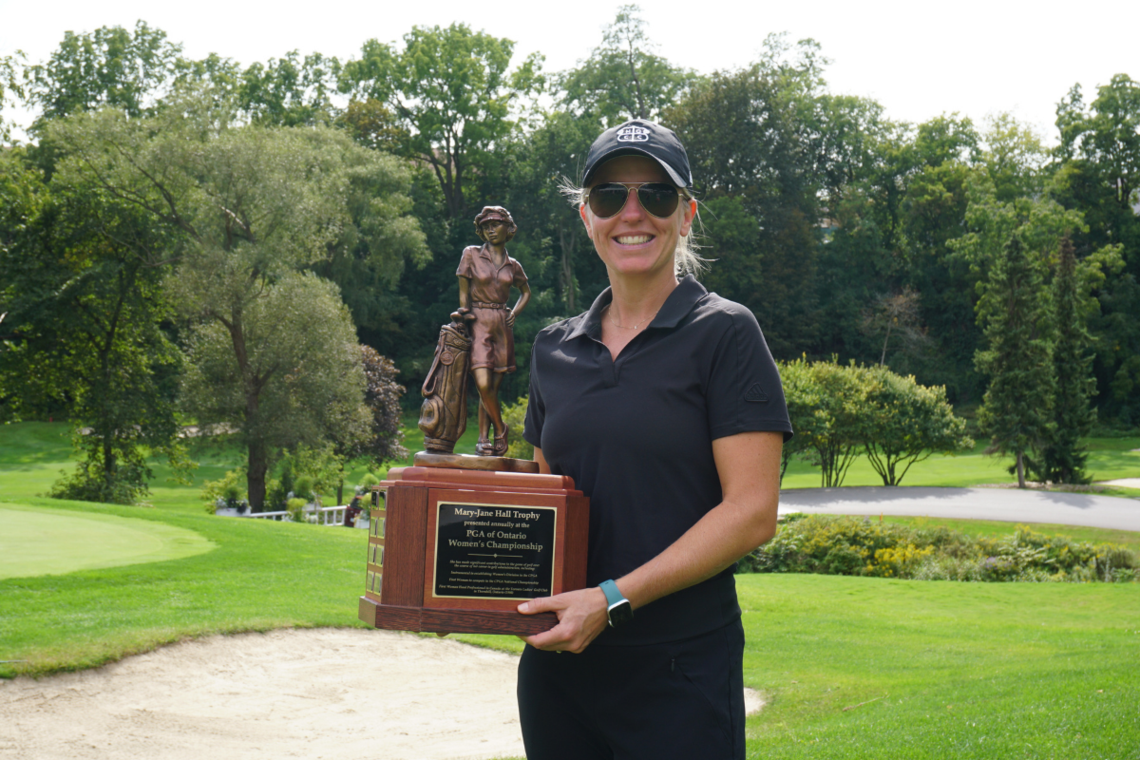 Crowds Cheer as Emma de Groot + Andrée Lapierre Crowned Women's Zone Champions in Tournaments of Firsts
September 14th, 2021
This was the start of something really special for women of the PGA of Ontario - you could feel it in the air at the 2021 Ontario Women's Zone Championship at Ladies' Golf Club of Toronto.
Our players came out in numbers to compete with many new additions being present. This included the renaming of our Women's Championship trophy after local golf legend (and player) Mary-Jane Hall, a new host club for the next 4 years at Ladies' Golf Club of Toronto, a new Senior division with stableford points, and even some new faces at the first tee ... it truly was a day *fore* the women of the PGA of Ontario.
EXCITEMENT RIGHT FROM THE FIRST TEE
LPGA legend Sandra Post was on site to see our players off on hole #1.
Sandra Post, retired, was the first Canadian to play on the LPGA Tour and at age 20, became the youngest player ever to win a major. Her career, which spanned 16 years, took her all over the world where she won 8 championships on the Tour, ultimately settling in Oakville.
Each pairing got an exclusive photo opportunity with Sandra, the chance to ask questions, and for some, even a special shoutout with recent accolades.
"Hearing a legend like Sandra Post read out your name was really cool, it is something I'll remember for a long time," said Emma De Groot (Modern Golf).
Sandra could be seen all over the course afterwards encouraging our field of Pros to play their best.
"The key to growing the field of professional golf in women is introducing it young as a fun, safe, and accessible sport. Only then can girls feel comfortable to develop into the pros we see here today," said Sandra.
We can't thank Sandra enough for blessing us with her presence.
FUN WITH A SIDE OF COMPETITIVENESS
While the mood between players was light on the first tee, they were still here to do one thing: compete.
"I'm just going to try and keep pace with everyone else, it's been a while since I've competed in a tournament like this," said Mary-Jane Hall jokingly.
One player in particular to watch was Emma de Groot. Emma competed on the LPGA Tour, the LPGA Symetra Tour, the Ladies European Tour, and the Australian LPGA Tour.
Starting off slow, Emma bogeyed the first hole, a long par 4
"Hit that first bogey, then hit a few birdies, but ultimately was playing slow and steady, nothing really stood out," explained Emma. "It wasn't until I birdied 14 that I really started to get in a groove."
Emma kept the energy going and eagled the next hole on a very difficult par 4.
"I hit a really good number off the tee and just really took my time with the putt," explained Emma. All in all, Emma finished 2-under (69) to take the Championship.
The highlight? Spectators cheering as both Emma and our Senior winner Andrée Lapierre (The Toronto Hunt) sunk great putts on 18.
"I do not play a ton of tournament golf anymore, so hearing the crowd cheering behind the green really made the whole experience for me," explained Emma. Around 30 members made the trek from the 16th tee box to the 18th green to see the women come in.
"A lot of those demons I have from playing competitive tournament golf on the tour just weren't there today, I played less in my head, enjoyed myself, and was glad to put on a show," Emma declared.
Congratulations to Emma de Groot for being named the first-ever Mary-Jane Hall Women's Zone Trophy winner, and Andrée Lapierre for winning the first-ever Senior Women's Zone Championship.
"This tournament was special for so many reasons after the year we have had. It means a lot to just come out and play with some truly incredible women, so thank you to the Ladies' Golf Club of Toronto, the PGA of Ontario, our sponsors, and all of us here for making it so special, I'll see you all next year for sure," said Andrée Lapierre in her victory speech.
---
Those looking for photos from the event will find them on the PGA of Ontario Facebook page.
Competitors also receive Professional Recognition Points (PRP) for taking part in tournaments like this one. Interested in learning more about PRP points and what they mean for your credentials? See HERE.
Looking to get out and play with your fellow Ontario pros? There are only a few opportunities left!
The 2021 Player of the Year Championship from Grand Niagara Golf Club is coming up September 27th-28th. The registration deadline is September 19th at midnight and can be done HERE.
Our final (and most popular) event of the season, the Fall Scramble, is happening on October 4th. Get you and your team registered HERE by September 26th at midnight.