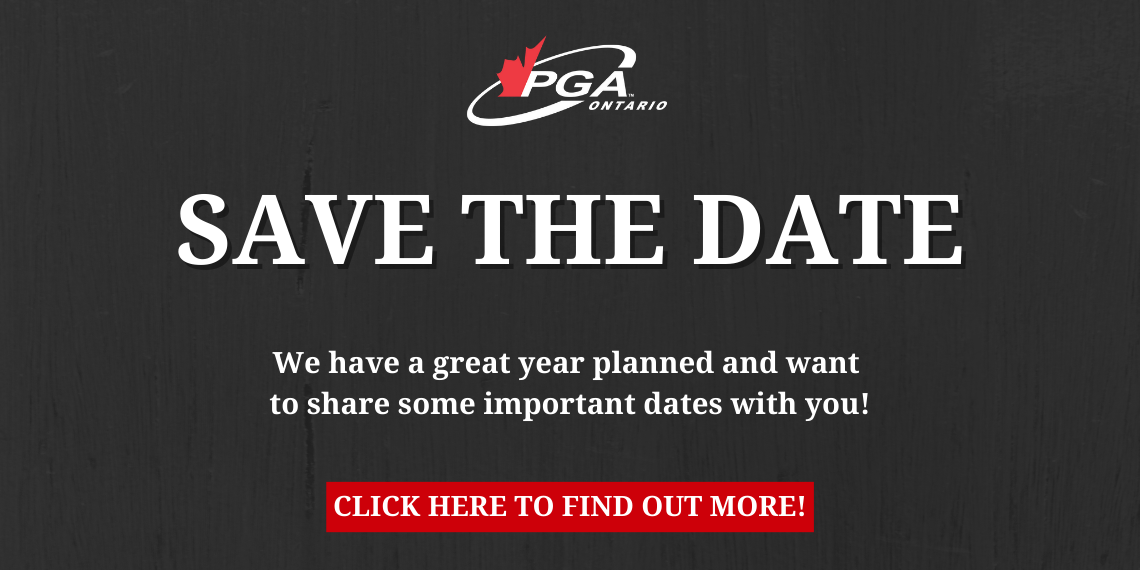 Save the date
Dear PGA Professional,

Happy New Year! We hope you all had a wonderful season last year and are looking forward to a bigger and better 2023. We have a great year planned and wanted to share some important dates with you!

Please read below for updates to the following:
Chapter Tours & Education
PGA of Ontario Virtual Winter Series
AoT Networking Calendar
Tournament Schedule
Playing Ability Test Schedule
BPG show in Toronto
---
2023 Chapter Tours
We look forward to providing opportunities this year to members to gather in-person, network, learn and meet with our leadership team. We are thrilled to share our schedule for visits across the Ontario Zone to reach members in each of our regional Chapters and provide such opportunities.

We aspire to gather insight and provide tangible value to our members through these education and learning sessions.

Below are the confirmed dates and locations. Be sure to tune in for more information regarding speakers and topics of discussion from each chapter!

Information on registration is coming soon!
To learn more on our Chapter meetings please click here.
---
PGA of Ontario Virtual Winter Series
The PGA of Ontario is excited to bring you our inaugural Indoor Winter Series supported by VTL Indoor Golf & Academy. We will have 3 tournaments (sign up individually to register) played on some fun virtual courses that will be sure to encourage camaraderie, competition, and a chance to win some prize money! Most importantly, keeping your game sharp before hitting the links in the Spring!
---
2023 AoT Networking Calendar
AoT Networking is back! All industry professionals are encouraged to share their ideas and learn from some of the best in our industry. The events are open to all PGA of Canada professionals!

Here are the first few sessions that will be taking place.
February 6 - Personal Investment Session 1
February 9 - Associate Breakout Session
February 13 - Club Fitting Session 1
February 23 - Personal Investment Session 2
Registration is now open! If you would like to join a meeting, please contact Dylan Cattanach at DCattanach@rosedalegolf.org

Click here to find out more about AoT Networking and see the remaining schedule.
---
2023 Tournament Schedule
Click here for the full 2023 Tournament schedule.
---
2023 Playing Ability Test Schedule
May 4 - Hidden Lake Playing Ability Test
June 12 - Lowville Playing Ability Test
July 17 - Mill Run Playing Ability Test
August - TBD
September 14 - Fanshawe Playing Ability Test
Registration will be available at a later date.
Click here to learn more.
---
2023 BPG Show in Toronto
For the first time ever, the 2023 BPG show (Buying Show and Events) is coming to Toronto this year! The show will take place from October 11th to the 13th.

It's set up to be an exciting time for our professionals to network, participate in education sessions and best of all - it is all in collaboration with our Awards night celebration! You won't want to miss out on all the fun!